Introducing "Adobe Stock Mastery: Unleash Your Creative Potential!"
Are you ready to take your creative projects to new heights? Look no further! The Adobe Stock Mastery course is here to empower you with the skills and knowledge needed to navigate the vast world of Adobe Stock with ease and confidence.
Join us on an exhilarating journey where you'll uncover the secrets to finding the perfect stock assets that will transform your creative vision into a stunning reality. Whether you're a seasoned Adobe user or just starting out, this course is tailor-made for you!
Immerse yourself in a dynamic learning experience that will have you mastering Adobe Stock in record time. Our expert instructors have crafted an engaging curriculum that simplifies the process, ensuring that you quickly become a proficient Adobe Stock user.
Why is Adobe Stock mastery essential? Picture this: you're working on a tight deadline, and you need that perfect image or illustration to bring your project to life. With your newfound expertise, you'll effortlessly navigate through millions of high-quality, curated, and royalty-free assets. No more wasting time scrolling endlessly or settling for subpar visuals. Adobe Stock puts the world's creative possibilities at your fingertips.
But it doesn't stop there! Unlock a world of cost savings and independence. Say goodbye to relying on others to install applications on your computer. By completing this course, you'll be equipped with the skills to effortlessly install applications, saving you valuable time and money. Empowerment has never looked so good!
Oh, and did we mention exams? Buckle up for the chance to showcase your Adobe Stock prowess and earn an exclusive Adobe Stock Mastery certification. This valuable credential will set you apart from the competition, opening doors to new opportunities and professional growth.
So, are you ready to seize the reins of creative excellence? Enroll in Adobe Stock Mastery today and embark on a transformative journey. Unleash your creative potential, command Adobe Stock with finesse, and let your imagination soar to unprecedented heights. The world is waiting for your next masterpiece!
Users Can:
Use these assets on any and all of their creative work.
Explore diverse collections of the most incredible high-resolution, royalty-free, stock assets
Find the perfect high-res, royalty-free, stock image to enhance their next creative project
Preview watermarked images inside designs first, then license, access, and manage them directly within Photoshop, InDesign, Illustrator, and other Adobe desktop apps all from within their Adobe Creative Cloud apps.
Anyone interested in creative work or in the field of graphic design should take this course.
Course Outline:
Module 1 – Adobe Stock
Instructor Info
Course Info
Interface and Features
Images
Videos and Licensing
Templates and Premium
Contributing Content
Best Practices when Contributing
Frequently Asked Questions About Adobe Stock Training
What will I learn from the Adobe Stock Training course?
The Adobe Stock Training course is designed to teach you how to effectively utilize the vast collection of high-quality, royalty-free photos, illustrations, vector graphics, and other creative assets available on Adobe Stock. By completing this course, you will gain the skills and knowledge necessary to access and utilize Adobe Stock for all your creative projects.
Is the Adobe Stock Training course suitable for beginners?
Absolutely! The Adobe Stock Training course caters to users of all skill levels, including beginners. Whether you are new to Adobe Stock or have prior experience with other Adobe software, this course is designed to equip you with the expertise needed to make the most of Adobe Stock.
Can I test images before purchasing them on Adobe Stock?
Yes, Adobe Stock allows you to experiment with watermarked images for free. This means you can test various images with your projects without any cost. Once you have selected the ideal image for your project, you can obtain a license by paying the applicable fees, which will provide you with a high-resolution, watermark-free version of the chosen image.
What kind of assets does Adobe Stock offer?
Adobe Stock provides a comprehensive library of high-quality, royalty-free assets. This includes a vast collection of stock photos, video footage, vector images, illustrations, audio files, 3D models, graphic templates, and premium images suitable for professional use. Furthermore, you can access stock footage directly from Adobe applications such as After Effects CC and Premiere Pro CC.
How does the licensing work for Adobe Stock assets?
All assets available on Adobe Stock are offered under a royalty-free license. This means that upon payment of a one-time fee for the license, you gain the right to use the content for any purpose, both commercially and personally. In certain cases, you can also obtain an extended license, which provides additional rights and permissions for the content.
How can I find the perfect asset for my project on Adobe Stock?
Adobe Stock provides an advanced search engine equipped with artificial intelligence technology to simplify the asset discovery process. The upgraded search bar delivers accurate results for specific search terms in less time. Moreover, you can utilize advanced search filters, such as depth of field and color, to narrow down your search and find the most suitable image for your project. Additionally, Adobe Stock offers a "Similar Images" feature, which helps you find visually similar images to maintain consistency or explore alternative options.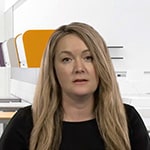 Your Training Instructor
Alexandra Copley
Photography Professor and Freelancer
Alex has spent the last decade working as a freelance photographer all over the world. She first obtained her MFA in Photography and worked as a teacher in photography, visual effects, and related topics. Her teaching philosophy is simple. She feels that to be the best teacher she must be the best student. Therefore, she is always learning something new to share with her students.