Are you ready to unlock your creative potential and dive into the captivating world of video editing? Look no further than our exciting course, "Mastering Premiere Pro: Unleash Your Editing Superpowers!" This comprehensive training program is designed to transform you into a Premiere Pro maestro, equipping you with the skills to bring your cinematic visions to life.
Join us on this exhilarating journey where you'll learn the ins and outs of Adobe's industry-leading Premiere Pro software. With its unmatched versatility and powerful features, Premiere Pro is the ultimate tool for crafting awe-inspiring cinema, television, and web content. Whether you're a budding filmmaker, a passionate content creator, or an aspiring editing professional, this course is your passport to success.
Discover the wonders of timeline-based editing as we demystify the world of Premiere Pro. From importing and organizing your raw footage to adding stunning effects, seamless transitions, and crisp audio, we'll guide you through each step with clarity and enthusiasm. Say goodbye to tedious manual work and embrace the time-saving automated tools that will revolutionize your editing workflow, allowing your creativity to flow uninterrupted.
What sets this course apart is its focus on real-world applications and practical skills. Our expert instructors will share their industry insights, tips, and tricks to ensure you not only grasp the fundamentals but also develop a deep understanding of Premiere Pro's advanced techniques. With hands-on exercises and engaging projects, you'll gain the confidence and proficiency needed to tackle any editing challenge that comes your way.
But that's not all! We go the extra mile to empower our students with valuable credentials. Upon completion of the course, you'll have the opportunity to take our exclusive Premiere Pro Certification Exam. This prestigious certification will enhance your professional profile and open doors to exciting job opportunities in the ever-evolving world of digital media.
So, are you ready to embark on this exhilarating journey of visual storytelling? Enroll in "Mastering Premiere Pro: Unleash Your Editing Superpowers!" today and witness your creative visions come to life like never before. Let's create, inspire, and make your mark in the exciting realm of video editing!
Online class for Adobe Premiere Pro Training
Unlock Your Creative Potential with Adobe Premiere Pro!
Are you ready to take your video editing skills to the next level? Look no further! Our dynamic and comprehensive Video Editing Course is designed to ignite your creativity and empower you with the tools and knowledge needed to master Adobe Premiere Pro.
No more tedious university courses or expensive degrees are required. Our convenient online training offers the ultimate learning experience, allowing you to acquire all the essential skills necessary to become a video editing virtuoso. Whether you're a newbie seeking to dive into the world of video editing or a seasoned professional looking to brush up on your skills, this course is tailored to suit your needs and catapult you in the right direction.
Why choose our Premiere Pro Training online? Here's what sets us apart:
Expert Guidance: Our team of seasoned industry professionals will guide you every step of the way, sharing their insider knowledge and proven techniques to help you excel in Premiere Pro.
Flexible Learning: No rigid schedules or classroom constraints. Learn at your own pace, anytime, anywhere. Our online platform gives you the freedom to fit learning seamlessly into your busy lifestyle.
Cutting-Edge Content: Stay ahead of the curve with up-to-date content that covers the latest features and techniques in Premiere Pro. You'll gain hands-on experience with Photoshop Creative Cloud integration, unleashing your creative potential.
Universally Applicable: Whether you're using the latest version of Premiere Pro or an older one, our course ensures that the core techniques and concepts remain relevant. You'll be equipped to tackle any version with confidence.
But wait, there's more!
We go the extra mile to support your success. As a bonus, we provide comprehensive exam preparation materials to help you earn an industry-recognized certification in Premiere Pro. Showcase your expertise and open doors to exciting opportunities in the world of videography.
Don't miss out on this golden chance to upskill and transform your passion for video editing into a rewarding career. Join our online training course today and unlock the endless possibilities that Adobe Premiere Pro has to offer!
Please note: This course is regularly updated to ensure it remains at the forefront of video editing education.
The following sections are included in this Adobe Premiere Pro training course:
Getting Started (introduction, touring Premier Pro)
Setting up a project(importing media, organizing media)
Mastering the Essentials of Video Editing (working with clips, adding transitions)
Motion, Sound, and More (putting clips in motion, editing, and mixing audio)
Sound and Video Effects (sweetening sound, adding effects)
Exporting Frames, Clips, and Sequences (basic color correction, composting techniques, creating graphics)
Course Outline:
Module 1: Getting Started
1.0 Course Intro
1.1 Touring Adobe PP
1.1 Touring Adobe PP pt.2
1.2 Setting Up a Project
1.3 Importing Media
1.4 Organizing Media
1.5 Mastering the Essentials of Video Editing
1.6 Working with Clips and Markers
1.7 Adding Transitions
1.8 Multicamera Editing
1.9 Advanced Editing Techniques

Module 2: Motion, Sound, and More
2.1 Putting Clips in Motion
2.2 Editing and Mixing Audio
2.3 Sweetening Sound
2.4 Adding Video Effects
2.5 Basic Color Correction
2.6 Compositing Techniques
2.7 Creating Graphics
2.8 Exporting Frames, Clips, and Sequences
Frequently Asked Questions About Adobe Premiere Pro Training
What will I learn in this Adobe Premiere Pro Training course?
In this comprehensive Adobe Premiere Pro Training course, you will acquire a wide range of essential skills for effectively using the software. The course covers various topics, including organizing and importing media, mastering video editing fundamentals, working with clips and markers, adding transitions, creating motion effects, editing and mixing audio, incorporating video and sound effects, basic color correction techniques, compositing methods, creating graphics, and exporting frames, clips, and sequences.
Who are the instructors for this course?
This course is taught by our experienced instructors. These instructors have substantial industry expertise and will provide expert guidance throughout the course. They will assist you in mastering Adobe Premiere Pro, teaching you how to handle action sequences, utilize the diverse tools available in Premiere Pro, and create visually appealing effects, among other valuable skills.
Do I need to have any previous experience with Adobe Premiere Pro to take this course?
No prior experience with Adobe Premiere Pro is necessary to enroll in this course. It is designed to accommodate learners of all levels, whether you are entirely new to the software or simply refreshing your video editing skills after a period of inactivity.
Is this course relevant for all versions of Adobe Premiere Pro?
Yes, this course is generally applicable to various versions of Adobe Premiere Pro. While the specific features and functionalities may slightly differ across different versions, the core techniques covered in the course remain consistent. The course primarily focuses on Premiere Pro in the Photoshop Creative Cloud, but the fundamental concepts and workflows are transferrable to other versions.
What is the format of this course?
This Adobe Premiere Pro Training course is presented in a self-paced learning format, allowing you to access the course material at your convenience and fit it into your busy schedule. It is part of our extensive training library, which encompasses over 225 courses, 12,000+ videos, and more than 19,000 practice test questions. This format provides flexibility and allows you to learn at your own pace.
What if I need help during the course?
Our Online, provider of this course, offers student support services. If you require any assistance or have questions throughout the course, you can contact their support team at +1 855.488.5327. They will be available to help you with any concerns or queries you may have.
Your Training Instructor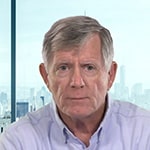 Mark Sullivan
Instructor
Experienced instructor
Your instructors, who have years of experience in the field, will help you learn Adobe Premiere Pro and will mentor you while you do so. They'll teach you how to control action sequences, make use of the many tools in Premiere Pro, produce visual effects, and much more. Additionally, you can benefit from a self-paced learning environment that enables you to access your course whenever it suits your busy schedule.