Introducing "Rapid Video Mastery: Unlock Your Creativity and Produce Stunning Videos!"
Are you ready to revolutionize your video creation skills? Look no further! This exhilarating course is specifically designed to empower individuals, professionals, and aspiring content creators with the ability to produce outstanding video projects quickly and effortlessly.
In today's fast-paced world, the demand for high-quality videos has never been greater. Whether you're a marketer, social media enthusiast, or creative professional, this course is your ultimate ticket to creating videos that captivate your audience and leave a lasting impression.
What sets this course apart is its unwavering focus on efficiency and creativity. We understand that time is of the essence, which is why we equip you with cutting-edge techniques and insider tips that will enable you to produce stunning videos in record time. Say goodbye to tedious editing processes and hello to a streamlined workflow that maximizes your productivity.
But it doesn't stop there. Social media has become a powerful platform for sharing content, and we'll show you how to harness its potential to the fullest. From Instagram to TikTok, YouTube to Facebook, you'll discover the secrets to crafting videos that stand out from the crowd. Unlock the skills to create professional-grade content that resonates with your target audience, drives engagement, and boosts your online presence.
One of the unique features of this course is its emphasis on seamless synchronization between mobile devices and desktop computers. We understand the importance of flexibility, allowing you to edit and polish your videos on the go, effortlessly transitioning between your smartphone and your desktop editing suite. With our expert guidance, you'll become a master of this harmonious collaboration, maximizing your creative potential wherever you are.
Now, let's talk exams! We believe in practical learning, so get ready to showcase your newfound skills through exciting video project assignments. These projects will challenge you to apply the techniques and concepts learned during the course, allowing you to build a remarkable portfolio of high-quality videos. Plus, you'll receive personalized feedback from our industry-experienced instructors, helping you refine your craft and take your videos to even greater heights.
Are you ready to embark on this thrilling journey of video mastery? Enroll now in "Rapid Video Mastery" and unlock a world of creative possibilities. Join our vibrant community of like-minded individuals and revolutionize the way you create videos. Don't just meet expectations—exceed them with your newfound video creation prowess!
Note: This course requires basic knowledge of video editing software. Familiarity with popular editing platforms such as Adobe Premiere Pro or Final Cut Pro is recommended.
About Adobe Premiere Rush
Introducing Adobe Premiere Rush: Unleash Your Video Editing Superpowers!
Are you ready to take your video editing skills to new heights? Look no further than Adobe Premiere Rush, the ultimate creative companion that empowers you to create stunning videos with ease and efficiency. Whether you're a seasoned content creator or just starting your journey in the world of video production, this course is your ticket to mastering the art of video editing in no time!
Get ready to experience the exhilarating benefits of Adobe Premiere Rush. With its intuitive interface and simplified tools, you'll dive right into the world of professional video editing without breaking a sweat. Say goodbye to complicated menus and endless tutorials – Adobe Premiere Rush is designed for the modern, computer-savvy user like you, allowing you to unleash your creativity and bring your visions to life.
What sets this course apart is its laser-focused approach to delivering high-quality results in record time. We understand the importance of fast turnaround times, especially for content creators who need to consistently produce captivating videos. Adobe Premiere Rush enables you to cut, trim, and polish your footage effortlessly, ensuring your projects are top-notch and ready to shine.
But that's not all! Our course takes your video editing game to the next level by unlocking the full potential of Adobe Premiere Rush's robust features. You'll learn advanced techniques to enhance your videos with stunning visual effects, seamless transitions, and professional-grade audio adjustments. Unleash your imagination and transform your raw footage into captivating cinematic masterpieces.
As a bonus, we offer exclusive exam preparation materials to boost your confidence and validate your newfound skills. You'll have the opportunity to showcase your expertise by obtaining an Adobe Premiere Rush certification, recognized and respected within the industry. Stand out from the crowd and open doors to exciting opportunities in video production, content creation, and beyond!
But wait, there's more! We've made sure this course fits seamlessly into your dynamic lifestyle. Adobe Premiere Rush allows you to edit on your computer or mobile device, giving you the freedom to work whenever and wherever inspiration strikes. Edit on your laptop during your morning coffee, fine-tune on your smartphone during your lunch break – the possibilities are endless!
Are you ready to become a video editing superhero? Enroll in our Adobe Premiere Rush course today and unlock your true creative potential. Harness the power of simplicity, unleash your imagination, and embark on an exciting journey to become a master of video editing. Join us and let your videos shine like never before!
Course Outline:
Adobe Premiere Rush: Module 1
Instructor Intro
Course Intro
How Does Rush Differ
Starting a New Project
Video Resolution and Creating Content
Finding and Importing Content
Timeline Controls
Importing Audio

Adobe Premiere Rush: Module 2
General Editing
Advanced Editing
Color Grading
Adding Titles
Principles of Typography in Video
Fixing Audio
Video and Audio Transitions
Exporting Finished Projects
Frequently Asked Questions About Adobe Premiere Rush Course
What is Adobe Premiere Rush and what can I learn from this course?
Adobe Premiere Rush is a versatile video editing software developed by Adobe Systems. It is specifically designed for individuals who want to edit videos on the go, providing powerful tools for video creation with a simplified user interface compared to Adobe Premiere Pro. This course will teach you how to utilize the various features and functions of Adobe Premiere Rush to create professional-looking videos. You'll learn about video editing techniques, adding transitions and effects, adjusting audio, applying color correction, and exporting your final projects.
What are the system requirements to run Adobe Premiere Rush?
To run Adobe Premiere Rush, you will need a compatible device. It can be installed on both Windows and macOS computers, as well as iOS and Android mobile devices. However, it's important to note that the specific system requirements can vary depending on the operating system and version of Adobe Premiere Rush. It is recommended to visit Adobe's official website or consult their documentation for the most up-to-date and accurate information on system requirements.
Can I use Adobe Premiere Rush on multiple devices?
Yes, Adobe Premiere Rush offers cross-device functionality, allowing you to work seamlessly across multiple devices. You can start editing a project on one device and continue working on another device, as long as you have a compatible version of Adobe Premiere Rush installed. However, the exact number of devices you can use may depend on the type of subscription you have with Adobe. Certain subscription plans may have limitations on the number of devices you can use simultaneously. It is advisable to review the subscription details or contact Adobe for specific information regarding device usage.
How long will it take to complete the Adobe Premiere Rush course?
The duration of the Adobe Premiere Rush course can vary depending on the specific curriculum and your individual learning pace. On average, it might take several weeks to a few months to complete a comprehensive course. The course is designed to cover various aspects of video editing using Adobe Premiere Rush, including essential tools, techniques, and workflows. The duration may also depend on the amount of time you dedicate to studying and practicing the concepts taught in the course.
What level of experience do I need to take this course?
Adobe Premiere Rush is user-friendly and suitable for individuals with varying levels of video editing experience. This course is designed to cater to beginners who have little to no prior experience with video editing. It provides step-by-step instructions on the fundamentals of Adobe Premiere Rush, guiding you through the process of creating and editing videos. However, even if you have some intermediate-level experience with video editing, this course can still be beneficial in refining your skills and learning specific techniques relevant to Adobe Premiere Rush.
Will I receive a certificate upon completion of the course?
Yes, upon successfully completing the Adobe Premiere Rush course, you will receive a certificate. The certificate serves as recognition of your completion and proficiency in using Adobe Premiere Rush for video editing. However, it's important to note that the availability of a certificate may depend on the specific platform or institution offering the course. Not all online learning platforms or educational institutions provide certificates for their courses. It is advisable to review the course details or contact the course provider to confirm whether a certificate is included in the course.
Your Training Instructor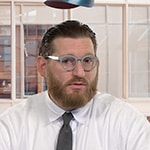 Tyson Robertson
Design and Media Professor and Freelancer
Tyson Robertson is a freelance photographer and designer with over 20 years of experience. He has a BFA from Parsons School of Design in Photography and an MFA from New York University. He lives and works in Central Florida where he teaches college courses in design and media and works on freelance projects for social media and marketing campaigns.