Discover the captivating world of Adobe After Effects with our exhilarating training course! Unleash your creativity as you delve into the realm of dynamic motion graphics, stunning visual effects, and mesmerizing animations.
Embark on a thrilling journey from the very basics to advanced techniques, all while navigating the software like a seasoned pro. Say goodbye to confusion and hello to seamless workflow as we guide you through the intricacies of this industry-leading software.
Harness the power of animation as we unlock the secrets of creating captivating motion. Dive into the fundamentals of animation, where you'll learn how to bring your ideas to life with fluidity and impact. With a firm grasp of keyframes and timing, you'll be able to mesmerize audiences with your artistry.
Prepare to be amazed as we explore the vast realm of effects and presets. Transform your visuals with a multitude of options, from dazzling glows to mind-bending distortions. Elevate your projects with the click of a button and unleash the full potential of your imagination.
But it doesn't stop there! Shape layers are your gateway to limitless creativity. Unleash your inner artist as we guide you through the art of manipulating shapes and layers. From dynamic logos to intricate illustrations, your designs will exude sophistication and style.
Ready to take it to the next level? We'll show you how to craft multimedia presentations that captivate and engage. Seamlessly blend text, images, animations, and videos to create a symphony of visual brilliance. Leave your audience spellbound as they witness your creations come to life before their very eyes.
And now, for the cherry on top – the exam! Put your newfound skills to the test and earn a prestigious certification. Showcase your mastery of Adobe After Effects to potential employers and clients, opening doors to exciting career opportunities in the realms of film, television, and advertising.
Don't miss out on this exhilarating adventure into the world of Adobe After Effects. Join us and unlock the power to turn your visions into breathtaking reality!
What is Adobe After Effects?
Introducing the ultimate power couple of video editing: Adobe Premiere Pro and Adobe After Effects CC! Get ready to unleash your creativity and take your video editing skills to exhilarating new heights with this dynamic duo.
Join our After Effects Classes and embark on a thrilling journey into the world of motion graphics, visual effects, and jaw-dropping video editing. This course is your passport to unlocking a treasure trove of possibilities, where you'll discover how to captivate audiences and bring your wildest creative visions to life.
Become a master storyteller as you dive into the depths of Adobe Premiere Pro, the gold standard in the industry. Unleash the full potential of your footage, effortlessly trimming, slicing, and arranging clips to create seamless and engaging narratives. Harness the power of advanced editing tools and explore an array of stunning effects to transform your videos into true cinematic masterpieces.
But we don't stop there! Brace yourself for the mind-blowing capabilities of Adobe After Effects CC. With this animation and compositing powerhouse at your fingertips, you'll effortlessly infuse your projects with eye-popping visuals, mesmerizing motion graphics, and mind-bending special effects. From sleek title sequences to mind-bending transitions, your imagination will be the only limit.
In addition to the creative magic you'll wield, our course provides you with a solid foundation in industry-standard software. Gain a deep understanding of the tools, techniques, and workflows used by motion graphics pros, web designers, and visual effects artists. With these skills in your arsenal, you'll stand out from the crowd and open doors to exciting opportunities in the fast-paced world of video editing.
And that's not all! As an added bonus, our course also prepares you for success with valuable exam information. Whether you're looking to validate your skills or boost your professional credentials, you'll be equipped to tackle certification exams with confidence, setting yourself apart as a certified Adobe Premiere Pro and Adobe After Effects CC expert.
Don't let your creativity be limited by outdated techniques. Unleash the full potential of Adobe Premiere Pro and Adobe After Effects CC with our After Effects Classes. Join us today and embark on a thrilling journey that will transform your videos into works of art, impress clients, and leave audiences spellbound. The future of video editing awaits!
Who Should Take This Introductory Adobe After Effects training course?
Embark on an exhilarating journey into the dynamic world of Adobe After Effects with our groundbreaking online training course! Whether you're a novice seeking to unlock your creative potential or an intermediate user eager to elevate your skills, this course is your ultimate gateway to mastering After Effects without any prior knowledge.
Unleash your imagination as you delve into the endless possibilities of motion graphics, awe-inspiring visual effects, and mind-boggling animations. With step-by-step guidance from seasoned industry professionals, you'll be astounded by your newfound ability to bring your wildest ideas to life on the screen.
Picture yourself effortlessly conquering the art of motion tracking, a skill that empowers you to seamlessly integrate captivating visual elements into any video footage. Explore the wonders of effects templates, harnessing their pre-designed magic to transform your projects with breathtaking ease and efficiency. But that's not all! Brace yourself for the sheer exhilaration of creating mesmerizing, complex animations that will leave audiences spellbound.
What sets our course apart is our unwavering commitment to your success. We understand that true mastery comes not only from knowledge but also from practical application. That's why our comprehensive curriculum is meticulously designed to provide hands-on experience through real-world projects. Dive headfirst into captivating assignments that will challenge your creativity, refine your techniques, and ultimately elevate your portfolio to new heights.
But wait, there's more! As a testament to your newfound expertise, we offer an exclusive certification exam at the end of the course. Showcase your skills to potential employers, clients, or simply bask in the glory of your own accomplishment. Our certification is your golden ticket to stand out in a competitive industry, opening doors to exciting opportunities, and catapulting your career to extraordinary heights.
Join us today and unlock the boundless potential of Adobe After Effects. Together, we'll turn your dreams into mesmerizing realities, revolutionizing the way you bring stories to life and leaving an indelible mark on the world of visual storytelling. Get ready to embark on a thrilling adventure filled with creativity, innovation, and limitless possibilities. The stage is set, and your moment to shine has arrived. Are you ready to take center stage? Enroll now and let the magic unfold!
Course Outline:
Module 1: Getting Started
1.1 Course Introduction
1.2 Keyboard Shortcuts
1.3 Keyboard Tips
1.4 Things to Do Before Starting

Module 2: Getting to Know the Workflow
2.1 General Interface and Starting a Project
2.2 Basic Title Animation Using Keyframes
2.3 Keyframe Interpolation and Keyframe Assistant
2.4 Renaming a Composition
2.5 Soloing a Layer for Individual Edits
2.6 Interface Continued: Toolbar, Timeline panel, Preferences, Workspaces
2.7 Render and Export

Module 3: Creating a Basic Animation Using Effects and Presets
3.1 Importing Files from Bridge and Creating a New Composition
3.2 Horizontal Type Tool and Guides
3.3 Controls, Effects, and Presets for Titles and Logos

Module 4: Animating Text
4.1 Create and Stylize a Text Layer With the Characters and Paragraph Panels
4.2 Preview and Apply Text Animation Presets and Use Keyframes
4.3 Animate Layers Using Parenting
4.4 Editing and Animating Imported Photoshop Text
4.5 Install Fonts Using Adobe Fonts

Module 5: Working With Shape Layers
5.1 Create and Customize a Shape with Shape Tool
5.2 Self-Animating Shape with a Wiggle Path (green marker)
5.3 Create and Customize a Shape with Pen Tool
5.4 Snap Layers
5.5 Animating Shape Layers with Path Operations
5.6 Creating Nulls from Paths

Module 6: Animating a Multimedia Presentation
6.1 Animate Multiple Layers Using Parenting
6.2 Precomposing Layers
6.3 Keyframing a Motion Path
6.4 Animating a Character to Create Movement
6.5 Animating Precomposed Layers with Effects

Module 7: Animating Photoshop Layers
7.1 Animating Change in Light
7.2 Animating Birds Flying with a Track Mat
7.3 Animating Shadows and Using Corner Pin
7.4 Adding a Lens Flare Effect
7.5 Render Composition and Retime
7.6 Use the Graph Editor to Remap Time

Module 8: Working With Masks
8.1 Setup a Basic Mask
8.2 Refine and Apply Mask
8.3 Creating a Reflection with a Mask and Blending Modes
8.4 Create a Vignette

Module 9: Distorting Objects with the Puppet Tools
9.1 Puppet Position Pen Tool
9.2 Starch Pins
9.3 Manually Animate with Puppet Tool
9.4 Automate Animation Using Puppet Sketch Tool

Module 10: Using the Roto Brush Tool
10.1 Extract Foreground Object from Background and Create a Mat
10.2 Touch Up a Mat with the Refine Edge Tool
10.3 Edit or Replace the Separated Background

Module 11: Performing Color Correction
11.1 Set up Composition and Use Levels to Start Balancing the Color
11.2 Basic Color Grading with Lumetri Color Effects
11.3 Use Basic Masking, Tracking, and Keying to Replace the Background
11.4 Use an Adjustment Layer to Create a Global Color Effect
11.5 Gaussian Blur Effect

Module 12: Creating Motion Graphics Templates
12.1 Add New Font with Adobe Fonts and Create a Title with Basic Effects
12.2 Using Adjustment Layers to Apply a Specific Effect
12.3 Use Essential Graphics Panel to Build Custom Controls and Share as a Template
12.4 Create Checkboxes to Toggle Visibility of a Background Image
12.5 Protect Portions of a Project from Time Stretching and Export Template
Frequently Asked Questions About Adobe After Effects Training
What is the Adobe After Effects Training Course?
The Adobe After Effects Training Course is a comprehensive program aimed at teaching individuals how to effectively use Adobe After Effects, a powerful software used for creating motion graphics and visual effects. This course covers a wide range of topics, including navigating the interface, applying effects and presets, animating text and shape layers, working with multimedia presentations, and more.
Who is the intended audience for this course?
This course caters to both beginners and intermediate users of Adobe After Effects. It is designed for individuals who want to learn how to utilize motion tracking, create complex animations, use effects templates, and enhance their overall proficiency with the software. No prior knowledge of Adobe After Effects is required to enroll in this course.
Who is the instructor for this course?
The instructor for this course is Mark Sullivan. Mark has extensive experience working with Adobe After Effects and is recognized for his expertise in motion graphics and visual effects. He has a track record of delivering engaging and informative training sessions to help students grasp the concepts and techniques involved in using Adobe After Effects effectively.
What is the course structure or outline?
The course is structured into 12 modules that progressively cover different aspects of Adobe After Effects. These modules include a comprehensive introduction, an understanding of the workflow and interface, basic animation techniques using effects and preset, animating text, working with shape layers, creating multimedia presentations, animating Photoshop layers, using masks, distorting objects with puppet tools, employing the Roto Brush tool, performing color correction, and creating motion graphics templates.
Can I cancel my subscription at any time?
Yes, the All-Access Monthly Subscription for this course can be canceled at any time without any obligation. You have the flexibility to manage your subscription according to your preferences and cancel it whenever necessary. This allows you to have control over your learning journey and make adjustments as needed.
Your Training Instructor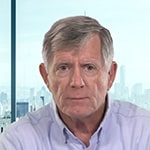 Mark Sullivan
Instructor