Course information for Adobe Spark Training
Adobe Spark is indeed a suite of programs designed to simplify content creation for the internet, particularly for users who rely on their creative skills to generate online content quickly. The three main components of Adobe Spark are Adobe Spark Post, Adobe Spark Page, and Adobe Spark Video.
Adobe Spark Post focuses on creating visually appealing social media posts. It provides a range of professional templates that can be easily customized by users. With a drag-and-drop interface, users can modify images, graphics, text, and colors, enabling them to create engaging social media content without the need for extensive editing skills.
Adobe Spark Page, on the other hand, allows users to design one-page web-based HTML documents. These documents can be published on the internet, making it an accessible tool for individuals who want to create simple web pages or portfolios. The program offers a user-friendly interface and templates to guide the process.
Lastly, Adobe Spark Video simplifies the creation of videos for social media platforms. It offers templates and prompts to assist users in telling stories effectively. With its intuitive features, users can create compelling videos without requiring advanced video editing expertise.
Overall, Adobe Spark's suite of programs is designed to provide a user-friendly and accessible approach to content creation for the Internet. By utilizing templates and simplified editing tools, individuals can produce professional-looking media content, even without extensive experience in media creation.
Course Outline:
Adobe Spark: Module 1
Instructor Intro
Course Intro
Web Based vs Mobile Device
How to Access Spark
Branding in Spark
Adobe Spark: Module 2
Using Spark Post
Uploading Content from Post for Exporting
Using Spark Video
Exporting Finished Videos
Using Spark Page
Putting Spark Pages on the Web
Frequently Asked Questions About Adobe Spark Training
What is Adobe Spark and what can I learn from this training course?
Adobe Spark is a suite of design tools developed by Adobe Systems. It consists of Spark Post for social media post design, Spark Page for web page creation, and Spark Video for animated video production. This training course aims to teach you how to effectively utilize these tools to create professional designs and animations.
Do I need any prior knowledge or skills to take the Adobe Spark training course?
No prior knowledge of Adobe Spark or graphic design is typically required for this training course. It is designed to cater to beginners. However, basic computer skills may be necessary.
What format does the training course take?
The Adobe Spark training course is commonly delivered in a video format, accompanied by supplementary materials such as PDFs or exercise files. The course can be self-paced, allowing you to complete it at your convenience, or it may follow a specific schedule.
How long will it take to complete the Adobe Spark training course?
The duration of the course varies depending on the depth of the content and your learning pace. On average, it may take a few weeks of part-time study to complete the Adobe Spark training course.
Will I receive a certificate upon completion of the course?
Yes, upon completing the Adobe Spark training course, you will receive a certificate. This certification can be valuable for showcasing your skills to potential employers or clients.
What kind of support is available to me while I'm taking the course?
Online courses typically provide support options such as access to an instructor or a student forum. It is important to check the specific support available before starting the course, especially if you are new to the subject matter.
Your Training Instructor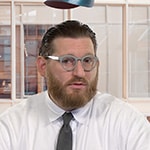 Tyson Robertson
Design and Media Professor and Freelancer
Tyson Robertson is a freelance photographer and designer with over 20 years of experience. He has a BFA from Parsons School of Design in Photography and an MFA from New York University. He lives and works in Central Florida where he teaches college courses in design and media and works on freelance projects for social media and marketing campaigns.