Introducing our exhilarating Adobe Illustrator training course! Prepare to embark on a creative journey where your imagination knows no bounds. This course is meticulously crafted to unleash your graphic design prowess and ignite your artistic potential.
Immerse yourself in the world of Adobe Illustrator, the unrivaled trailblazer in the realm of design innovation and reliability. Unleash your creativity as you learn to effortlessly breathe life into your ideas and transform them into breathtaking works of art. Whether you aspire to craft captivating web and mobile graphics, craft stunning logos and icons, illustrate enchanting book covers, design eye-catching product packaging, or even dominate the towering heights of billboards, Illustrator is your gateway to turning visions into reality.
Unlock the power of freehand drawing, where your strokes flow effortlessly across the canvas, capturing the essence of your artistic expression. Harness the magic of tracing and recoloring graphics, elevating them to new heights of visual brilliance. With Illustrator's vector-based design approach, you'll be able to scale your artwork seamlessly, from the tiniest of mobile screens to the grandest of billboards, without sacrificing an ounce of clarity or detail. Every line, shape, and curve you create will retain its crispness and beauty, mesmerizing your audience.
Speed is your ally in the fast-paced world of design, and Illustrator is your nimble companion. Experience the lightning-fast launch, save, and rendering of effects, allowing you to work with efficiency and agility. With the ability to effortlessly reuse vector graphics and seamlessly access an infinite array of fonts, your creative process will soar to new heights, unbound by limitations.
But wait, there's more! Illustrator seamlessly integrates with other Creative Cloud applications such as Photoshop, InDesign, XD, and After Effects, opening up a universe of possibilities for your design projects. With this powerful synergy at your fingertips, you'll be able to unleash your creativity across multiple mediums and craft captivating visual experiences that will leave a lasting impact.
Are you ready to unlock your creative potential and embark on a transformative journey? Enroll in our Adobe Illustrator training course today and unleash the artist within. Plus, to put your skills to the test and earn a prestigious certification, we offer an optional exam at the end of the course. Showcase your mastery of Illustrator and stand out from the crowd with an industry-recognized credential, paving the way for exciting career opportunities and artistic success.
Don't let your dreams remain on the canvas of imagination. Enroll now and let Adobe Illustrator be your brush to paint a vibrant future filled with endless possibilities!
Our Adobe Illustrator Training Course
Unleash your creativity and master the art of graphic design with our exhilarating Adobe Illustrator online classes! Whether you're an aspiring designer eager to embark on your creative journey or a seasoned professional looking to elevate your skills to extraordinary heights, this course is designed to ignite your passion and transform you into a vector art virtuoso.
Discover the limitless possibilities of Adobe Illustrator as you dive into its core components, unravel its hidden treasures, and unleash your artistic prowess. With a dynamic curriculum curated by industry experts, you'll embark on a thrilling adventure where innovation meets imagination.
From the very basics to advanced techniques, our comprehensive program ensures that no design challenge is too daunting for you. Immerse yourself in the intuitive interface, harness the power of cutting-edge tools, and unlock the secrets of creating captivating vector art that leaves a lasting impression.
But that's not all! We go above and beyond by offering you the chance to demonstrate your newfound expertise with our exclusive certification exam. Showcase your skills to the world and let your mastery of Illustrator become a badge of honor in the design community.
Whether you're dreaming of a career in graphic design, seeking to enhance your professional portfolio, or simply craving the exhilaration of pushing your creative boundaries, our Adobe Illustrator online classes will be your guiding light. Join our vibrant community of artists, embrace the magic of vector art, and embark on a transformative journey that will unlock a world of infinite possibilities.
Enroll today and let your imagination soar to new heights with Adobe Illustrator – the gateway to design excellence!
Start your journey with the fundamentals of Illustrator design
Unlock your true graphic design potential with our cutting-edge online course! Discover the power of Creative Cloud libraries and harness the most up-to-date tools available in the industry. Prepare to be amazed as we equip you with a treasure trove of skills that will transform you into a graphic design guru!
Immerse yourself in our comprehensive lessons, carefully crafted to take you from a novice to a master of Illustrator design. Dive headfirst into the world of robust vector artwork creation and learn the secrets to crafting captivating compositions that will leave your audience in awe. But that's just the beginning!
Unleash your creativity as you trace and revamp scanned designs, breathing new life into them with your artistic flair. Unlock the art of logo design, where you'll discover how to create impactful brand identities that leave a lasting impression. And when it comes to setting typefaces for promotional materials, you'll be equipped with the skills to make your designs truly stand out from the crowd.
But wait, there's more! As you progress through our course, you'll have the opportunity to demonstrate your newfound expertise with our exciting exams. Put your skills to the test and earn your well-deserved badges of accomplishment. These exams not only reinforce your knowledge but also provide you with tangible proof of your abilities, something you can proudly showcase to potential clients or employers.
So, what are you waiting for? Join us on this exhilarating journey of self-discovery and watch as your graphic design prowess reaches new heights. With our online course, you'll not only gain mastery over Illustrator design but also unlock a world of endless creative possibilities. Get ready to leave a lasting impression and become the graphic design superstar you were always meant to be!
Premium Design Tools That Will Blow You Away!
Introducing the Ultimate Adobe Illustrator Mastery Course: Unleash Your Creative Superpowers!
Are you ready to embark on a transformative journey into the world of graphic design? Look no further! Join us on an exhilarating adventure with the most comprehensive Adobe Illustrator course you'll ever find.
Imagine having the ability to bring your wildest creative visions to life with just a few clicks. With our course, you'll not only unlock the full potential of Illustrator but also master the art of crafting stunning visuals that will leave a lasting impact on your audience.
Our expert instructors have meticulously crafted this course to cater to both beginners and seasoned designers alike. No matter your skill level, we'll guide you through every step of the way, from the fundamentals to advanced techniques, ensuring you become a true Illustrator wizard.
Why choose our Adobe Illustrator Mastery Course? Let's dive into the irresistible benefits that await you:
Supercharge Your Design Skills: Gain an in-depth understanding of Illustrator's powerful tools and features. From creating eye-catching logos to designing captivating illustrations, you'll learn how to effortlessly craft professional-grade artwork.
Join the Elite Ranks: Adobe Illustrator is the go-to software for graphic designers worldwide. By mastering this industry-standard tool, you'll position yourself as a sought-after professional, ready to tackle exciting projects in diverse fields such as branding, advertising, web design, and video production.
Unleash Your Creativity: Experience the sheer joy of transforming your imaginative ideas into reality. With Illustrator's versatility, you'll have the freedom to explore endless design possibilities and express your unique style like never before.
Time-Efficient Learning: Our course is expertly structured to optimize your learning journey. With our carefully curated lessons, interactive exercises, and real-world examples, you'll acquire the necessary skills efficiently, empowering you to create awe-inspiring designs in no time.
Stay Ahead of the Curve: Our course is continuously updated to reflect the latest trends and advancements in the design industry. You'll stay at the forefront of innovation, armed with cutting-edge techniques that will give you a competitive edge.
But wait, there's more! We go the extra mile by offering an exclusive certification exam upon completion of the course. This industry-recognized certification will not only validate your newfound expertise but also enhance your credibility and open doors to exciting career opportunities.
So, are you ready to unleash your creative superpowers with Adobe Illustrator? Enroll now in our Ultimate Adobe Illustrator Mastery Course and let your designs leave an indelible mark on the world!
Note: The certification exam is designed to assess your skills and knowledge acquired throughout the course. It will cover various aspects of Illustrator, including tool usage, design principles, and project implementation. Rest assured, our comprehensive course materials and hands-on exercises will thoroughly prepare you for success in the exam.
Course Outline:
Module 1 – Introduction to Adobe Illustrator 2022
1.1 Instructor Bio
1.2 Course Introduction

Module 2 – Getting Started with Adobe Illustrator 2022
2.1 What are Vectors
2.2 Creating a New Document
2.3 Navigating the Interface

Module 3 – Drawing
3.1 Drawing and Manipulating Primitive Shapes
3.2 Drawing Custom Shapes
3.3 Importing Images
3.4 Understanding Layers and Sublayers
3.5 Additional Drawing and Manipulation Tools

Module 4 – Colors and Gradients
4.1 Color Theory
4.2 In-depth Dive into Color Palette4.3 Creating Color Swatches
4.3.2 Gradient Mesh

Module 5 – Intermediate Illustration
5.1 Appearance Palette
5.2 Pathfinder Palette
5.3.1 Recreating an Existing Logo
5.3.2 Creating an Icon from a Sketch
5.3.3 Creating a vector illustration from a sketch
5.3.4 Blending Modes

Module 6 – Typography
6.1 Introduction to Typography
6.2 Type Tools in Illustrator
6.3 Envelope Warp and Mesh
6.4 Breaking Text into Outlines
6.5 Caligramme Demo

Module 7 – Live Trace, Paintbrush, and Blob Brush
7.1 Live Trace
7.2 Paint Brush

Module 8 – Advanced Illustration
8.1 Illustrating a face from a photo
8.2 Illustrating the Body
8.3 Hair and emulating texture
8.4 Adding a background
8.5 Shadows and highlights

Module 9 – Exporting
9.1 Differences Between File Formats
Conclusion
Frequently Asked Questions About Adobe Illustrator Training Course
What will I learn in this Adobe Illustrator Training Course?
In this Adobe Illustrator Training Course, you will learn essential skills and techniques for working with the software. The course covers topics such as understanding vector and pixel graphics, different color modes, and when to use them. You will also explore Illustrator's extensive toolset and learn how to apply them to real-world applications, including designing logos, creating custom illustrations, and vectorizing photographs.
How can I access this Adobe Illustrator Training Course?
To access the Adobe Illustrator Training Course, you can enroll through various online platforms or training providers that offer Adobe software courses. These platforms usually provide access to course materials, tutorials, and exercises through their online learning portals. You may need to create an account and make a payment to gain full access to the course.
How much does the Adobe Illustrator Training Course cost?
The cost of the Adobe Illustrator Training Course can vary depending on the platform or training provider you choose. Prices may range from a one-time fee for a specific course to a subscription-based model that gives you access to multiple courses. It's best to check the pricing details on the specific platform or training provider's website for accurate and up-to-date information on the course cost.
Do I need to be an existing Adobe customer to take this course?
No, you do not need to be an existing Adobe customer to take the Adobe Illustrator Training Course. These training courses are designed to teach users of all levels, including beginners. While Adobe Illustrator is the software being taught, you can usually purchase the course directly from the training provider's website without having an Adobe account. Some platforms may offer bundle deals that include Adobe software subscriptions, but they are not always required to access the training course.
What is the difference between on-demand training and instructor-led training?
On-demand training and instructor-led training are two different formats of learning. On-demand training allows you to access the course materials and resources at any time and learn at your own pace. You can watch pre-recorded video tutorials, complete exercises, and progress through the course at your convenience. Instructor-led training, on the other hand, involves live sessions with an instructor. These sessions can be conducted in person or online, where you can interact with the instructor, ask questions, and receive real-time guidance.
What if I need to cancel or reschedule my enrollment in the course?
The cancellation and rescheduling policies may vary depending on the training provider or platform you choose for the Adobe Illustrator Training Course. Generally, you can cancel or reschedule your enrollment by contacting the provider directly. It is recommended to do so at least 7 days in advance of the scheduled start date of the course. However, for specific cancellation or rescheduling procedures, it is best to reach out to the training provider or check their terms and conditions for accurate information.
Your Training Instructor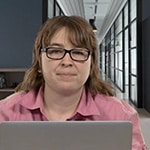 Dana Corrigan
Animation Professor and Freelancer
Dana Corrigan is a 2D animation professor and freelance animator/illustrator whose work includes TV Pilots, E-Cards, Motion Graphics, animated short films, and developing pitch books and presentations for cartoon shows. She has an MFA in Animation from Savannah College of Art and Design and has been teaching at the university level since 2011.