Introducing the Ultimate Creative Mastery Course on Adobe Behance!
Unleash your artistic potential and skyrocket your career in the dynamic world of creativity with this exhilarating course. Join us on a thrilling journey that will revolutionize the way you showcase, discover, and share your creative projects.
Immerse yourself in a vibrant community of like-minded creatives from around the globe. By building your unique profile on Adobe Behance, you'll unlock a treasure trove of opportunities to collaborate, network, and inspire others in your chosen field. Prepare to be amazed as your work takes center stage and captivates the world with its brilliance.
From graphic design gurus to fashion-forward visionaries, and illustration maestros to photographic virtuosos, this course is tailored to empower individuals across a multitude of creative disciplines. Uncover the secrets of crafting visually stunning portfolios that mesmerize and leave a lasting impression on potential clients, employers, and collaborators.
But that's not all—our course goes above and beyond by providing you with the tools and strategies to thrive in the competitive creative landscape. You'll gain invaluable insights into industry trends, best practices, and cutting-edge techniques that will propel your career to new heights.
To truly put your skills to the test, we've included exciting exam components that will challenge your creativity and push your boundaries. Show off your mastery through exhilarating project showcases, where your talent will shine brightly as you navigate through intricate design challenges and demonstrate your ability to captivate audiences.
By enrolling in this course, you'll acquire the confidence, knowledge, and expertise needed to excel in the creative industry. Join the ranks of the most sought-after creatives and become a beacon of inspiration in your chosen field.
Don't miss out on this incredible opportunity to transform your creative journey. Enroll today in the Ultimate Creative Mastery Course on Adobe Behance, and let your imagination soar to new horizons!
About our online training course
Unlock Your Creative Potential: Join our Dynamic Online Behance Training Course!
Are you ready to unleash your creativity and take your skills in the Graphic Design Industry to new heights? Look no further! Our exhilarating online Behance training course is tailor-made for individuals like you, who thrive on pushing boundaries and making a lasting impact with their artistic endeavors.
Immerse yourself in a vibrant community of like-minded professionals, whether you're a seasoned graphic designer, a visionary web designer, a talented illustrator, a passionate photographer, or even a fashion expert with an eye for style. This course is your golden ticket to collaborating with fellow creatives from around the globe, tapping into a wealth of knowledge, and showcasing your stunning portfolio to the world.
What sets our course apart is its focus on tangible benefits that will transform your creative journey. By delving deep into Adobe Products, you'll master the tools and techniques that fuel your imagination, enabling you to bring your artistic visions to life like never before. From enhancing your design skills to refining your visual storytelling prowess, this course empowers you to unlock your true potential.
But that's not all! We understand that exams can sometimes be intimidating, so we've designed our course to be both engaging and exam-friendly. With interactive modules, hands-on projects, and real-world challenges, you'll seamlessly absorb the course material and build confidence along the way. Our expert instructors will guide you every step of the journey, ensuring you're well-prepared to ace the final exam and earn a prestigious certification that validates your skills.
So, are you ready to embark on an exhilarating learning adventure? Join our online Behance training course and discover a world of endless creativity, collaboration, and professional growth. Don't let your artistic aspirations be hindered by limitations – let them soar to new heights with us!
Enroll today and become the creative powerhouse you were always meant to be!
Course Outline:
Get Creative With Adobe Behance
Instructor Introduction
Adobe Behance Course Introduction
Adobe Behance – A Creative, Collaborative Application
Using The Profile page
Creating A Project
Exploring The Jobs Section
Frequently Asked Questions About Adobe Behance Course
What will I learn in the Adobe Behance Course?
In the Adobe Behance Course, you will learn how to effectively utilize Adobe Behance, a service included in Adobe Creative Cloud. The course will guide you in understanding the platform's potential and teach you how to showcase and promote your creative work. You will explore various techniques for creating impressive project profiles and engaging with other artists in the vibrant Behance community.
Who is the instructor for this course?
The instructor for the Adobe Behance Course is Alexandra Copley. Alexandra is a seasoned professional with extensive experience in the graphic design industry. Her expertise and knowledge will be instrumental in helping you grasp the ins and outs of Adobe Behance and maximize its potential for your creative endeavors.
Who is this course intended for?
The Adobe Behance Course is specifically designed for individuals in the graphic design industry or those engaged in creative work using Adobe products. Whether you are a web designer, illustrator, photographer, graphic designer, or even a fashion expert, this course is ideal for anyone passionate about sharing their creative work with the world. It caters to both beginners and experienced professionals seeking to enhance their skills by utilizing Behance as a platform for exposure and networking.
Can I buy and sell work on Behance?
One common inquiry among Behance users is whether the platform allows buying and selling of creative work. However, it's important to note that Behance primarily serves as a showcase and discovery platform for creative projects, rather than a direct marketplace for buying and selling. The course will provide a comprehensive understanding of Behance's purpose and guide you on leveraging it effectively to gain recognition and opportunities.
How do I remove a co-owned project from my profile on Behance?
Managing co-owned projects is a crucial aspect of utilizing Adobe Behance, and the course will extensively cover this topic. You will learn the step-by-step process of handling co-owned projects, including removing them from your profile if necessary. The course will provide clear instructions and best practices for effectively managing your projects on Behance.
What should I do if I published a project but it's still private on Behance?
Understanding privacy settings and effectively managing your projects on Behance is essential. If you encounter a situation where a project you published remains private, the course will address this common issue. You will learn how to navigate the privacy settings, troubleshoot any problems, and ensure your projects are appropriately visible to the Behance community and beyond.
Your Training Instructor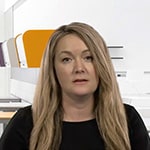 Alexandra Copley
Photography Professor and Freelancer
Alex has spent the last decade working as a freelance photographer all over the world. She first obtained her MFA in Photography and worked as a teacher in photography, visual effects, and related topics. Her teaching philosophy is simple. She feels that to be the best teacher she must be the best student. Therefore, she is always learning something new to share with her students.