Introducing the ultimate font-lover's dream course! Join us on an exhilarating journey into the captivating world of Adobe Fonts, where unlimited creativity meets seamless accessibility.
Unlock a treasure trove of high-quality fonts, meticulously curated to elevate your projects to new heights. With a subscription to Adobe Fonts, you'll gain access to a remarkable library brimming with a vast array of fonts for every design need. From sleek and modern to elegant and ornate, there's a typeface to perfectly complement your artistic vision.
But that's not all! Imagine the convenience of syncing these fonts effortlessly via Adobe Creative Cloud to your favorite design applications. Seamlessly integrate them into your designs, advertisements, websites, and more, allowing your creativity to flourish without bounds. Whether you're a seasoned graphic designer or a creative maven, this course is an absolute game-changer for anyone in the creative field.
And here's the cherry on top: every font included in the Adobe Fonts library comes pre-licensed, ensuring worry-free usage for both personal and commercial projects. No extra charges or copyright concerns—just pure design freedom at your fingertips.
But wait, there's more! As part of this exhilarating course, we offer exclusive exam opportunities to test your newfound font mastery. Prove your skills and earn certifications that will set you apart in the industry. These valuable credentials will not only enhance your professional profile but also showcase your dedication to staying ahead of the curve.
So, if you're ready to take your graphic design journey to new dimensions, embrace the limitless potential of Adobe Fonts. Join us and let your imagination soar as you harness the power of fonts to create awe-inspiring masterpieces. Enroll now and embark on a transformative adventure that will leave you inspired, empowered, and equipped with the tools to turn your creative dreams into reality!
Course Outline:
Module 1 – Adobe Fonts
Instructor Intro
Course Intro
Navigating the Interface
Activating and Deactivating Fonts
Font Packs
Type Kit Web Fonts
Course Conclusion
Frequently Asked Questions About Adobe Fonts Training
What will I learn in the Adobe Fonts Training course?
In the Adobe Fonts Training course, you will gain the skills and knowledge necessary to effectively access and utilize Adobe's extensive library of high-quality fonts in your design projects. Whether you are creating advertisements, and websites, or engaging in various graphic design endeavors, this course will equip you with the expertise to leverage fonts effectively. It is particularly beneficial for professionals in the creative field who incorporate graphic design into their job responsibilities.
How can I access the Adobe Fonts Training course?
You can gain access to the Adobe Fonts Training course by subscribing to our Online All Access Monthly Subscription, which provides you with an extensive range of training options. By starting today, you can enjoy a free trial period of 7 days with no obligations, and you have the flexibility to cancel your subscription at any time.
Who is the instructor for this course?
The Adobe Fonts Training course is taught by Alexandra Copley. With a decade of experience as a freelance photographer, Alexandra has traveled the world honing her craft and has expertise in various areas of photography and visual effects. Her vast knowledge and experience make her a skilled instructor for this course.
How do I access Adobe Fonts?
To access Adobe Fonts, you need to subscribe to Adobe Creative Cloud, a comprehensive suite of creative tools. Once you have subscribed, you can visit fonts.adobe.com and sign in with your Adobe ID. This will grant you access to the vast collection of typefaces available in Adobe Fonts, allowing you to explore and choose the fonts that suit your design needs.
Can I use Adobe Fonts on my website?
Absolutely! You can use Adobe Fonts on your website by utilizing the web project embedding code provided. To achieve this, you need to create a web project in Adobe Fonts, select the desired fonts, and then copy the embedding code provided in the "Web Projects" section of your Adobe Fonts account. You can then paste this code into the HTML of your website, enabling the selected fonts to be applied and displayed correctly.
Are there any limitations on using Adobe Fonts for commercial projects?
No, there are no limitations when using Adobe Fonts for commercial projects. Once you have an Adobe Creative Cloud subscription, you are granted the freedom to utilize any activated fonts in your designs, whether they are personal or commercial, without incurring any additional licensing fees. Adobe Fonts provides you with the necessary licensing rights for incorporating the fonts into your commercial projects.
Your Training Instructor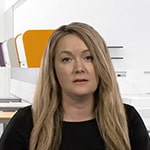 Alexandra Copley
Photography Professor and Freelancer
Alex has spent the last decade working as a freelance photographer all over the world. She first obtained her MFA in Photography and worked as a teacher in photography, visual effects, and related topics. Her teaching philosophy is simple. She feels that to be the best teacher she must be the best student. Therefore, she is always learning something new to share with her students.