Introducing Adobe Portfolio Mastery: Unleash Your Creative Potential and Showcase Your Talent!
Are you a visual designer yearning to make your mark in the digital realm? Look no further! Join our exhilarating Adobe Portfolio Mastery course and embark on a thrilling journey to create, manage, and personalize your very own captivating online portfolio.
With Adobe Portfolio Mastery, you'll unlock a treasure trove of benefits that will propel your career to new heights. Seamlessly integrated with the world-renowned Creative Cloud subscription, this course empowers you to build a personalized website in record time, without the need for extensive web design expertise. Say goodbye to tedious coding and hello to a dazzling online presence that perfectly showcases your creative prowess!
Step into a world of infinite possibilities as you explore an array of meticulously crafted layouts designed exclusively for showcasing your projects. Whether you're an artist, photographer, fashion guru, graphic designer, or a master of motion graphics, our selection of layouts caters to every creative field, leaving a lasting impression on potential clients and collaborators.
But that's not all! As an added bonus, Adobe Portfolio seamlessly integrates with Adobe Lightroom. By harnessing the power of collection sets, you can effortlessly update your gallery with a simple click. With the ability to add or remove images from your digital projects collection, you'll always have the freedom to curate a portfolio that represents your best work.
And here's the cherry on top: Adobe Portfolio Mastery equips you with the knowledge and skills to pass the prestigious Adobe Portfolio Certification Exam. By demonstrating your expertise, you'll set yourself apart from the competition and open doors to exciting opportunities in the creative industry. So, get ready to showcase your talent and be recognized as a certified Adobe Portfolio Master!
Don't let your creative genius go unnoticed. Enroll in Adobe Portfolio Mastery today and discover the art of presenting your work with flair, finesse, and maximum impact. Unleash your creativity, impress the world, and watch your career soar to astonishing heights. The stage is set, and you're the star. Let your portfolio shine like never before!
Why should you enroll in this course?
Unlock the gateway to your creative aspirations and turbocharge your career with our exhilarating online course: "Mastering Adobe Portfolio." Ignite your imagination and unleash your artistic prowess as you embark on a transformative journey that will skyrocket your success!
Discover the art of crafting an awe-inspiring portfolio that radiates your unique style and captivates your audience. Unleash your creative genius and learn how to choose the perfect template that showcases your work with unparalleled flair. Customize it to perfection, turning it into a stunning masterpiece that leaves a lasting impression on clients, employers, and collaborators alike.
But that's not all! This course goes beyond the ordinary, allowing you to seamlessly import your content from Lightroom, Photoshop, Illustrator, or Behance Project. Unleash the full power of Adobe's creative suite, effortlessly integrating your masterpieces into your portfolio for an unparalleled visual experience. Showcase your breathtaking photographs, mesmerizing illustrations, mind-blowing designs, and captivating projects, all within a cohesive and harmonious digital realm.
And here's the icing on the cake: we'll show you how to publish your portfolio with a custom domain name, elevating your online presence to a whole new level. Establish your personal brand and claim your virtual real estate with confidence, as you enthrall your audience with a professional, polished, and unforgettable showcase of your talent.
But don't just take our word for it – your newfound expertise will be put to the test with our comprehensive examinations. Challenge yourself and solidify your skills as you conquer each module, earning a coveted certification upon completion. Stand out from the crowd, armed with a recognized testament to your mastery of Adobe Portfolio.
So, whether you're a seasoned graphic designer seeking to revolutionize your portfolio or a visionary artist exploring new horizons, this course is your golden ticket to success. Unleash your creative potential, embark on a journey of self-expression, and take your career to the stratosphere. Enroll today and prepare to soar above the competition, armed with an exceptional portfolio that sets you apart as a creative force to be reckoned with!
Course Outline:
Module 1 – Adobe Portfolio Website Editor
Instructor Introduction
Getting Started With Adobe Portfolio
Creating A Website To Showcase Your Work
Importing And Syncing From Adobe Lightroom
Customizing Your Landing Page
Frequently Asked Questions About Adobe Portfolio Training
What will I learn in the Adobe Portfolio Training course?
In the Adobe Portfolio Training course, you will gain valuable skills in using Adobe Portfolio, an online website editor that leverages social media features. This comprehensive course will guide you through the process of creating, managing, and personalizing your portfolio to showcase your creative work effectively. You will learn how to choose the most suitable template, customize it according to your needs, and seamlessly import content from other Adobe applications like Lightroom, Photoshop, Illustrator, or Behance Project.
What are the prerequisites for the course?
The Adobe Portfolio Training course is designed for individuals in the graphic design field and other creative professions. While it can be beneficial to have some familiarity with Adobe Creative Cloud, it is not mandatory. The course provides step-by-step guidance on using Adobe Portfolio's functionalities, ensuring that learners at various skill levels can benefit from the training.
How long is the course and what materials are included?
The Adobe Portfolio Training course consists of 1 training hour, 5 instructional videos, 1 comprehensive topic, and 11 practice questions. By enrolling in the course, you gain access to on-demand content through the All Access Monthly Subscription. This ensures that you can learn at your own pace and refer back to the materials whenever needed.
Can I use my own domain name for my Adobe Portfolio?
Yes, you have the option to link your own domain name to your Adobe Portfolio website, allowing you to create a more professional online presence. You can either use a domain name you already own by re-routing it to your portfolio or purchase a new domain name through Adobe or a domain registrar of your choice. This flexibility enables you to align your portfolio with your personal brand or business identity.
What happens to my Adobe Portfolio if I cancel my Adobe subscription?
In the event that you decide to cancel your Adobe subscription, your Adobe Portfolio will remain online for a grace period of two weeks. This allows you to access and make any necessary changes to your portfolio during that time. However, if you choose not to renew your Creative Cloud Subscription plan after the grace period, your portfolio site will be taken down. Nevertheless, you can still access and edit your portfolio using the Adobe Portfolio editor.
Does Adobe Portfolio support e-commerce and blogging?
No, Adobe Portfolio does not offer built-in support for e-commerce functionality or blogging capabilities. It primarily focuses on providing a platform for showcasing your creative work and portfolio. If you require e-commerce features to sell products or services online, or if you intend to have a blog integrated into your website, you might want to explore other platforms such as SquareSpace or WordPress, which offer more extensive options in those areas.
our Training Instructor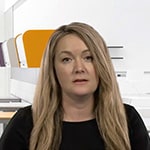 Alexandra Copley
Photography Professor and Freelancer
Alex has spent the last decade working as a freelance photographer all over the world. She first obtained her MFA in Photography and worked as a teacher in photography, visual effects, and related topics. Her teaching philosophy is simple. She feels that to be the best teacher she must be the best student. Therefore, she is always learning something new to share with her students.