Are you ready to unlock your creativity and take your design skills to the next level? Look no further! Join our exhilarating Adobe InDesign training course led by a seasoned professional who is a true luminary in the design industry. With years of training experience and impressive titles like 2D Animator and Adjunct Professor of Animation and Digital Art, your instructor brings unparalleled expertise and a passion for empowering aspiring designers like you.
In this dynamic course, you'll embark on a transformative journey, mastering both foundational and essential skills to craft stunning projects and produce industry-leading layouts. Whether you're a seasoned designer or just starting your creative voyage, this course is tailored to meet your needs and elevate your design prowess.
Get ready to explore the limitless possibilities of Adobe InDesign as you dive into its versatile features and unleash your imagination. Learn how to effortlessly create captivating print and digital designs that make a lasting impact. From eye-catching brochures to magazine spreads that jump off the page, you'll gain the expertise to bring your visions to life with finesse and precision.
But that's not all! We go the extra mile to ensure your success. Our comprehensive training program includes practical assignments and hands-on projects that allow you to apply your newfound knowledge in real-world scenarios. And here's the icing on the cake: a dedicated exam at the end of the course to assess your skills and reward you with a well-deserved certification. This certification will not only validate your expertise but also open doors to exciting career opportunities in the design industry.
Don't miss this chance to learn from the best and ignite your design journey. Enroll now and let your creativity soar as you master Adobe InDesign, transforming your ideas into breathtaking designs that captivate audiences and leave a lasting impression. Get ready to revolutionize your design game and become a force to be reckoned with in the world of visual storytelling!
What is Adobe InDesign?
Introducing our exhilarating Adobe InDesign training course, where creativity takes center stage and your design dreams come to life! Unleash your artistic prowess as you dive into the vibrant world of Adobe InDesign Creative Cloud. This phenomenal software empowers you to transform mere images and text into captivating page layouts that will leave audiences awestruck.
Get ready to embark on a remarkable journey of discovery and mastery. With our comprehensive training, you'll unlock the full potential of Adobe InDesign, equipping yourself with the skills to craft stunning multi-page documents that transcend the ordinary. From captivating books and mesmerizing magazines to eye-catching brochures and impressive portfolios, the possibilities are endless.
But that's not all—prepare to expand your horizons beyond traditional publishing. With Adobe InDesign, you'll effortlessly create compelling business cards, striking letterheads, dynamic posters, and enticing flyers that capture attention and leave a lasting impression. The world becomes your canvas, and InDesign becomes your artistic brush, enabling you to manifest your imagination in breathtaking designs.
Throughout the course, you'll be guided by industry experts who will unveil the secrets of InDesign's robust toolset. From manipulating typography with finesse to harnessing the power of styles and layers, you'll develop a deep understanding of design principles that will elevate your creations to new heights. You'll also learn how to seamlessly integrate InDesign with other Adobe masterpieces like Photoshop and Illustrator, amplifying your creative potential and unleashing a symphony of possibilities.
To ensure your newfound expertise is solidified, we've included exciting exam opportunities. Put your skills to the test as you tackle hands-on projects, demonstrating your ability to conceptualize, design, and execute exceptional layouts. Earn your well-deserved certification, a tangible testament to your proficiency in Adobe InDesign—a badge of honor that will open doors to endless professional opportunities.
Join us on this thrilling adventure and transform yourself into a design virtuoso. Unleash the power of Adobe InDesign Creative Cloud, and let your imagination soar as you shape the world one stunning layout at a time. Enroll now and embark on a journey that will redefine the limits of your creative expression!
Opportunities for employment for those with experience in Adobe InDesign
Graphic Designer
Digital Design
Website Designer
Visual Designer
UI/UX Designer
UI/UX Developer
Get our Adobe InDesign training course right away to advance your skills.
Course Outline:
Module 1 – Introduction To Adobe Indesign 2022
1.1 Intro-InDesign
1.2 What is InDesign
Module 2 – Getting Started With Adobe InDesign 2022
2.1 Creating a New Document
2.2 Importing Images and Understanding Links
2.3 Embedding
2.4 Navigating the Interface
2.5 Manipulating Graphics
2.6 Creating simple shapes
2.7 Basic Tools
2.8 Properties Panel
2.9 Working with Layers
2.10 Elements of Design
Module 3 – Understanding and Applying Colors
3.1 Color Theory
3.2 Color Swatches RGB vs Lab vs CMYK
3.3 Understanding and Applying Gradients
Module 4 – Pages
4.1 Pages Panel
4.2 Parent Pages
Module 5 – Typography
5.1 Typography
5.2 Creating Text
5.3 Character and Paragraph Formatting
5.4 Character and Paragraph Styles
5.5 Chaining Text Boxes Together
5.6 OpenType
5.7 Creating Outlines
5.8 Working with Tables
Module 6 – Packaging and Exporting for Web and Print
6.1 Preflight
6.2 Packaging Your Document
6.3 Exporting a PDF
6.4 Exporting an Image Sequence
Module 7 – Principles of Design
7.1 Principles of Design
Module 8 – Designing for Your Output
8.1 Letterheads
8.2 Business Cards
8.3 Resume
8.4 Brochures
8.5 Types of Binding
8.6 Impose
Module 9 – Advanced Techniques in InDesign
9.1 Clipping Mask
9.2 Step and Repeat
9.3 GREP
9.4 Layer Effects
9.5 Page Tool
9.6 Scripts
Module 10 – Interactivity in InDesign
10.1 Interactivity
10.2 Importing Media
10.3 Using Multiple Pages in Interactivity
10.4 Crating an Interactive Project
10.5 Animation
10.6 InDesign Conclusion
Frequently Asked Questions About Adobe InDesign Training Course
What prior experience do I need to take the Adobe InDesign Training Course?
No prior experience is required to enroll in the Adobe InDesign Training Course. The course is designed to accommodate individuals with varying levels of experience, including beginners and those with some background in graphic design or related software. It provides step-by-step guidance on using Adobe InDesign's functionalities, ensuring that learners can grasp the concepts and techniques regardless of their starting point.
Is the Adobe InDesign software included in the training course fee?
No, the training course fee does not cover the cost of the Adobe InDesign software. Participants will need to acquire the software separately. Adobe offers various purchasing and subscription options for InDesign. Students are often eligible for educational discounts, so it's advisable to check Adobe's website or consult with your educational institution to explore any available offers.
How long will it take to complete the Adobe InDesign Training Course?
The duration of the Adobe InDesign Training Course varies based on individual learning pace and time commitment. On average, students complete the course within 4 to 6 weeks by dedicating approximately 3-5 hours per week to the material. However, it's important to note that participants can progress at their own speed and may take more or less time depending on their availability and preferred learning style.
Do I receive a certification upon completion of the course?
Yes, upon successful completion of the Adobe InDesign Training Course, you will receive a certificate of completion. This certificate serves as a valuable credential to showcase your newly acquired skills in Adobe InDesign. It can be added to your professional portfolio, included on your resume, or displayed on your LinkedIn profile. The certificate demonstrates your competence and commitment to mastering this industry-standard graphic design software.
What are the technical requirements to take the Adobe InDesign Training Course online?
To participate in the Adobe InDesign Training Course online, you will need a computer with a stable internet connection. This will enable you to stream video lessons, access course materials, and engage with interactive content. Additionally, you must have the Adobe InDesign software installed on your computer. Adobe InDesign is compatible with both Windows and macOS operating systems. However, it's recommended to review Adobe's website for specific system requirements to ensure your computer meets the necessary specifications for running the software effectively.
Can I access the course content after completing the course?
Yes, even after completing the Adobe InDesign Training Course, you will retain access to the course content. This allows you to revisit the lessons, review specific topics, and reinforce your learning as needed. However, it's important to note that the duration of access to the course materials may depend on the specific course policy or provider. To obtain accurate information regarding access duration, it's advisable to check the course webpage or contact the course administrator or support team.
Your Training Instructor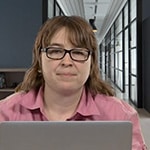 Dana Corrigan
Animation Professor and Freelancer
Dana Corrigan is a 2D animation professor and freelance animator/illustrator whose work includes TV Pilots, E-Cards, Motion Graphics, animated short films, and developing pitch books and presentations for cartoon shows. She has an MFA in Animation from Savannah College of Art and Design and has been teaching at the university level since 2011.