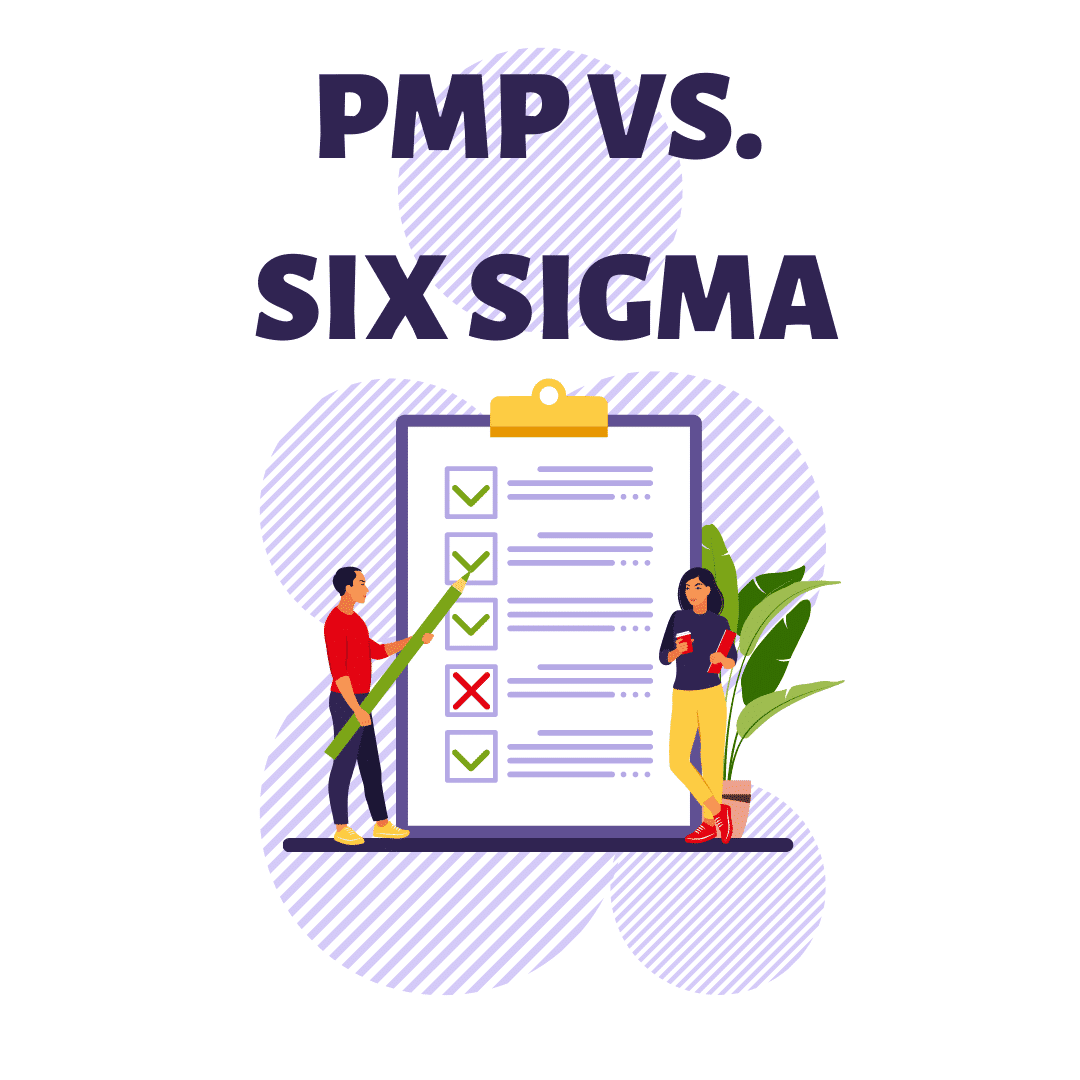 Project management is a crucial skill in every organization across all industries. These positions require skills and knowledge best obtained through training and practice. Currently, the main certification options come down to PMP vs. Six Sigma.
Both avenues can enhance project management skills, and they work well together. However, some distinct differences might make one more suitable than the other in certain scenarios.
Before investing time and money into either certification, it might help to break down PMP vs. Six Sigma.
What Is PMP Certification?
Project Management Professional (PMP)® certification comes from the Project Management Institute (PMI). The PMP training course prepares project managers to take the lead for any business, regardless of the industry.
Possessing this certification tells potential employers and colleagues that you have highly developed skills. More specifically, you can effectively manage people, streamline processes, and impact the organization's ability to attain set goals.
What Is Six Sigma Certification?
Six Sigma certification also prepares individuals for project management positions.
There is no overarching governing body for Six Sigma. However, the Council for Six Sigma Certification maintains a library of information, including training providers and a chance to get a free white belt.
Individuals can work through six levels of Six Sigma training courses. This certification features a "belt" classification system that represents increasing levels of mastery. They start with a white belt and ultimately reach the Champion level, generally reserved for high-level executives.
Similarities Between PMP and Six Sigma
Before discussing how the two certifications differ, it is important to understand their similarities. Both address project management and give people a level of expertise in their field, which translates to higher pay and prestige.
Further, both certifications exist on an international level and support career advancement. You can gain career flexibility and versatility with either certification on your resume.
PMP vs. Six Sigma: Key Differences
These programs have some things in common, primarily how they prepare people to handle management positions. However, choosing the best program for you might come down to the differences between the certifications.
PMP vs. Six Sigma Certification Focus
The base difference to consider between PMP vs. Six Sigma is the overall focus. While the PMP training course concentrates on improving project success rates, the Six Sigma training courses teach how to reduce or eliminate waste and defects from certain processes.
PMP certifications work on hard and soft skills to look at the big picture for every project you take on. 
The certification process focuses on mastering the necessary skills to improve every step of any project process. Expect to learn several methodologies, including Agile and Waterfall. The range intends to prepare you for any industry or company culture.
The PMP certification process is not easy and requires a commitment to learning. You will learn and master various standards, including professional ethics, and how to work through challenges you will face with real-world projects.
Instead of the big picture, Six Sigma dials into processes and uses data to find areas to improve. It teaches you to eliminate unnecessary steps based on actual data to create a more efficient and productive system.
The Methodology: PMP vs. Six Sigma
PMP and Six Sigma differ in their methodology as well. They attack projects from different angles that follow with the overall focus.
PMP breaks projects into five parts and teaches you different ways to address each one.
Initiate the project by assessing pertinent information and getting an idea about the big picture, participants, and the objective.
Plan a path to completion with a timeline to remain on schedule.
Execute tasks to achieve each stage of the plan.
Monitor progress and make necessary adjustments to remain on course.
Close out the project by delivering to all parties.
Six Sigma also follows a five-step process:
Define the objective or problem to solve.
Collect relevant data to understand the problem.
Analyze all information to identify the nature of the problem and causation.
Refine processes to solve the problem.
Monitor changes to ensure they yield results.
These breakdowns represent oversimplifications of both certification methodologies. However, you get a general idea about what to expect from classes and how the methodologies might apply to your job or the one you desire.
PMP vs. Six Sigma Applications
Another key difference is the process involved. While both programs address project management, they use unique approaches that target different aspects.
PMP courses teach you to plan, refine, and complete a project by the established deadline. Conversely, Six Sigma training courses don't consider deadlines as much as the daily processes and how to maximize efficiency.
PMP vs. Six Sigma: Your Professional Goals
What is your professional goal, and how do you plan to use the certification? Another key difference in the battle of PMP vs. Six Sigma is the long-term career applications.
A PMP certification says you can manage any team on any project regardless of the industry. Its applications are practically endless in terms of working with people, managing time, and refining processes to achieve goals consistently. 
Six Sigma certifications are better for data-driven industries, such as manufacturing companies. In this industry, Six Sigma certification can handle the need to constantly improve product quality and consistently deliver high-quality products.
Course Requirements and Structure: PMP vs. Six Sigma
The final consideration of the differences between PMP and Six Sigma comes down to the requirements and course structures.
Requirements: PMP vs. Six Sigma
Both programs have minimum requirements before you can sit for the exams.
For PMP certification, your education and experience level impact your time commitment. The process can take several years.
High School Diploma, Associate's Degree, or equivalent requires at least five years (60 months) of experience and 35 hours of formal education.
Bachelor's Degree or equivalent requires at least three years (36 months) of experience and 35 hours of formal education.
Six Sigma training courses focus more on data and numbers. You just have to follow the general structure starting with the White Belt. It takes two days to seven weeks to complete one Six Sigma course, though the higher levels can take longer.
Availability: PMP vs. Six Sigma
Having access to the required courses can be a barrier for some people.
Though PMI oversees the PMP certification process, it doesn't offer a specific course. You're essentially on your own to fulfill the education requirements. PMI permits a combination of on-demand courses, classes with authorized training partners, and webinars. 
On top of finding your educational opportunities, you need to compile all of the information to prove you meet the requirements to sit for the PMP exam.
Six Sigma offers set classes for each belt, but not every place offers all six levels. Even colleges that offer one or two belts may not feature classes all the way through Champion. If you plan to go all the way, you might have to hop around to different locations.
Earning the Certification: PMP vs. Six Sigma
Aside from the differences noted above, they have unique certification processes. Before you decide which path to follow, it might help to understand the road map for each credential.
How To Earn the PMP Certification
The process for earning your PMP certification is relatively straightforward. PMI lists it as a three-step process:
Complete the minimum requirements.
Submit your application.
Pay for, take, and pass the exam.
While PMI touts the simplicity of its process, you might find that it involves a bit more work than it seems.
As noted, there is no set PMP training course to follow. While that arrangement allows you some flexibility in what you can take, it might be challenging to fulfill the educational requirements.
Notably, PMI offers resources to help you prepare for the exam, including a content outline and handbook. You can also pay to take a prep course for extra work.
How To Earn the Six Sigma Certification
Earning Six Sigma certifications involves taking courses and completing them. These courses have various components, including projects and exams.
| | | | |
| --- | --- | --- | --- |
| Belt | Level | Class Hours | Assessments |
| White | Beginner | 8+ hours | Exam |
| Yellow | Beginner | 20+ hours | Exam |
| Green | Intermediate | Up to 5 weeks | Projects and Exam |
| Black Belt | Advanced | Up to 16 weeks | Projects and Exam |
The upper-tier belts require substantially more work. These professionals have several years of experience as a green or black belt before pursuing the master's level. They complete a course and pass an exam to earn the chance to teach others.
You can find Six Sigma training courses online or in person. Several reputable colleges offer Six Sigma courses, including Purdue University and Villanova University.
Which One Is Better: PMP vs. Six Sigma?
While comparing the certifications is easy, it's almost impossible to name one superior to the other. They are two unique project management programs that attack problems differently. It's better to say that the two work well together and it could benefit you to obtain both.
If you have to choose one to attempt first, consider the differences between them to make a decision. If you want to work in a data-driven position to refine the day-to-day operations, you might want to pursue a Six Sigma training course.
On the other hand, if you want plenty of mobility, a PMP certification might be better. It's more versatile and allows you to move across industries.
Wrapping Up
Now that you know how PMP and Six Sigma compare, you are ready to take the next step toward certification. Each certification offers different benefits, so it's up to you to decide which option is the best option.
Which one do you like better in the PMP vs. Six Sigma comparison? Leave a comment below.