PMP vs. CAPM Certification
Project management is an exciting, fulfilling and lucrative career that requires professional certifications. Knowing more about the CAPM and PMP certifications is essential for a successful career in project management.
What Is the Difference Between PMP and CAPM?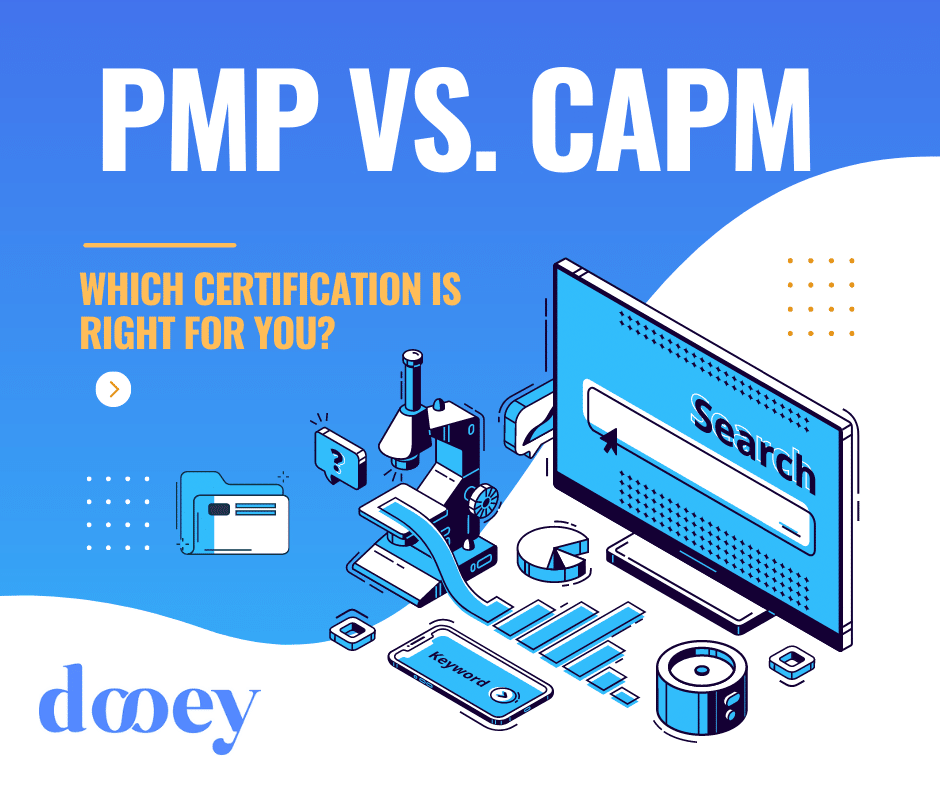 The CAPM, or Certified Associate in Project Management, certification is an entry-level project management certification. PMP is an acronym for Project Management Professional and requires at least three years of experience in project management.
Both certifications are administered by the Project Management Institute, or PMI, a professional project management organization. The CAPM certification exam includes 150 questions and has a three-hour time limit. The PMP exam has 180 questions to be answered within three hours and 50 minutes.
Details about these certifications include:
| | CAPM | PMP |
| --- | --- | --- |
| Who's it for? | Entry-level project managers | Project managers with at least three years of experience |
| Requirements | High school diploma plus 23 hours of project management education | 35 hours of project management training or CAPM certification; three years or more of experience leading projects with a four-year degree or five years' experience with an associate's degree or high school diploma |
| Average salary | $67,000 | $111,000 |
| Cost of exam | $300 for non-PMI members, $225 for PMI members | $555 for non-PMI members, $405 for PMI members |
Salary for PMP vs. CAPM
Generally, those with PMP certification earn more than CAPM professionals. According to Payscale, the average salary for those with CAPM certification is $67,000, but $111,000 for PMPs. Ziprecruiter reported average U.S. salaries of $91,735 for CAPMs and $115,898 for PMPs.
Is It Possible To Upgrade a CAPM to a PMP?
It's not possible to upgrade a CAPM to a PMP. You either take a PMP directly, if you fulfil the requirements, or you take the CAPM and then the PMP. A nice advantage is that if you hold a CAPM, you won't need the 35-hour project management education to access the PMP exam.
In summary, if you already have the required professional experience and training to access the PMP, you can just go ahead and take the exam. If not, you can either wait until you fulfil the requirements or take the CAPM for now.
Do I Need to Renew My Certification?
PMI used to demand a certification renewal every five years, but the rules have changed. Instead of the retaking the exam, you can keep your certification by earning a minimum of PDUs (professional development units) every three years.
PDUs can be obtained through spending blocks of one hour learning, volunteering, or teaching. If you hold a CAPM, you need to earn 15 PDUs; if you have a PMP certification, you need to accumulate 60 PDUs. This, over a period of three years.
FAQs About PMP and CAPM
You may still have questions about whether the PMP or CAPM certification is right for you. The answers to these frequently asked questions may give you the information you need.
Which is the most difficult exam – PMP or CAPM?
The CAPM and PMP exams differ in content and complexity. CAPM is a knowledge-based exam based on the Project Management Body of Knowledge, or PMBOK, while the PMP includes questions about practical applications of project management principles.
How should I prepare for the PMP or CAPM exam?
Don't go into CAPM or PMP exams unprepared. The time and exam fees make preparation courses for certification exams a wise investment. PMP certification and CAPM certification courses from Dooey include 24/7 online streaming so you can access your PMP prep course or CAPM prep course anytime.
Is getting CAPM or PMP certification worth it?
Having project management certifications can give you an advantage in finding the best jobs. Hiring managers will know, through your CAPM or PMP certification, that you have project management knowledge and skills. Gaining these certifications can cost hundreds of dollars, but because CAPM and PMP certifications bring higher salaries, it is worth getting them.
PMP certification is in demand, since PMP is mentioned far more often in 2022 job listings than CAPM.
The question doesn't have to be PMP vs. CAPM. Getting a CAPM can be a stepping stone to the PMP for those beginning their careers. However, if you have the experience required for the PMP, you may want to skip the PMP since the certification is in demand.
Key Takeaways
PMP and CAPM are both valuable certifications in the field of project management. Meeting both the CAPM and PMP certification requirements is an investment of time, effort, and money, but certification after passing exams will result in a rewarding project management career with a competitive salary.
Preparation for PMP and CAPM certification exams is essential to success. Investing in a certification course to prepare for these project management certification exams will result in gaining your CAPM or PMP.
If you plan to take the CAPM or PMP certification exam, joining the Project Management Institute would be smart. Not only would you gain networking opportunities within the professional organization, but PMI members get discounts on CAPM and PMP certification exams.
CAPM vs. PMP: Which Is Best for You?
Deciding whether to study for and pass the CAPM certification exam or the PMP test may depend on how long you have been a project manager. Those who are starting their careers in project management will want to gain CAPM certification since they won't have the experience as a project manager to meet PMP certification requirements.
If you already have three or more years of experience as a project leader, it would make sense to skip the CAPM and take the PMP exam instead. The higher certification is in demand, and those with PMP certifications tend to have higher salaries.
Beginning project managers may think about skipping the CAPM certification and instead wait until they have the experience to meet PMP certification requirements, but CAPM may help them become project leaders.
While the cost of preparing for and taking CAPM or PMP certification exams may seem steep in terms of time and money, having the certifications will help you land project management jobs with handsome salaries.