Unlock the Power of Salesforce with our Dynamic SalesForce: Power User Course!
Are you ready to skyrocket your career and become an indispensable asset in the world of CRM? Look no further! Our cutting-edge SalesForce: Power User Course is here to equip you with the skills and knowledge you need to conquer the Salesforce Platform and soar to new heights of success!
Step into the world of the most popular CRM system on the planet and unleash its full potential. Whether you're a newcomer to Salesforce or already familiar with its wonders, this course is your golden ticket to becoming a Salesforce Certified Administrator and a true Salesforce rockstar!
What sets our course apart? Flexibility! Our self-paced online learning program lets you take control of your learning journey. No more rigid schedules or overwhelming deadlines. You decide when and where to dive into the world of Salesforce, allowing you to develop your skills at your own pace and convenience. Seamlessly integrate your learning with your busy lifestyle!
But wait, there's more! Our comprehensive course leaves no stone unturned as we dive into each aspect of the Salesforce Administrator Exam Guide. With the guidance of professional training instructors, you'll gain in-depth knowledge of the core concepts and master the essential skills needed to excel as a Salesforce Administrator.
What will you gain from this exhilarating journey? Everything! You'll become a Salesforce virtuoso, effortlessly navigating the platform's features, maximizing its potential, and transforming your sales and customer service operations like never before. Discover the insider tips, tricks, and strategies that will catapult your efficiency and effectiveness to unprecedented levels.
And here's the cherry on top: Successful completion of our SalesForce: Power User Course puts you on the fast track to becoming a Salesforce Certified Administrator. Open doors to new career opportunities, enhance your marketability, and join the elite ranks of Salesforce professionals sought after by top companies worldwide.
Don't miss this golden opportunity to harness the full power of Salesforce. Enroll today in our SalesForce: Power User Course and embark on a thrilling journey of knowledge, growth, and success. Let's transform your Salesforce expertise from ordinary to extraordinary!
Course Outline:
Module 1: Intro to SalesForce Automation
Course And Instructor Introduction
What Is Salesforce Automation
Sales Force Automation System Overview
Why Salesforce
Module 2: Working With The SalesForce System
Creating Accounts And Contacts
Creating Leads And Opportunities
Sales Process-Part 1
Sales Process-Part 2
Sales Process-Part 3
Sales Process-Part 4
Leads Through Social Channels
Module 3: SalesForce Solution
Core Problems
Managing Accounts
Badges And Campaigns
Custom Apps
Module 4: SalesForce Admin
Introduction To RDBMS
Introduction To The Cloud
Introduction To Virtual Machines-Part1
Introduction To Virtual Machines-Part2
Salesforce Development
Introduction To Building In The Cloud
Salesforce Set Up
Module 5: Migrating To SalesForce
Tasks To Complete Before Migration-Part 1
Tasks To Complete Before Migration-Part 2
Frequently Asked Questions-Part 1
Frequently Asked Questions-Part 2
Frequently Asked Questions-Part 3
Frequently Asked Questions-Part 4
Frequently Asked Questions-Part 5
Frequently Asked Questions-Part 6
Frequently Asked Questions-Part 7
Frequently Asked Questions-Part 8
Frequently Asked Questions-Part 9
Module 6: Course Conclusion
The Salesforce Solution
Conclusion
Frequently Asked Questions About SalesForce: Power User Course
What is the Salesforce: Power User Course?
The Salesforce: Power User Course is an online training program offered by our course that provides comprehensive knowledge and practical skills for utilizing Salesforce, a widely-used Customer Relationship Management (CRM) system. The course aims to empower participants with the necessary expertise to become proficient users of Salesforce and maximize its potential in managing customer relationships and business processes. It consists of 35 videos, totaling seven hours of training, and includes 60 practice questions to reinforce learning.
Who is the instructor for the Salesforce: Power User Course?
The instructor for the Salesforce: Power User Course is Rafiq Wayani, an experienced Project Management Instructor. With extensive knowledge and practical experience in Salesforce, Rafiq Wayani brings a wealth of expertise to guide participants through the course, providing valuable insights, tips, and strategies for effectively utilizing the Salesforce platform.
Who is this course intended for?
The Salesforce: Power User Course is designed to cater to individuals with varying levels of familiarity with Salesforce. It is suitable for newcomers who are new to Salesforce and want to gain a comprehensive understanding of its functionalities and features. Additionally, it is also valuable for individuals who are already familiar with Salesforce and wish to enhance their skills and knowledge to become power users of the platform. The course is self-paced, allowing learners to progress at their own convenience and tailor their learning experience based on their existing expertise.
How can this course help me prepare for the Salesforce Certified Administrator exam?
The Salesforce: Power User Course is specifically designed to equip participants with the knowledge and skills required to excel in the Salesforce Certified Administrator exam. The course extensively covers all the topics outlined in the Salesforce Administrator Exam Guide, ensuring a comprehensive understanding of the exam objectives. Through the course, participants will gain in-depth knowledge, practical insights, and effective strategies necessary to successfully pass the exam. It covers areas such as customizing Salesforce, configuring the platform, managing users, and other key skills required for the certification.
How can I access the Salesforce: Power User Course?
To access the Salesforce: Power User Course, you can subscribe to our All Access Monthly Subscription, which provides you with unlimited access to over 2,500 hours of on-demand content, including the Salesforce course. The subscription comes with a 7-day free trial period, allowing you to explore the course and other content before committing to the subscription. You have the flexibility to cancel the subscription at any time, giving you control over your learning journey.
Once I am certified, what is required to maintain my Salesforce Certified Administrator credential?
After obtaining the Salesforce Certified Administrator credential, you will be required to complete maintenance modules periodically to keep your certification active. Salesforce releases these maintenance modules at specific intervals, and you will have a designated timeframe to complete them. These modules are designed to keep your knowledge and skills up-to-date with the evolving Salesforce platform and ensure that you continue to meet the requirements for maintaining your certification. It is important to complete these modules within the specified deadlines to retain your Salesforce Certified Administrator status.
Your Training Instructor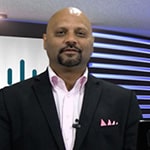 Rafiq Wayani
Project Management Instructor
Rafiq has extensive experience including more than 20 years in IT as a Systems Architect, Software Engineer, DBA, and Project Manager. He has instructed in a variety of technical areas and has designed and implemented network and information systems. Bringing nearly 30 years of advanced IT experience to each course and adding his unique perspective and "real world" tips, Rafiq has a knack for making complex topics easy to understand.