Introducing the HIPAA Mastery Course: Unlocking the Power of Healthcare Privacy!
Are you ready to embark on a transformative journey that will revolutionize your understanding of patient data security and privacy? Look no further than our HIPAA Mastery Course, a thrilling educational experience designed to empower you with the knowledge and skills to safeguard confidential health information with absolute precision.
Step into the world of cutting-edge healthcare compliance as we delve into the Health Insurance Portability and Accountability Act (HIPAA), game-changing legislation that has reshaped the industry since its inception in 1996. From the moment you enroll, you'll become part of a dynamic community of healthcare professionals committed to upholding the highest standards of privacy and data protection.
Imagine a future where administrative tasks no longer burden healthcare providers, but instead, operate seamlessly, leaving more time for quality patient care. HIPAA was designed to turn this vision into a reality. Join us and witness how this course will empower you to navigate the intricate HIPAA landscape, streamline operations, and reduce costs, all while ensuring the utmost confidentiality of patient health records.
Our comprehensive curriculum encompasses all aspects of HIPAA compliance, from the foundational principles to the latest regulatory updates. Led by industry experts, you'll explore real-world case studies, engaging discussions, and interactive simulations that will sharpen your understanding of HIPAA's key provisions. Gain practical insights into creating ironclad security protocols, risk assessment techniques, and incident response strategies that will fortify your organization against potential breaches.
But that's not all! We believe that knowledge should be rewarded. As you progress through the course, you'll have the opportunity to take part in regular assessments and quizzes, allowing you to gauge your understanding and solidify your grasp of HIPAA's intricate details. And to put your newfound expertise to the ultimate test, a grand certification exam awaits you at the culmination of the course.
Becoming HIPAA-certified will not only enhance your professional credibility but also open doors to exciting career opportunities. Stand out from the crowd as a HIPAA champion, sought after by healthcare facilities, insurance providers, and regulatory agencies alike. With your certification in hand, you'll gain the confidence to navigate the evolving landscape of healthcare privacy effortlessly.
Join us on this exhilarating journey toward HIPAA mastery. Enroll today and unlock a future where patient data security, streamlined operations, and cost reduction are the norm. Together, let's pave the way to a healthcare industry that thrives on privacy, innovation, and unwavering dedication to patient well-being.
About our course
Important details concerning General Administrative Requirements and Administrative Requirements for Security and Privacy Regulations are provided in this training. Utilize our curriculum to increase your knowledge in this field!
Participants in this HIPAA training course will learn the fundamentals of Public Law 104-191, as well as the Private Rule, Security Rule, Enforcement Rule, and Omnibus Rule, which are critical parts of the Health Insurance Portability and Accountability Act. Knowing these rules will ensure that privacy laws pertaining to the protection of personal health information are followed.
What you will learn:
This HIPPA training program presents essential information about the General Administrative Requirements, Administrative Requirements, and the Security and Privacy provisions of regulation text 45 CFR Parts 160, 162, and 164.
Identify the mandatory laws governing Medicare fraud and abuse.
Describe your part in preventing Medicare fraud, waste, and abuse.
Summarize what you can do to detect, correct, and prevent fraud, waste, and abuse.
Establish an effective compliance plan
For whom is the HIPPA training course intended?
Any student who aspires to pursue a profession in healthcare while adhering to federal regulations or any employer that has annual mandated training is the target audience for this course. All people and organizations involved in the healthcare field or in charge of private health information must be aware of their responsibilities.
This includes:
Medical Professionals
Employer Group Health Plans
Health insurance providers
individuals who work in the Healthcare system
Employees in administration within the healthcare system
Course Outline:
Module 1: HIPAA and Privacy
HIPAA and Privacy
Security, Safeguards, and Controls
Examples and Cases
Module 2: Fraud, Waste, and Abuse
Fraud, Waste, and Abuse
Case Examples and Law
Module 3: Compliance and Prevention
Compliance and Prevention
Frequently Asked Questions About HIPAA Training Course – Fraud and Abuse
What is the main goal of the HIPAA Fraud and Abuse Training Course?
The main goal of the HIPAA Fraud and Abuse Training Course is to provide participants with a comprehensive understanding of the Health Insurance Portability and Accountability Act (HIPAA) and its various rules and regulations. The course aims to educate individuals on the importance of preventing Medicare fraud, waste, and abuse, while also enabling them to identify the mandatory laws governing these issues. Additionally, the course helps participants establish effective compliance plans to ensure adherence to HIPAA regulations.
Who is this HIPAA training course designed for?
The HIPAA training course is designed for a wide range of individuals and organizations associated with the healthcare industry. It is suitable for healthcare professionals, employees of healthcare facilities, individuals working with private health information, employees of employer group health plans, health insurance providers, and administrative staff within the healthcare system. The course is also beneficial for anyone seeking a career in healthcare, as it helps meet federal guidelines and requirements.
Who is the instructor for this course?
The instructor for the HIPAA training course is Wendy Bell, a highly experienced and certified coder with accreditation through the American Academy of Professional Coders (AAPC). Wendy possesses over 20 years of experience in the healthcare industry and has worked in various specialties. She is actively involved in her local AAPC chapter and works as a consultant, assisting healthcare providers in identifying and resolving cash flow problems.
What is the structure of the course?
The course is structured into three modules to ensure comprehensive coverage of the subject matter. The modules include:
a) HIPAA and Privacy: This module focuses on HIPAA regulations related to privacy, security, and general administrative requirements.
b) Fraud, Waste, and Abuse: This module delves into the identification and prevention of Medicare fraud, waste, and abuse, emphasizing the laws and regulations surrounding these issues.
c) Compliance and Prevention: This module guides participants in establishing effective compliance plans and preventive measures to ensure adherence to HIPAA regulations and mitigate the risk of fraud and abuse.
Each module covers specific aspects of the topic, providing a combination of theoretical knowledge, practical examples, and case studies.
How is the course delivered?
The course is delivered through pre-recorded, instructor-led lectures that simulate a live class experience. Participants can access these lectures 24/7, allowing for flexible learning at their convenience. The lectures can be paused, rewound, and fast-forwarded as needed. Additionally, the course incorporates visual demonstrations, educational games, and flashcards to cater to different learning styles and enhance student engagement and productivity.
Can I access the course on my mobile device?
Yes, the course is optimized for mobile devices, enabling participants to access the training material on the go. Whether using a smartphone or tablet, students can conveniently learn whenever they have free time. The course platform tracks and records their progress, ensuring seamless learning across different devices and locations.
Your Training Instructor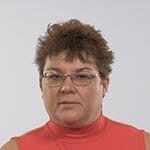 Wendy Bell
Instructor
Wendy is a certified coder with accreditation through AAPC. She has worked in healthcare for twenty-plus years and has worked in multiple specialties such as Radiology, family practice, chiropractic, OB/GYN, Orthopedics, and more. She has been an active member of her local AAPC chapter and served as Vice President and Member Education roles. Wendy not only educates; she continues to in the field daily as a consultant to help providers find cash flow problems and get them resolved quickly.
Personally, she lives in Naples, Maine during the summer months and Florida in the winter, giving her the best of both worlds. She has two grown daughters and a sweet granddaughter. In her free time, she enjoys camping, and traveling and is a giant Patriots fan.