Introducing our exciting online training course on Data Security Compliance: Safeguarding Your Digital World! In this dynamic program, you will discover the essential practices and strategies to protect sensitive data and personal information, ensuring the utmost security in both your personal and professional endeavors.
Picture a world where your personal social media accounts are shielded from hacking attempts, and where your confidential corporate data remains intact and impervious to breaches. With our comprehensive curriculum, you will learn the ins and outs of data security, empowering yourself to become a vigilant guardian of information.
Uncover the secrets of preventing data breaches as we delve into cutting-edge techniques used by hackers and explore the latest security vulnerabilities. Through interactive modules, engaging quizzes, and real-world case studies, you will gain a profound understanding of the threats that surround us in the digital landscape.
But it doesn't stop there! Our course extends beyond individual protection to safeguarding data at the corporate level. You will acquire invaluable insights into industry best practices, compliance regulations, and frameworks, allowing you to fortify your organization's defenses against potential threats. By implementing the security measures taught in this course, you will contribute to a culture of data security excellence, ensuring your company's reputation remains untarnished.
To test your newfound expertise, we offer a comprehensive exam at the end of the course. Achieving a passing grade not only validates your knowledge but also demonstrates your commitment to data security excellence. Upon successful completion, you will be awarded a prestigious certificate, showcasing your proficiency in protecting sensitive data and becoming an asset to any organization.
Join us on this exhilarating journey toward data security mastery. Enroll today and unlock a world of endless opportunities, where your personal and professional data is safeguarded against any threat, giving you the peace of mind you deserve. Together, let's build a secure digital future!
The importance of information security training and data privacy
This comprehensive program is designed to equip individuals with the knowledge and skills they need to confidently safeguard confidential data and ensure the utmost security of digital systems.
By enrolling in this course, you will gain a deep understanding of your role in protecting valuable information and become a proactive defender of data privacy. We'll guide you through the maze of regulations, policies, and best practices, providing you with the tools to navigate this complex landscape with ease. You'll emerge as a champion of confidentiality and a guardian of digital security.
But the benefits don't stop there! By participating in this course, you'll unlock a world of advantages that extend far beyond personal growth. Imagine the peace of mind that comes from knowing you possess the expertise to prevent costly breaches or violations resulting from unintentional lapses in security. By staying ahead of cyber criminals and their ever-evolving tactics, you'll safeguard your organization's reputation, financial well-being, and most importantly, the trust of your clients, customers, and partners.
Our training delves deep into the fascinating world of information security, equipping you with the knowledge and practical skills to counteract the most common threats. From phishing attacks, and the ever-present menace, to emerging techniques employed by cybercriminals, we'll teach you how to identify and mitigate risks effectively. You'll learn to spot red flags in emails, text messages, phone calls, and social media platforms, ensuring you're always one step ahead of potential threats.
As an added bonus, we offer comprehensive exam preparation to solidify your knowledge and skills. Our exam not only serves as a validation of your expertise but also opens doors to new opportunities. Upon successful completion, you'll earn a prestigious certification that showcases your dedication to data privacy and information security. It's a credential that will set you apart in today's competitive job market and make you an invaluable asset to any organization.
Don't miss this chance to become a defender of data, a protector of privacy, and a hero of information security. Enroll in our Data Privacy & Information Security training course today and embark on a journey that will transform you into a formidable force against cyber threats. Together, let's create a safer and more secure digital world!
Course Outline:
Module 1: Data Breaches And ID Theft
Course Introduction
Treat And Cost
Module 2: Device Security Basics
It's All About YOU Part1
It's All About YOU Part2
Module 3: Avoiding Inadvertent Disclosure
No More Oops Part1
No More Oops Part2
Module 4: Physical And Technical Safeguards
The DO Of Security Part1
The DO Of Security Part2
Course Conclusion
Frequently Asked Questions About Data Security Compliance
What topics does the Data Security Compliance course cover?
The Data Security Compliance course covers a wide range of topics related to protecting sensitive data and personally identifiable information (PII). It provides comprehensive guidance on implementing data security measures, preventing data breaches, safeguarding personal information, and addressing different types of breaches. The course emphasizes the importance of protecting both individual and corporate-level data, and it covers relevant legal and regulatory frameworks related to data security compliance.
Why are data privacy and information security training important?
Data privacy and information security training is crucial in today's digital landscape. With an increasing global focus on privacy regulations and the growing risk of data breaches, organizations need to ensure they have knowledgeable employees who can protect sensitive information. This training helps individuals understand their role in safeguarding confidential data, maintaining secure digital systems, and complying with relevant regulations. By equipping employees with the necessary knowledge and skills, organizations can mitigate the risks associated with data breaches and uphold the trust of their customers and stakeholders.
What is their approach to online IT courses?
IT Online is a reputable provider of online Information Technology (IT) training courses. Since its establishment in 2012, IT Online has been a leader in the industry. They prioritize offering a comprehensive online learning experience by incorporating proven educational concepts and sound instructional design principles into their courses. IT Online's self-paced courses are designed to cater to learners' needs and goals, providing industry-recognized certifications and training materials that are tailored to various skill levels and areas of expertise.
What level of experience is required to take the Data Security Compliance course?
IT Online's Data Security Compliance course is designed to accommodate learners of all levels, from beginners to those with extensive experience in the IT field. Whether you are just starting to explore data security or seeking to enhance your existing knowledge, this course is suitable for anyone interested in improving their understanding of data security and privacy. The course provides a solid foundation for beginners while offering valuable insights and practical techniques for experienced professionals looking to stay up to date with industry best practices.
What recognition has IT Online received for its courses and content?
IT Online has been honored with multiple awards for its exceptional courses and content. It is a four-time recipient of the prestigious Best in Biz Awards, earning titles such as Company of the Year and Most Innovative Company of the Year. These accolades highlight IT Online's commitment to delivering innovative and high-quality IT training and education. Their continuous efforts to provide cutting-edge courses and valuable learning experiences have been recognized within the industry.
How many students have benefited from IT Online courses so far?
IT Online has made a significant impact on the learning journeys of over 800,000 students to date. By offering stimulating and interactive virtual courses, they strive to provide optimal value for learners seeking to enhance their IT skills and knowledge. IT Online's commitment to helping individuals achieve their professional goals has resulted in a large and satisfied student base who have benefited from its comprehensive training offerings.
Your Training Instructor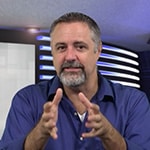 Josh Schofer
Cybersecurity | Cloud Trainer
Josh has 15 plus years in account management and client support with over 5 years specifically in the healthcare industry. Josh provides hands-on leadership to the healthcare team at NetDirector by focusing on client success and innovative solutions. As the Healthcare Operations Manager, Josh ensures that each client implementation is completed as efficiently as possible with the greatest impact on the client. He holds a Bachelor of Arts degree from the University of South Florida.