Embark on an exciting journey to skyrocket your networking career with our CCNP Routing training! If you're a talented network engineer with three to five years of experience, this course is tailor-made to amplify your skills and open up a world of professional opportunities.
Prepare to be blown away as we take your Cisco knowledge to new heights through this intermediate-level Cisco IP Routing 300-101 training. With a laser focus on the objectives covered in the 300-410 ENARSI course, we've designed this program specifically for ambitious engineers like you who crave career growth and development.
By successfully completing this training, you'll not only gain a solid foundation in routing and switching, but you'll also edge closer to the coveted CCNP Enterprise certification. A passing score in this course serves as a stepping stone among the six concentrations required for CCNP Enterprise success. Are you ready to fast-track your journey towards a brighter future?
The Implementing Cisco IP Routing (ROUTE 300-101) exam is your gateway to a world of limitless possibilities. Not only does it certify your expert-level routing knowledge and skills, but it also showcases your ability to implement secure Cisco routers with finesse. Say goodbye to network limitations as you master advanced IP addressing and routing techniques, enabling you to effortlessly connect LANs, and WANs, and even delve into the realm of IPv6.
But that's not all! This exam goes above and beyond by encompassing the configuration of highly secure routing solutions, perfectly poised to support the ever-evolving needs of branch offices and mobile workers. Gain the expertise to design robust and impenetrable networks that guarantee data integrity and privacy.
So, are you ready to step into the spotlight of networking excellence? Don't let this opportunity slip away! Enroll in our CCNP Routing training today and unleash your true potential. Prepare for a transformational learning experience that will shape your career trajectory for years to come. Your future awaits, and we're here to guide you every step of the way.
For whom is this Cisco 300-101 course intended?
System Engineers
Network Professionals
System Integrators and consultants
Cisco Certified Design Professional (CCDP)
Cisco Certified Network Professional
Course Outline:
Module 1: Plan And Design
Introduction
Review Routing Fundamentals
Review Route Selection
Review Switching Versus Routing
Review IP Subnetting
Review How To Subnet
Review IP Address Classes
Module 2: EIGRP Enhanced Interior Gateway Routing Protocol
Plan And Design-Part1
Plan And Design-Part2
EIGRP Config
Configuring RIPng
Building EIGRP Topology Table
EIGRP Stub Routing
EIGRP Summarization
EIGRP Load Balancing
Discovering Main EIGRP Configuration
Implementing EIGRP Through Name Config
Configure EIGRP Authentication
Configure Authentication For EIGRP Routes
Module 3: IPv6
Introduction To IPv6-Part1
Introduction To IPv6-Part2
IPv6 Addressing
Basic IPv6 Configuration
EIGRP For IPv6
Configure And Optimize EIRGP For IPv6
Module 4: OSPF
Introduction To OSPF-Part1
Introduction To OSPF-Part2
Introduction To OSPF-Part3
Configure OSPF
Building The Link State Database
OSPF Path Selection
OSPF Route Summarization
OSPF Stub Areas
Implement OSPF
Optimize OSPF
OSPF Authentication Configuration
Configure OSPFV3
Basic Redistribution
Module 5: Border Gateway Protocol BGP
Introduction To BGP
BGP Specifics
Basic BGP
BGP Path Selection
Configure BGP Authentication
Configure BGP
Module 6: Course Review
Configure Basic EIGRP
Basic OSPF Configuration
Summary Of-EIGRP-OSPF-IPv6-BGP
Conclusion
Frequently Asked Questions About Cisco IP Routing – 300-101
What is the Cisco IP Routing 300-101 certification exam?
The Cisco IP Routing 300-101 certification exam is an exam that validates a candidate's knowledge and skills in IP routing technologies. It is part of the requirements for earning the Cisco Certified Network Professional (CCNP) Routing and Switching and Cisco Certified Design Professional (CCDP) certifications. The exam covers topics such as routing protocols, network security, protocol operations, and network design.
What is included in the Cisco IP Routing 300-101 training course?
The Cisco IP Routing 300-101 training course provides 16 hours of training material, which includes 48 videos. The course covers six main topics related to IP routing. Additionally, the course offers 247 practice questions that allow candidates to test their knowledge and prepare for the certification exam effectively.
What level of experience do I need to take this course?
This training course is designed for network engineers who already have three to five years of experience in the field. It is recommended for individuals who are aiming to achieve the CCNP Enterprise certification. Successfully passing the Cisco IP Routing 300-101 exam is one of the requirements for obtaining this certification.
What skills will I gain from this course?
By completing the Cisco IP Routing 300-101 training course and passing the associated exam, you will acquire advanced skills in IP addressing, routing, and network design using Cisco routers. The course focuses on implementing secure and scalable routing solutions for LANs, WANs, and IPv6 networks. It also covers the configuration of routing solutions to support branch offices and mobile workers.
What does the CCNP Enterprise certification entail?
The CCNP Enterprise certification consists of two exams. The first exam is the core exam (350-401 ENCOR), which assesses your knowledge of core enterprise network technologies. The second exam is a concentration exam of your choice, allowing you to specialize in a particular area of expertise. The Cisco IP Routing 300-101 training course prepares you for one of the concentration exams (300-410 ENARSI), which focuses on advanced routing technologies.
How long is the CCNP Enterprise certification valid?
All Cisco certifications, including the CCNP Enterprise certification, are valid for a period of three years. After three years, you have the option to recertify by either passing the current CCNP Enterprise core exam or any one of the concentration exams again or by passing a higher-level certification exam. This recertification process helps you stay up-to-date with the latest technology and maintain the validity of your certification.
Your Training Instructor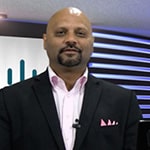 Rafiq Wayani
Project Management Instructor
Rafiq has extensive experience including more than 20 years in IT as a Systems Architect, Software Engineer, DBA, and Project Manager. He has instructed in a variety of technical areas and has designed and implemented network and information systems. Bringing nearly 30 years of advanced IT experience to each course and adding his unique perspective and "real world" tips, Rafiq has a knack for making complex topics easy to understand.