Discover the ultimate pathway to mastering network monitoring and troubleshooting with our cutting-edge Cisco CCNP-level course! Elevate your skills and unleash your potential as you delve into the captivating world of IP Networks for both IPv4 and IPv6. Get ready to embark on an exhilarating learning journey that will transform you into a network troubleshooting guru!
Our comprehensive video course is designed to make understanding the Cisco CCNP Routing and Switching TSHOOT 300-135 Exam a breeze. Say goodbye to tedious textbooks and mundane lectures, and get ready for an immersive experience like no other. With dynamic demonstrations, captivating animations, live instruction, and real-world configurations, we ensure that learning the fundamentals of networking is not only quick but also incredibly enjoyable!
So, why should you join this extraordinary adventure? The benefits are boundless! By enrolling in our course, you'll unlock a treasure trove of knowledge and gain the skills needed to conquer the world of network monitoring and troubleshooting. Whether you're an aspiring IT professional, a seasoned network administrator, or a passionate tech enthusiast, this course will empower you with the expertise to confidently tackle any networking challenge that comes your way.
But wait, there's more! In addition to covering the core networking principles, we go the extra mile by providing in-depth exam preparation. Our course equips you with insider tips, strategies, and practice exams tailored specifically for the Cisco CCNP Routing and Switching TSHOOT 300-135 Exam. You'll not only master the art of troubleshooting but also be fully prepared to ace the certification exam with flying colors!
Imagine the satisfaction of swiftly identifying and resolving network issues, optimizing network performance, and ensuring the utmost security for your organization's infrastructure. You'll become an invaluable asset, capable of keeping networks running smoothly and seamlessly, empowering businesses to thrive in the digital age.
Don't miss out on this incredible opportunity to skyrocket your networking career. Enroll in our course today and unlock the gateway to success in network monitoring and troubleshooting. Get ready to embark on a thrilling adventure of learning, growth, and limitless possibilities!
Preparation for 300-135 CCNP Routing and Switching Troubleshooting exam
With the help of this thorough course, get ready for the CCNP Routing and Switching TSHOOT 300–135 exam! We take you step-by-step through a wide range of topics, including IP network troubleshooting theory, network upkeep, resolving Layer 2 issues, IP addressing, fundamental routing troubleshooting techniques, EIGRP/OSPF/BGP, route redistribution techniques, Cisco IOS features, and solutions to any security problems.
The test TSHOOT 300-135, entitled "Maintaining and Troubleshooting IP Networks," is required to take the Cisco CCNP Routing and Switching certification.
Utilize technology-based techniques and an organized ITIL-compliant approach to execute network troubleshooting. Pass the TSHOOT 300-135 test to demonstrate that you have the knowledge and abilities required to plan and carry out routine maintenance on complex enterprise routed and switched networks.
Course Outline:
Module 1: Introduction to Cisco Troubleshooting
Introduction
Troubleshooting And Maintenance
IOS Troubleshooting Commands
Remote Data Gathering
Introduction To Graphical Troubleshooting Tools And Review
Module 2: Troubleshooting Switches
Troubleshoot Catalyst Switches
Troubleshoot TCAM
Module 3: Troubleshooting VLANs and Trunking
Troubleshooting VLANs And Trunking-Part1
Troubleshooting VLANs And Trunking-Part2
Troubleshooting VLANs And Trunking-Part3
Trouble Ticket 1 VLANS
Module 4: Troubleshooting Spanning Tree Protocol, EtherChannel
Spanning Tree Protocol
STP Port Configuration
Ether Channel
Trouble Ticket 2-Trunking
Module 5: Troubleshooting Inter­VLAN Routing and Layer 3 EtherChannel
Troubleshooting Inter-VLAN Routing
Troubleshooting Layer 3 Ether Channel
Module 6: Troubleshooting Switch Security Features
Troubleshoot Switch Security-Part1
Troubleshoot Switch Security-Part2
Trouble Ticket 3-Switch Security-Part1
Trouble Ticket 3-Switch Security-Part2
Module 7: Troubleshooting First­Hop Redundancy Protocols
HSRP
VRRP
Questions
Trouble Ticket 4
Module 8: Troubleshooting IPv4 and IPv4 Addressing
IPv4 Addressing DHCPNAT-Part1
IPv4 Addressing DHCPNAT-Part2
Trouble Ticket 5
Trouble Ticket 6
Module 9: IPv6 Addressing and Addressing Technologies
IPv6 Addressing Options
Module 10: Troubleshooting IPv4 and IPv6 ACLs and Prefix Lists
IPv4 ACLs
Prefix lists IPv6 ACLs
Trouble Ticket Access Control List1
Trouble Ticket Access Control List2
Module 11: Troubleshooting GRE and Basic Routing Tunnels
IPv4 Routing-Part1
IPv4 Routing-Part2
IPv6 Routing
GRE Tunnels
Module 12: Troubleshooting RIPv2 and RIPng
RIPv2
RIPng
Module 13: Troubleshooting EIGRP
EIGRP
EIGRP For IPv6
Trouble Ticket 1
Trouble Ticket 2
Module 14: OSPF and OSPFv3
OSPF-Part1
OSPF-Part2
OSPFv3
Trouble Ticket 1
Trouble Ticket 2
Trouble Ticket 3
Module 15: Troubleshooting Route Maps and Policy-Based Routing
Route Maps And Policy-Based Routing
Module 16: Troubleshooting Redistribution
Verifying Redistribution Configuration
Troubleshooting Redistribution With Route Maps
Module 17: Troubleshooting BGP
BGP Overview
BGP Configuration-Part1
BGP Configuration-Part2
Trouble Ticket 1
Trouble Ticket 2
Module 18: Troubleshooting Management Protocols and Tools
Troubleshooting Management Protocols And Tools
SPAN And RSPAN
Module 19: Troubleshooting Management Access
Management Access Troubleshooting
Conclusion
Frequently Asked Questions About Cisco CCNP Troubleshooting IP Networks 300-135
What is the Cisco CCNP Troubleshooting IP Networks 300-135 course about?
The Cisco CCNP Troubleshooting IP Networks 300-135 course is an in-depth training program designed to equip candidates with the skills and knowledge required to maintain and troubleshoot complex enterprise-routed and switched networks. It covers a wide range of topics, including troubleshooting IP networks for both IPv4 and IPv6, network maintenance, Layer 2 issue resolution, IP address, basic routing troubleshooting techniques, EIGRP/OSPF/BGP and route redistribution methods, Cisco IOS features, and security issue resolution.
What skills can I gain from this course?
By undertaking this course, you will acquire the ability to plan and execute regular maintenance tasks on complex enterprise networks. You will also develop proficiency in troubleshooting IP networks using industry-recognized approaches and best practices. This course serves as valuable preparation for the Cisco CCNP Certification Exam, TSHOOT.
Is the associated examination for this course still available?
The associated examination for this course has been retired. However, the course remains a valuable resource for individuals seeking training in troubleshooting IP networks.
How can I access the training material for this course?
To access the training material, you can subscribe to the All Access Monthly Subscription, which provides you with unlimited access to this course and over 2,500 hours of on-demand content. You can start with a 7-day free trial, and if desired, cancel your subscription at any time.
What are the career prospects after completing this course?
Upon completing this course, you can pursue various career opportunities in network engineering, particularly in roles involving the maintenance and troubleshooting of complex IP networks. Proficiency in these areas is in high demand in IT-enabled countries such as India, USA, Dubai, UK, Australia, and more. You can expect to handle network-related tasks, engage in engineering and planning activities, and provide technical assistance for both external and internal networks.
What study materials are recommended for this course?
For the CCNP Troubleshooting IP Networks 300-135 exam, the course provides comprehensive video lessons that utilize vivid demonstrations, animations, instructions, and configurations to facilitate a thorough understanding of networking fundamentals. These materials are designed to help you prepare for the troubleshooting aspects of the CCNP Routing and Switching certification.
Your Training Instructor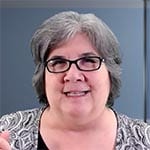 Chrys Thorsen
Education and Technology Expert
Chrys is an education and technology expert who specializes in enterprise-level IT infrastructure consulting and certified training of trainers. In her career, she has garnered 35 IT Certifications including Cisco CCSI/CCNP, CISSP, CISA, MCSE/MCITP, and many more. She has also authored 40 published certification textbooks and is currently working on the new CompTIA PenTest+ courseware.