Introducing the Cisco CCNA Wireless Certification Course: Ignite Your Career in Wireless Networking!
Are you ready to soar to new heights in the world of wireless networking? Look no further than the Cisco CCNA Wireless Certification Course! This exhilarating training program is designed to equip you with the knowledge, skills, and expertise needed to excel in the dynamic realm of wireless technology.
Picture yourself at the forefront of innovation, seamlessly connecting people and devices across Small Medium Business and Enterprise wireless networks. With the CCNA Wireless Certification, you'll gain a deep understanding of Radio Frequency (RF) and 802.11 technologies, empowering you to install, configure, monitor, and troubleshoot wireless networks with confidence and finesse.
The journey begins with the Implementing Cisco Wireless Network Fundamentals (WIFUND) exam, a thrilling 90-minute test that will put your wireless networking prowess to the test. Brace yourself for a series of 60 to 70 questions, meticulously designed to evaluate your grasp of essential RF concepts, 802.11 technologies, and the art of inspecting, adjusting, supervising, and troubleshooting wireless networks.
But fear not! Our comprehensive course will arm you with all the tools you need to conquer the WIFUND exam with flying colors. You'll dive into a world of captivating lessons, expert guidance, and hands-on practice, as our seasoned instructors walk you through real-world scenarios and industry best practices.
What sets our course apart is the unwavering focus on practicality and relevance. You won't just absorb theoretical knowledge; you'll gain practical skills that can be immediately applied to real-world wireless networking challenges. From configuring access points to optimizing network performance, you'll develop the confidence and technical finesse that employers crave.
But the benefits don't end there! As a certified CCNA Wireless professional, you'll unlock a treasure trove of exciting opportunities. Join the ranks of sought-after wireless network engineers, network administrators, and systems engineers in today's fast-paced, interconnected world. Your expertise will be in high demand as organizations across industries embrace the power of wireless connectivity.
So, if you're ready to embark on an electrifying journey toward wireless networking greatness, enroll in the Cisco CCNA Wireless Certification Course today. Let's break new barriers, conquer wireless frontiers, and unleash the true potential of connected technology. The sky's the limit, and your future in wireless networking begins here!
Course Outline:
Module 1: Wireless Basics
Course And Instructor Introduction
Wireless Basics Part 1
Wireless Basics Part 2
Wireless Basics Part 3
Wireless Basics Part 4
Wireless Basics Part 5
Wireless Basics Part 6
Module 2: Wireless Standards
Wireless Standards Part 1
Wireless Standards Part 2
Wireless Standards Part 3
Wireless Standards Part 4
Wireless Standards Part 5
Module 3: Wireless Signals
Wireless Signals Part 1
Wireless Signals Part 2
Module 4: Antennas
Antennas Part 1
Antennas Part 2
Antennas Part 3
Module 5: Topologies
Topologies Part 1
Topologies Part 2
Module 6: Frame Types
Frame Types Part 1
Frame Types Part 2
Frame Types Part 3
Module 7: Planning Coverage
Planning Coverage Part 1
Planning Coverage Part 2
Planning Coverage Part 3
Module 8: Architectures
Architectures Part 1
Architectures Part 2
Architectures Part 3
Module 9: Stand-Alone And Cloud Deployments
Stand Alone And Cloud Deployments Part 1
Stand Alone And Cloud Deployments Part 2
Module 10: Controller-Based Deployment
Controller-Based Deployment Part 1
Controller-Based Deployment Part 2
Controller-Based Deployment Part 3
Module 11: Controller Discovery
Controller Discovery Part 1
Controller Discovery Part 2
Controller Discovery Part 3
Module 12: Roaming
Roaming Part 1
Roaming Part 2
Module 13: Radio Resource Management
Radio Resource Management Part 1
Radio Resource Management Part 2
Radio Resource Management Part 3
Module 14: Wireless Security
Wireless Security Part 1
Wireless Security Part 2
Wireless Security Part 3
Module 15: WLAN Configuration
WLAN Configuration
Module 16: Guest Networks
Guest Networks
Module 17: Client Connectivity
Client Connectivity Part 1
Client Connectivity Part 2
Module 18: Managing Wireless
Managing Wireless Part 1
Managing Wireless Part 2
Module 19: Interference
Interference Part 1
Interference Part 2
Module 20: Troubleshooting
Troubleshooting Part 1
Troubleshooting Part 2
Course Conclusion
Frequently Asked Questions About Cisco 200-355 :Wireless Network Fundamentals
What is the Cisco 200-355: Wireless Network Fundamentals course about?
The Cisco 200-355 course, known as "Wireless Network Fundamentals," is designed to equip students with the knowledge and skills needed to set up and troubleshoot wireless networks in small to medium-sized businesses and enterprise environments. The course covers essential topics such as Radio Frequency (RF) technology and 802.11 wireless standards. Students will learn how to install, configure, monitor, and perform basic troubleshooting tasks on wireless networks.
Who is the instructor for this course?
The instructor for the Cisco 200-355 course is David Biggers, an experienced IT instructor with a teaching background of four years, including teaching for the US Army.
What is the course format?
The Cisco 200-355 course is comprised of 15 hours of training material delivered through 55 video lectures. The course covers 20 key topics and includes 245 practice questions to help students reinforce their understanding of the subject matter.
What are the prerequisites for the course and the associated exam?
To pursue the CCNA Wireless certification, which is associated with the Cisco 200-355 course, it is required to have a valid Cisco CCENT certification or a higher-level certification. Additionally, it is recommended to have a basic understanding of networking concepts such as VLANs, IP addresses, standard subnetting, and basic routing. This foundational knowledge will allow students to focus on the wireless aspects of networking without being hindered by concepts that are assumed but not explicitly explained.
What can I expect from the 200-355 exam?
The 200-355 exam assesses your knowledge of Wi-Fi technology in general and focuses specifically on Wi-Fi implementation within Cisco networks. The exam covers configuration, maintenance, and limited troubleshooting tasks related to wireless networks. Additionally, it includes a section on participation in a site survey. To succeed in the exam, you should have a solid understanding of Cisco-specific concepts such as mobility groups, RF groups, RRM (Radio Resource Management), PoP/PoA (Point of Presence/Point of Attachment), and MA/MC (Mobility Anchor/Mobility Controller). Familiarity with at least one of the interfaces used in Cisco wireless networks (autonomous, AireOS, Meraki, IOS XE) is also expected.
What study resources are recommended for the exam?
To prepare for the CCNA Wireless 200-355 exam, it is recommended to utilize study resources such as the CCNA Wireless 200-355 Complete Video Course and the CCNA Wireless 200-355 Official Cert Guide. The video course offers more than 21 hours of comprehensive video training, covering all the exam objectives. The official cert guide provides in-depth coverage of the topics tested in the exam and includes a range of exam preparation tools to enhance your understanding and readiness.
Your Training Instructor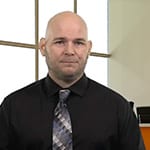 David Biggers
IT Instructor
David has been a professional IT instructor for the past four years in the US Army. He teaches a broad range of certification courses ranging from CompTIA, Microsoft to Cisco and EC-Council. Prior to working with the US Army, David worked as a Jr. Network Admin and Web Services Manager with KCTCS in Kentucky. He performed multiple jobs on the IT team. Additionally, David taught part-time during the evening at the college, where he instructed on Active Directory, Introduction to Computers, and Networking. David has 18 years of IT experience, 17 professional IT certifications, and 8 years of teaching experience.