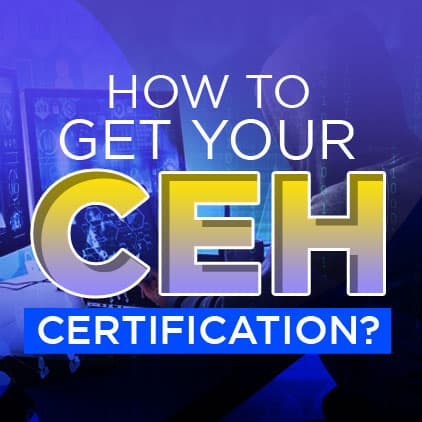 Certified Ethical Hacker Certification is a popular cybersecurity certification that certifies that you understand cybersecurity from the hacker's point of view. It's a difficult exam with 125 multiple choice questions that takes months of preparation.
Certified ethical hackers understand security systems from an outside-in perspective, and the certification is given by the International Council of E-Commerce Consultants (EC-Council). It's one of the most basic cybersecurity certifications, but it opens opportunities and job availability.
The term ethical hacker originally refers to a person who has all the tools and skills necessary to hack systems but stays within legal bounds and uses their skills to assist in cybersecurity.
Cybersecurity is a fast-growing field, projected to grow 33% by 2030. Cybersecurity is one of the top priorities of businesses today, with 74% listing it as one of their top concerns.
What Is the Certified Ethical Hacker (CEH) Certification?
The EC-Council offers the certified ethical hacker certification for cybersecurity professionals, known as the CEH Certification. It's one of the broadest and most basic cybersecurity professionals' certifications.
It consists of 125 multiple choice questions covering a range of cybersecurity and hacking topics, including footprinting, scanning, enumeration, system hacking, malware threats, sniffing, session hijacking, hacking webservers, etc.
The latest version of the CEH certification is version 11, launched in 2020. It covers more in-depth topics on cloud computing and the Internet of Things, including vulnerabilities hackers often take advantage of.
There's also a new focus on fileless threats as the popularity of phishing with fileless viruses grows. Also, the tools and OS used in the test have been updated to reflect the latest programs and technologies.
Before studying for the exam, ensure you understand its content and the changes between different versions.
CEH Exam Requirements
You're required to take a certified training program before the certification exam, or you have to have worked in a cybersecurity position for at least two years and studied on your own.
There are several different test forms with different passing grades ranging from 60 to 85%. The difficulty varies depending on the form you're given, but more complex forms have more lenient grading scales.
Different forms are passed among the students to prevent cheating, and the exam's time limit is 4 hours. However, given the multiple-choice nature of the exam, most participants stated that it takes about 2 to 3 hours to complete.
Training programs can vary in time, from five-day boot camps to month-long programs that take place online. Most students study for several months, a little bit at a time to prepare for the exam.
How much does CEH certification cost?
If you're starting from scratch and need cybersecurity training from the very beginning, it costs you anywhere from 1,000 to 4,500 dollars. That's including all the bells and whistles.
Just applying to take the exam costs $100. And the exam itself costs anywhere from 950 to 1,199 dollars. The certification is considered the gold standard in offensive cybersecurity.
If you use the free EC-Council tools to get ready, you should already feel confident that you'll pass the exam. They have a self-assessment exam with fifty questions you can use to prepare yourself. However, if you want to go a step further, you can purchase their CEH Exam Prep which will help you determine which areas to focus on.
Suppose you're not that confident in your offensive cybersecurity skills. In that case, you can enroll in a self-paced online CEH training to teach you offensive cybersecurity skills and prepare for the exam. They can cost anywhere from $250 to $600, depending on the scope of the course.
If you're starting from the beginning with cybersecurity, it would be prudent to enroll in a certified boot camp to teach you the basics and what you'll find on the exam. These boot camps are expensive, ranging from $850 to $3000. It usually takes five eight-hour days to complete the boot camp and some more studying to prepare for the exam.
It then costs $100 to apply for the exam, $950 for the primary online exam with council-provided proctors, providing your proctor costs $100, and taking the test at a Pearson VUE testing center costs $1,199.
And if worst comes to worst, the price of a test re-take is $450.
The price for your CEH certification is between 1,000 and 4,500 dollars, depending on the kind of training you want to get. And if you fail, you have to re-take the test for $450.
In addition, you need to put in the money it takes to maintain your certification and retake the test every three years, with 120 learning hours earned through reading material, webinars, and conferences.
So you'll have to maintain that certification with a couple of hundred dollars every year.
CEH salary information
Why should you take this expensive, stressful exam? Money. There is a demonstrable gap between the salaries of those with the certificate and those without. Essentially, you make more money with the certification than you do without.
More importantly, many positions and careers are only open to those with a CEH certification necessary for the offensive cybersecurity field. You're showing your competence with this difficult certification, and you'll get better positions and be better paid.
The average base salary for people who hold CEH certifications is $96K a year. This is very high when considering the median wage for the cybersecurity field is $73K a year.
This is a difference of 23,000 dollars. Quite a significant gap for those in the field, not to mention the help this certification gives in landing a position.
So while this certification costs quite a bit to get and maintain, it's well worth the money it takes.
Deep dive into the CEH exam
The certified ethical hacker exam is meant to test your hacking capabilities and the ability to analyze cybersecurity systems from a neutral perspective. It covers many different topics ranging from the latest hacking tools to common scams.
The CEH v11 covers everything from the previous versions, with greater emphasis on cloud computing and IoT systems to reflect the growth of these systems and the focus needed on security for them.
V11 retains the same concept as the v10 exam of thinking like a hacker but introduces new topics while removing some outdated methods and tools.
The most significant differences are enumeration and malware threats, with greater emphasis placed on fileless threats and the new topics introduced in cloud computing and IoT networks.
Ultimately, you need to understand everything about cybersecurity systems to gain this certification, both inside and out. The most critical aspect is understanding the tools and methodologies used by hackers to exploit system weaknesses.
People who practice ethical hacking use their skills for companies to help them expose and cover weak points in the system. It's like someone breaking into a building and telling security how to prevent the way they broke in.
Naturally, this means being familiar with cyber attacks and everything associated. As systems involving cyber security expands, so does the exam's scope.
Moreover, this is just the first in a series of certifications that you can take to prove your offensive cybersecurity skills. The certification after the CEH involves practicality and is a practical exam that covers many different situations.
How to get CEH certification?
You have to work two years or more in a cybersecurity field to apply for the exam. You'll also need certified training, or you can use a waiver to get out of the training.
Then once you've applied and been accepted, you need to purchase an exam voucher. Applications are valid for three months, while the exam voucher is valid for one year.
Afterward, you schedule your exam period (at least three days out, exams get booked quickly) with a proctor sponsored by the EC Council or your own that the EC council accepts. Alternatively, you can go to an in-person exam sponsored by the council, but it depends on your area.
Finally, once you've completed the exam, you'll either need to buy a retake voucher for $450 or download your certification in 7 to 10 days.
Once you've completed your certification, don't forget to stay on top of it, so your certificate doesn't run out and you have to repeat this process all over again.
The test requires proctors, and the ones provided on the online test are very strict with your environment and testing conditions. If they aren't satisfied with something, you must change it to their satisfaction, and you can't move from your seat once the test begins.
They see your screen and watch the entire time you take the test, making for a rather stressful test environment that prevents cheating.
Each application to take the exam takes 5 to 10 business days to process, and it takes 7 to 10 days after your exam is processed to download your certificate.
Suppose you're starting from the very beginning. In that case, you need to have two years in a cybersecurity sector to apply to take the test, a waiver or certified training, apply for the test, buy your voucher, schedule your exam, take the exam, the download your certificate.
Once you've completed these steps, you've completed your certified ethical hacker certification from the EC-Council.
FAQ
The CEH certification is a certification given by the EC council that certifies the knowledge and abilities of ethical hackers. Here are a few of the most common questions regarding CEH certification:
Is CEH a good certification?
The CEH is the gold standard for ethical hackers. Its rigorous testing protocols and high-level knowledge proves the ones that pass truly understand security systems, both from an inside and an outside perspective.
The CEH is just the beginning of its certification tree. Those looking to stand out can try for the CEH Practical, which tests you on practical applications of hacking abilities, and those looking for true mastery can get the CEH Master, which proves you to be one of the best in your field.
What can you do with a CEH certification?
CEH certifications are helpful in all cybersecurity jobs, from low-level entry positions to high-level security engineer positions.
More freelance and contract positions will find the certification useful, such as Penetration Testers and consultants. This certification can help you stand out from the crowd and help prove you know what you're doing in the field.
How much does CEH certification cost?
Anywhere from $1000 to $4500, you'll need to spend a couple hundred every year to maintain the certification. Nevertheless, it's worth every penny was given the benefits and extra salary it can net you from employers.
You should plan for the expenses and take your time studying to prevent the $450 retake price.
What is required for the CEH certification?
Two years or more of work in a cybersecurity field, an application, a waiver or training course, a passing grade, and a lot of money.
It's a difficult certification to achieve, and it's certainly not easy. Two years or more of work is required because hackers can easily use the information provided by the training courses and exams for the wrong reasons, proving your good intentions.
Conclusion
The CEH certification isn't easy to get, but that's what makes it so valuable. Those who achieve this practical certificate can prove they understand security systems from a hacker's perspective and are better equipped to protect those systems from hackers.
With cybersecurity being such a fast-growing field of employment and the cybersecurity concerns that continue to expand in this uncertain world, those with this certification will undoubtedly stand out from their peers.
It isn't easy, and it's certainly not cheap. Still, this certification can drive your career growth, help you stand out among employees, and help you better understand security systems and the tools hackers use, and the weaknesses they exploit in those systems.
It can lead to better positions, salaries, and benefits, and you get to use the hacker's toolbox to stop them in their tracks, helping to make the world a little safer, at least digitally.