Unlock the Secrets of Social Media Success with our exhilarating Social Media & Digital Marketing course! Designed to empower business owners and aspiring entrepreneurs, this dynamic program will propel you into the digital stratosphere, equipping you with the skills to craft a powerful online presence. Get ready to unleash the full potential of social media, apps, and digital tools to captivate your target audience and forge unbreakable relationships with customers like never before.
Embark on an extraordinary journey as our expert instructors guide you through the ins and outs of YouTube domination. With our "Starting Your Own YouTube Channel" module, you'll master the art of channel setup, effortlessly creating a captivating space that draws viewers like moths to a flame. But we won't stop there! Discover the secrets to producing video content that strikes a chord deep within the hearts of your audience, sending your online presence skyrocketing to new heights.
But wait, there's more! Brace yourself for the adrenaline-pumping adventure that awaits in our Social Advertising course. Prepare to be awe-inspired as we unravel the enigma of viral content, revealing how to harness its immense power to captivate the masses and leave your competitors in the dust. With live streaming techniques and a strategic approach to platforms like Twitter and Instagram, you'll be armed with the weaponry of engagement that propels brands to social media stardom.
But it doesn't end there! We go above and beyond, arming you with a multitude of skills that transcend social networks. Learn how to create an unstoppable lead capture system that fuels your business growth, while seamlessly repurposing your captivating content across email campaigns, video production, blogging, and countless other outlets. Witness the harmony of a holistic marketing strategy in action as your brand becomes a force to be reckoned with in the digital landscape.
Oh, and did we mention the grand finale? Complete this exhilarating journey, and you'll earn a prestigious certification that solidifies your expertise and opens doors to limitless opportunities. Our rigorous exams will test your knowledge and ensure you're ready to conquer the world of social media and digital marketing with confidence.
Get ready to unleash your full potential, transform your business, and ride the wave of digital success like never before. Enroll today and let the adventure begin!
What you will learn:
Learners will have access to more than 40 videos and 6 hours of teaching with this extensive course. They will learn how to set up a Facebook profile for their company with groups for generating leads, subjects for live video broadcasting, and more! From initial contact to getting them invested enough to buy from your company, our professional teachers give an in-depth look at how you can use these technologies to attract your target client base.
Course Outline:
Starting Your Own YouTube Channel
Welcome to the course
What Will Your Channel Be About?
Recording Device
Your Competition
Your Normal Video Formula
Your Appearance
Your Personality On Camera
Beware of Copy-written Content
Elements To Make Your Channel and Videos Better Part 1
Elements To Make Your Channel and Videos Better Part 2
Sound Quality
Post Schedule
Doing Too Much
Community Interaction
Trolls and Negative Comments
Fancy Equipment Or Not
Patience
Conclusion
Frequently Asked Questions About Starting Your Own YouTube Channel 101
What's the main goal of this online course?
The main goal of this online course is to provide a comprehensive understanding of digital marketing strategies and techniques. Through practical lessons and real-world examples, you will learn how to effectively promote products and services, increase brand visibility, and drive customer engagement in the online space.
What specific skills can I expect to learn from this course?
This course aims to equip you with a range of valuable skills in digital marketing. You can expect to learn how to conduct market research, develop effective marketing strategies, optimize websites for search engines (SEO), create engaging content, manage social media platforms, run successful advertising campaigns, analyze campaign performance, and utilize various digital marketing tools.
How is the course content delivered?
The course content is delivered through a combination of video lectures, interactive modules, practical exercises, and supplementary resources. You will have access to a dedicated online learning platform where you can watch instructional videos, complete quizzes, and assignments, and interact with instructors and fellow students through discussion forums.
Who is this course designed for?
This course is designed for individuals who are interested in building a strong foundation in digital marketing. It is suitable for beginners who have little to no prior experience in the field, as well as professionals looking to enhance their existing digital marketing skills. Entrepreneurs, marketing professionals, small business owners, and anyone seeking to pursue a career in digital marketing will benefit from this course.
What kind of content can I expect to produce after completing this course?
Upon completing this course, you will be able to create various types of digital marketing content, tailored to different platforms and channels. This includes writing compelling blog posts, designing visually appealing graphics, crafting engaging social media posts, producing professional-quality videos, and developing effective email marketing campaigns. You will have the skills to create cohesive and integrated digital marketing content that effectively reaches and engages your target audience.
Your Training Instructor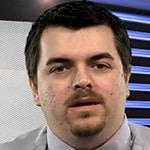 Rick Graham
Instructor