Students receive the fundamental security skills they need to perform in a security role in information security through the CompTIA Security+ (SY0-601) program.
Embark on a thrilling journey to become a Certified Security+ professional with our dynamic and cutting-edge training course! Prepare to unlock a world of possibilities and elevate your career as an IT security specialist with this globally recognized certification.
Imagine being at the forefront of the cybersecurity realm, equipped with the fundamental skills to safeguard vital information, thwart cyber threats, and create resilient defense systems. Our Security+ course is your gateway to a fulfilling and rewarding profession where every day is an opportunity to make a tangible impact.
Delve into the realms of risk assessment, incident response management, and security controls with unwavering confidence. Our comprehensive curriculum will empower you to navigate the complex world of cryptographic concepts, unravel the intricacies of computer forensics, and master the nuances of networks and cloud operations.
But that's not all! With our meticulously designed training, you'll be fully prepared to conquer the SY0-601 exam, the gateway to your Security+ certification. The exam serves as a testament to your expertise and provides a global validation of your skills, setting you apart from the competition and opening doors to remarkable career opportunities.
Enrolling in our Security+ course means immersing yourself in a dynamic learning environment where theory meets practical application. Our experienced instructors will guide you through hands-on exercises, real-world scenarios, and interactive discussions, ensuring you grasp each concept with depth and precision.
Beyond the acquisition of knowledge, our course nurtures critical thinking, problem-solving, and adaptability – essential traits in today's ever-evolving cybersecurity landscape. You'll develop the acumen to analyze threats, devise ingenious solutions, and implement effective mitigation techniques, becoming a formidable force against cyber attacks.
Join our Security+ course today and unleash your potential to become a guardian of digital realms. Prepare to embark on a thrilling adventure, where each lesson brings you closer to transforming your career and making a lasting impact in the world of cybersecurity. The future awaits, and it's secure with you at the helm!
Objectives for the Security+ Exam (SY0-601)
For the Security+ certification, the following exam objectives have been set by CompTIA:
The goal of the CompTIA Security+ test is to determine if a candidate can recognize, analyze, and fix security flaws in an organizational context while also suggesting appropriate security measures. Application attacks, monitoring and securing hybrid environments, mobile device security, and IoT are all examples of this, but they are not the only ones. Working with knowledge of applicable laws and regulations, cloud security solutions, governance principles, risk assessment, and compliance, as well as the ability to analyze and respond to security events and incidents.
Important exam preparation materials for the SY0-601 Exam to Secure Your Security Specialist Certification include:
Up to 85 test questions
A combination of multiple-choice and performance-based questions.
Exam time is 90 minutes
A passing score is 750 on a scale of 100-900
You can succeed in these security industry positions by completing our Security+ training:
Security Specialist
Network Administrators
Security Engineer
Security Administrators
Security Analyst
Security Professionals
Security Engineer
Enroll now!
With our online training course, you can improve your exam readiness for the CompTIA Security+ exam and make sure you are ready to pass the test and earn a certification in security. With our comprehensive and simple video courses and practice examinations, you can learn at your own speed and get a head start on your cybersecurity career by passing the Security+ exam. Enroll right away in our online course training, and you can relax knowing that you have access to all the information needed to pass the CompTIA Security+ certification exam.
Course Outline:
Module 1 – Introduction to Security
1.1 Introduction to Security
Module 2 – Malware and Social Engineering Attacks
2.1 Malware and Social Engineering Attacks
Module 3 – Basic Cryptography
3.1 Basic Cryptography
Module 4 – Advanced Cryptography and PKI
4.1 Advanced Cryptography and PKI
Module 5 – Networking and Server Attacks
5.1 Networking and Server Attacks
Module 6 – Network Security Devices, Designs, and Technology
6.1 Network Security Devices, Designs, and Technology
Module 7 – Administering a Secure Network
7.1 Administering a Secure Network
Module 8 – Wireless Network Security
8.1 Wireless Network Security
Module 9 – Client and Application Security
9.1 Client and Application Security
Module 10 – Mobile and Embedded Device Security
10.1 Mobile and Embedded Device Security
Module 11 – Authentication and Account Management
11.1 Authentication and Account Management
Module 12 – Access Management
12.1 Access Management
Module 13 – Vulnerability Assessment and Data Security
13.1 Vulnerability Assessment and Data Security
Module 14 – Business Continuity
14.1 Business Continuity
Module 15 – Risk Mitigation
15.1 Risk Mitigation
Module 16 – Security Plus Summary and Review
16.1 – Security Plus Summary and Review
Module 17 – Hands-On Training
17.1 Hands-On Scanning Part 1
17.2 Hands-On Scanning Part 2
17.3 Hands-On Advanced Scanning
17.4 Hands-On MetaSploit
17.5 Hands-On BurpSuite
17.6 Hands-On Exploitation Tools Part 1
17.7 Hands-On Exploitation Tools Part 2
17.8 Hands-On Invisibility Tools
17.9 Hands-On Connect to Tor
Frequently Asked Questions About CompTIA Security+ Training ( SY0-601 ) Certification Course
What will I learn in the CompTIA Security+ (SY0-601) certification course?
The CompTIA Security+ (SY0-601) certification course covers essential knowledge and skills related to computer and network security. It provides a solid foundation in threat analysis, network security, secure network design, and penetration testing. By completing this course, you will gain the necessary knowledge to pass the CompTIA Security+ SY0-601 exam and understand key concepts in cybersecurity.
What is the cost of the CompTIA Security+ (SY0-601) certification course?
The cost of the CompTIA Security+ (SY0-601) certification course may vary depending on the provider and region. It is recommended to check with authorized training providers or the official CompTIA website for the most accurate and up-to-date pricing information. Additionally, an All Access Monthly Subscription is available, providing access to this course and over 2,500 hours of on-demand content for an affordable monthly fee after a 7-day free trial period.
What is the structure of the CompTIA Security+ (SY0-601) certification course?
The CompTIA Security+ (SY0-601) certification course typically consists of 16 hours of training material. It includes 15 instructional videos covering 17 topics and also provides 146 practice questions to help you prepare for the SY0-601 exam. The course is designed to comprehensively cover the exam objectives and provide a thorough understanding of the subject matter.
What are the career prospects after completing the CompTIA Security+ (SY0-601) certification course?
The CompTIA Security+ certification is widely recognized globally and holds significant value in the IT security industry. After completing the SY0-601 certification course and obtaining the Security+ certification, you will have the foundational cybersecurity skills needed to pursue a career as a Security Specialist. This certification validates your ability to implement mitigation techniques against cyber-attacks, secure company systems, and understand cryptographic concepts. It opens doors to various job roles related to cybersecurity and provides opportunities for career growth and advancement.
What should I do after completing the CompTIA Security+ (SY0-601) certification course?
After completing the CompTIA Security+ (SY0-601) certification course and passing the SY0-601 exam, you may consider taking the more advanced CompTIA CySA+ (Cybersecurity Analyst) course. The CySA+ certification focuses on the practical application of cybersecurity skills, including threat detection, response, and recovery. It builds upon the foundational knowledge gained from Security+ and can further enhance your career prospects in the cybersecurity field.
What Is the CompTIA Security+ (Plus) Certification?
The CompTIA Security+ (Plus) certification is a globally recognized credential that validates the basic knowledge and skills required to perform core security functions and pursue a career in IT security. It covers a wide range of topics, including network security, threat management, cryptography, identity management, risk identification, and mitigation strategies. The certification is often seen as a stepping stone to more advanced IT security certifications and roles. It is compliant with ISO 17024 standards and approved by the US Department of Defense (DoD) to meet directive 8140/8570.01-M requirements.
Your Training Instructor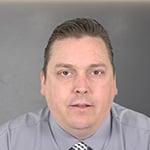 Brian O'Hair
IT Training Professor
Professor Brian O'Hare has over 25 years of experience in the IT industry. He started off in web design as a Corporate Webmaster but wanted to understand how the internet worked. While working towards his bachelor's in computer science, he studied and got his MCSE (Microsoft Certified Systems Engineer) and his MCT (Microsoft Certified Trainer). Once certified he paid for his degree working as a Network Engineer and then a Trainer for others wanting to learn about Microsoft's Desktop and Server products.