Get Certified as a Digital Transformation Leader from Google!
Introducing the Google Cloud Digital Leader Certification: Ignite Your Path to Cloud Success!
Are you ready to take your career to new heights in the dynamic world of cloud computing? Look no further! Google's newest certification, the Google Cloud Digital Leader, is here to empower you with the skills and knowledge you need to shine in the industry.
Designed with business professionals in mind, this certification is your passport to the same table as the giants of cloud computing—AWS and Azure. As a Cloud Digital Leader, you'll become a trusted advisor, equipped to articulate the immense capabilities of Google Cloud's core products and services, and effortlessly demonstrate how they drive unparalleled growth and innovation for organizations of all sizes.
Picture yourself confidently navigating the cloud landscape, effortlessly guiding sales teams, inspiring marketing initiatives, and engaging with C-level executives like never before. This certification enables you to showcase your expertise in cloud solutions and differentiate yourself from the competition, propelling your career to new heights.
But what sets the Google Cloud Digital Leader Certification apart? Not only will you gain an in-depth understanding of Google Cloud Platform (GCP) and its cutting-edge offerings, but you'll also grasp the strategic importance of cloud solutions in supporting enterprise success. By mastering the ins and outs of cloud technology, you'll discover how to unleash its potential and revolutionize business practices.
With our comprehensive exam, we ensure that you're fully prepared to demonstrate your proficiency and earn this prestigious certification. The exam covers a range of topics, including the core products and services of Google Cloud, best practices for implementing cloud solutions, and real-world business use cases. It's your chance to showcase your mastery and solidify your expertise as a Cloud Digital Leader.
So, are you ready to take the leap and become a cloud champion? Enroll in the Google Cloud Digital Leader Certification today and unlock a world of opportunities. Stand out from the crowd, shape the future of cloud computing, and accelerate your career like never before. Join the cloud revolution and let your success soar to new heights with Google Cloud!
You will completely understand how to carry out the following duties or have the appropriate conversations after finishing our Google Cloud Digital Leader Certification course:
Explain what cloud technology is and the top reasons the cloud era is revolutionizing business
Craft an ideal transformation challenge for your organization Identify components of a security program to build into your transformation journey
Build a business case and summary page for your overall transformation project using the templates provided
The Google Cloud Digital Leader certification test is independent of employment function and does not call for prior Google Cloud expertise.
Your knowledge is tested on the Cloud Digital Leader Certification exam in the following three areas, as stated by GCP:
General cloud knowledge
General Google Cloud knowledge
Google Cloud products and services
What is the Meaning of Google Cloud Digital Leader Certification?
A program called the Google Cloud Digital Leader Certification was created to assist people in gaining the abilities and expertise required to steer projects for digital transformation utilizing Google Cloud technologies.
How can I make myself ready for the Google Cloud Digital Leader Certification exam?
Reviewing the exam manually, enrolling in the suggested courses, and acquiring practical experience with Google Cloud technologies are all ways to get ready for the Google Cloud Digital Leader Certification exam.
What advantages do you receive by obtaining the Google Cloud Digital Leader Certification?
You may show that you are an expert at managing digital transformation projects using Google Cloud technologies by receiving the Google Cloud Digital Leader Certification. This can open up prospects for career progression and raise your earning potential.
The Google Cloud Digital Leader Certification is valid for how long?
From the time you obtain it, the Google Cloud Digital Leader Certification is valid for two years. To keep your title of Google Cloud Certified Digital Leader after two years, you must renew your certification.
Course Outline:
Module 1 – Google Cloud Digital Leader Course Overview
1.0 About Google Cloud Digital Leader
1.1 Course and Instructor Intro
1.2 Course PreReqs
1.3 GCP Certification Overview
1.4 GCP Digital Leader Exam Objectives
Module 2 – General Cloud Knowledge
2.0 General Cloud Knowledge
2.1 Domain Objectives
2.2 Intro to Cloud Computing
2.3 Essential Characteristics of Cloud Computing
2.4 Service Models
2.5 Deployment Models
2.6 Multitenancy
2.7 Resiliency
2.8 Replication
2.9 Automation and Orchestration
2.10 Chargeback
2.11 Vendor Lock-in
2.12 Cloud Standards
2.13 OpEx, CapEx
2.14 TCO-ROI
2.15 Business Enablers
2.16 Section Summary
2.17 Review Questions
Module 3 – General Google Cloud Knowledge
3.0 General GCP Knowledge
3.1 Domain Objectives
3.2 GCP Overview
3.3 Cloud Infrastructure
3.4 Cloud Hierarchy
3.5 Project Demo
3.6 Whiteboard Hierarchy and Projects
3.7 Service Options
3.8 Demo – Services Overview
3.9 Pricing Calculator
3.10 Demo – Pricing Calculator
3.11 Billing Models and Discounts
3.12 Demo Billing
3.13 Compliance Resources
3.14 Demo – Compliance Reports Manager
3.15 Support Options
3.16 Service Level Agreement (SLA)
3.17 Google Cloud Framework and Maturity Model
3.18 Demo – Maturity Assessment
3.19 Access to GCP
3.20 Demo – GCP ACCESS
3.21 Section Summary
3.22 Review Questions
Module 4 – Google Cloud Products and Services
4.0 Google Cloud Products and Services
4.1 Domain Objectives
4.2 Core Services
4.3 Google Compute Engine, Google Cloud VMware Engine, and Bare Metal
4.4 Compute Storage and Disk Options
4.5 App Engine, Google Cloud Functions, and Cloud Run
4.6 Google Kubernetes Engine
4.7 Demo Compute Services
4.8 Container registry
4.9 Cost and Performance Tradeoffs of Scale To Zero
4.10 Database Options – Cloud SQL, Cloud Spanner, Cloud Bigtable, BigQuery
4.11 Demo – Database Offerings
4.12 Vision API, AI Platform, TPUs
4.13 Pre-Trained Models
4.14 Data Pipeline Offerings
4.15 Data Ingestion Options
4.16 Software Development Life Cycle (SDLC)
4.17 Visibility and Alerting Offerings
4.18 Identify Data Migration Options
4.19 Compute VM Migration
4.20 Whiteboard – Migrations
4.21 Application Modernization
4.22 Define Software-Defined WAN (SD-WAN)
4.23 Connectivity Options
4.24 Whiteboard – Connectivity
4.25 IAM and Security
4.26 Whiteboard Cloud Architecture
4.27 Section Summary
4.28 Review Questions
Module 5 – Google Cloud Digital Leader Course Closeout
5.0 Google Cloud Digital Leader Course Closeout
5.1 Course Review
5.2 Resources
5.3 Exam Overview
Your Training Instructor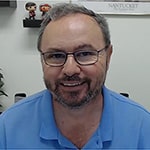 Joe Holbrook
Independent Trainer | Consultant | Author
Joe Holbrook has been in the IT field since 1993 when he was exposed to several HPUX systems on board a U.S. Navy flagship. He has migrated from the UNIX world to Storage Area Networking(SAN), Enterprise Virtualization, and Cloud Architecture, and now specializing in Blockchain and Cryptocurrency. He previously worked for numerous companies like HDS, 3PAR, Brocade, HP, EMC, Northrup Grumman, ViON, Ibasis.net, Chematch.com, SAIC, and Siemens Nixdorf.
Currently, he works as a Subject Matter Expert specializing in Enterprise Cloud and Blockchain Technologies. He is the CLO of Techcommanders.com Elearning and consulting, He holds numerous IT certifications from AWS, GCP, HDS, and other organizations.
He is an avid speaker and well-known course author residing in Jacksonville, Florida.