Google Analytics 4 Training Course
Introducing the Ultimate GA4 Mastery Training: Unleash the Power of Google Analytics 4!
Are you ready to revolutionize your data analysis game and take your marketing efforts to the next level? Look no further! Our GA4 Mastery Training is designed to equip you with the knowledge and skills needed to harness the full potential of Google Analytics 4 (GA4). Get ahead of the curve and be prepared for the retirement of Universal Analytics on July 1, 2023!
With over 18 years of industry experience, we understand the vital role Google Analytics plays in maximizing the success of businesses, both small and large. That's why we've developed this comprehensive and cutting-edge course to ensure you stay at the forefront of data-driven marketing.
What sets our GA4 Mastery Training apart?
Stay Ahead of the Curve: Be ahead of the game by embracing the newest version of Google Analytics. GA4 brings a host of exciting features and capabilities that will revolutionize the way you analyze and leverage your data. Don't get left behind – equip yourself with the latest knowledge!
Deep Dive into the New Data Model: Gain a thorough understanding of the new event-driven data model at the core of GA4. Learn how to track user interactions across platforms and devices, unlocking a comprehensive view of user behavior. Discover the secrets to unlocking powerful insights that can transform your marketing strategies.
Master the Enhanced User Interface: Navigate the revamped user interface with ease and efficiency. Explore the intuitive data visualization, advanced customization options, and streamlined reporting features that GA4 offers. Unleash the true potential of your data through a user-friendly interface designed to supercharge your analysis.
Comprehensive Reports for Informed Decision-Making: Dive into the newly updated reports in GA4 that provide in-depth insights into user acquisition, engagement, and monetization. Harness the power of data to make informed decisions and optimize your marketing campaigns. Gain a competitive edge by leveraging actionable insights derived from GA4 reports.
But that's not all! We go the extra mile to ensure your success:
Expert Instructors: Learn from industry experts who have mastered GA4 and have a deep understanding of data analytics. Our instructors will guide you every step of the way, ensuring you grasp the concepts and techniques to become a GA4 pro.
Practical Hands-On Exercises: Apply your knowledge in real-world scenarios with hands-on exercises and projects. Gain practical experience in implementing GA4 and interpreting data to make strategic decisions. Get ready to impress your colleagues and superiors with your newfound skills.
Extra Exam Preparation: We provide additional resources and exam preparation materials to help you ace the GA4 certification exam. Stand out from the crowd with a recognized certification that validates your expertise in GA4.
Don't miss this opportunity to future-proof your analytics skills and unlock the true potential of your data with GA4. Join the GA4 Mastery Training now and embark on a journey toward data-driven success!
Enroll today and take the first step towards becoming a GA4 master. Your future marketing success awaits!
What will I discover in the Google Analytics GA4 Training classes:
This dynamic course is designed to empower you and your team with the skills and knowledge needed to harness the power of GA4 and transform your data into actionable insights.
With our comprehensive training, you'll dive headfirst into the world of GA4 and discover a treasure trove of tips, tricks, and strategies that will propel your business to new heights. From setting up GA4 like a pro to uncovering hidden gems within your data, we've got you covered every step of the way.
We understand the importance of measurable goals and conversions, and that's why our course dedicates ample time to guide you through goal tracking and conversion optimization. You'll gain the expertise to align your goals with your business objectives and witness remarkable growth as you fine-tune your digital strategies.
But that's not all! Our training puts a spotlight on custom reporting, empowering you to create tailored reports that cater to your unique business needs. You'll learn how to utilize dimensions effectively, understand your target audiences inside out, and extract invaluable insights that drive informed decision-making.
What sets our course apart is the emphasis on taking your data analysis beyond Google Analytics. We'll show you how to export data to powerful platforms like Google Data Studio, enabling you to craft stunning visualizations and share them with your stakeholders. Moreover, you'll explore the vast capabilities of BigQuery, diving deep into your data and uncovering intricate patterns that pave the way for predictive analytics and enhanced business intelligence.
And here's the cherry on top: our course now offers you access to enterprise features that were once exclusive to Google Analytics 360. Get ready to leverage BigQuery integration, funnels, and upsampled data, all at no extra cost! This means you'll have the tools previously reserved for large enterprises right at your fingertips, revolutionizing the way you analyze and optimize your digital products.
To top it all off, we've got you covered for the exam too! Our comprehensive training prepares you for the Google Analytics GA4 certification exam, ensuring you have the credentials to showcase your expertise and stand out in the competitive digital landscape.
So, are you ready to embark on this thrilling journey of data-driven success? Join us today and unlock the true potential of Google Analytics GA4 to transform your business and achieve unprecedented growth!
What if I want to take the Google Analytics exam?
Ready to elevate your expertise in the realm of digital analytics? Look no further! Discover the ultimate online course designed to supercharge your skills and propel your career to new heights: the Google Analytics 4 Certification Course.
We believe that knowledge is the key to success, and we're committed to providing you with a comprehensive and dynamic learning experience. Our self-paced IT Online Course Training is tailored to meet your unique needs, whether you're a seasoned professional or just starting your analytics journey.
Why should you embark on this transformative learning adventure? Let us paint a vivid picture of the countless benefits that await you:
Gain In-Demand Skills: As the digital landscape continues to evolve at lightning speed, proficiency in Google Analytics 4 has become an essential asset for any aspiring marketer, analyst, or business professional. Our course equips you with the latest tools, techniques, and best practices to harness the full potential of Google Analytics 4.
Master the Google Analytics 4 Platform: Unleash the true power of Google Analytics 4! We guide you through every nook and cranny of the platform, enabling you to effortlessly navigate its features, reports, and measurement capabilities. From understanding user behavior to analyzing conversion rates, you'll become a true analytics virtuoso.
Excel in the Google Analytics 4 Exam: Feeling anxious about the certification exam? Fear not! Our course provides you with a concise reference guide, expert tips, and a plethora of practice questions to sharpen your skills and boost your confidence. With our comprehensive review materials at your disposal, you'll breeze through the exam and emerge as a certified Google Analytics 4 specialist.
Propel Your Career: The Google Analytics 4 certification is a powerful testament to your proficiency and dedication. By adding this coveted certification to your portfolio, you open doors to exciting career opportunities. Employers and clients will recognize your expertise, giving you a competitive edge in the job market and positioning you as a trusted analytics authority.
Flexible Learning, Unparalleled Support: Our self-paced online course allows you to learn at your own pace, fitting seamlessly into your busy schedule. With 24/7 access to our comprehensive materials, you can study whenever and wherever you choose. Should you have any questions or need guidance, our experienced instructors are just a click away, ready to provide personalized support.
Are you ready to embark on a transformative journey that will revolutionize your understanding of analytics and open doors to boundless opportunities? Enroll in the Google Analytics 4 Certification Course today and witness your knowledge soar to unprecedented heights.
For Whom is This Video GA4 Training Course Intended?
Bloggers who rely on digital analytics to make digital marketing analysis to grow and develop predictive audiences or couple Google optimize to their blog and segment traffic sources to gain a deep understanding.
Digital Product Owners who want the analysis reporting of dimensions and understand their audiences and user behavior for implementation plans to drive value to products and services.
Affiliate teams or marketers wanting to develop a measurement plan and tracking to drive detailed reporting, reviewing measurements and or dimensions from sources.
Business owners, entrepreneurs, or product managers who want to maximize their skills and performance of their digital products with comprehensive tracking and reporting to yield the best performance possible.
Anyone looking to master the fundamentals to be able to obtain insights that can be gathered with Google Analytics 4 to drive their business decisions will benefit from our GA4 training course.
In this Google Analytics GA4 training, you'll learn the following:
Why Google Analytics 4 is a game changer for both small business and individual digital product owners
How to Set up Google Analytics 4 to Collect Actionable Data Results
Identify How to Track the Success of Your Marketing Campaigns with Tagging, Reports, dimensions, and custom metrics
How to export data to Google BigQuery or leverage Google Data Studio
Upgrade from Universal Analytics to Google Analytics 4 and ensure your attribution models stay intact
How to connect to Google Signals, Google Ads (campaign tracking), Google Tag, and BigQuery
Document Insights and use the reporting tools to make Data Driven Decisions to Grow your digital product
Requirements To Get the Most Out of Your GA4 Training
Participants should have a website, blogging site, and mobile application to use with Google Analytics 4
A basic understanding of using Google Chrome in order to install extensions
Course Outline:
Module 1 – Google Analytics 4 – Course Overview
1.0 About Google Analytics 4
1.1 Course Intro Welcome
1.2 Instructor Intro
Module 2 – Fundamentals of Google Analytics
2.1 What is a Digital Product
2.2 Google Market Platform
2.3 Google Analytics Overview
2.4 Google Analytics 4 Overview
2.5 Whiteboard Discussion-How Does GA Work
2.6 Comparing GA3 to GA4
2.7 Whiteboard Compare Data Models
2.8 Demo- GA Console Walkthru
2.9 Admin Panel
2.10 Demo Admin Panel
2.11 Tag Manager
2.12 Demo Tag Manager
2.13 Segment Review
2.14 Segment Review Questions
Module 3 – Advanced Topics with Google Analytics
3.1 Upgrading and Running Parallel
3.2 Whiteboard Discussion – Parallel
3.3 Demo Console Parallel
3.4 Hands-on Demo – Install GA4 on a Live Site
3.5 Understand Reporting Options, Lifecycle Collections
3.6 Hands-on Demo – Exploring reports
3.7 Hands-on Demo – Set up GA4 Custom Eventsmp4
3.8 Hands-on Demo – Conversions, Audiences, DebugView
3.9 Hands-on Demo – Advertising
3.10 Hands-on Demo – Explorations: Insights
3.11 Hands-on Demo – Lifecycle and Users
3.12 Google Big Query Connections
3.13 Demo – BigQuery Data Integrations
3.14 Google Ads
3.15 Demo – Google Ads
3.16 Google Signals
3.17 Demo – Google Signals
3.18 Certification Options
3.19 Segment Summary
3.20 Review Questions
3.21 Resources
3.22 Course Closeout
Frequently Asked Questions Related to Google Analytics 4
How do Google Universal Analytics and Google GA4 differ from one another?
Immerse yourself in a dynamic learning experience that will revolutionize the way you understand and harness the potential of user data. Brace yourself for a journey that will unlock endless opportunities and empower you with indispensable knowledge.
Benefits of the Course: Stay Ahead of the Curve: GA4 is the future of analytics, and by mastering it, you'll position yourself as a trailblazer in the industry. Stay one step ahead of the competition and ride the wave of the latest advancements in data analytics.
Data-Driven Decision Making: Transform raw data into actionable insights! Uncover hidden patterns and trends that will empower you to make strategic decisions with confidence. Become the driving force behind data-informed strategies that lead to outstanding business growth.
Unleash Your Creativity: GA4's new reporting interface is a playground for your imagination. Dive into its user-friendly and customizable features, allowing you to create stunning visualizations and reports tailored to your unique needs. Impress stakeholders with captivating presentations that unveil the true potential of your data.
Supercharge Your Marketing Efforts: Discover the ultimate synergy between GA4 and Google Ads. Harness the power of audience creation based on user behavior and watch as your ad campaigns reach new heights. Get ready to unlock unparalleled marketing precision and maximize your return on investment.
Privacy-First Mindset: Stay ahead of the privacy curve with GA4's built-in privacy features. Learn how to respect user privacy while still extracting valuable insights. Rest easy knowing you're equipped to handle data deletion requests and protect sensitive information.
Exam Information: At the culmination of this transformative journey, you'll have the opportunity to demonstrate your expertise by taking our comprehensive certification exam. Earning this prestigious certification will not only bolster your professional profile but also open doors to exciting career opportunities.
Embark on a transformational journey today and revolutionize the way you understand and utilize data. Enroll in our Google Analytics Mastery Course and embark on a thrilling adventure that will propel you to the forefront of the analytics revolution!
Note: Exam details, study materials, and certification requirements will be provided during the course.
When will Google Universal Analytics switch over automatically to GA4?
On July 1st, 2023, Google will stop gathering data for use in Universal Analytics. All Google Analytics-using websites are converting to the new GA4 platform.
Why do I have to upgrade to GA4?
The outdated Universal Analytics platform is being phased out by Google in favor of GA4, which offers more sophisticated capabilities and better connections with other Google products.
Do I actually need the training to understand the new GA4 platform?
The course will be extremely helpful for anyone who utilizes Google Analytics to keep track of important business decisions and base those decisions on analytics. Owners of businesses, marketers, and data analysts will acquire a deeper comprehension of how to fully utilize the information offered by GA4.
Your Training Instructor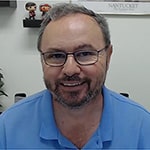 Joe Holbrook
Independent Trainer | Consultant | Author
Joe Holbrook has been in the IT field since 1993 when he was exposed to several HPUX systems on board a U.S. Navy flagship. He has migrated from the UNIX world to Storage Area Networking(SAN), Enterprise Virtualization, and Cloud Architecture, and now specializing in Blockchain and Cryptocurrency. He previously worked for numerous companies like HDS, 3PAR, Brocade, HP, EMC, Northrup Grumman, ViON, Ibasis.net, Chematch.com, SAIC, and Siemens Nixdorf.
Currently, he works as a Subject Matter Expert specializing in Enterprise Cloud and Blockchain Technologies. He is the CLO of Techcommanders.com Elearning and consulting, He holds numerous IT certifications from AWS, GCP, HDS, and other organizations.
He is an avid speaker and well-known course author residing in Jacksonville, Florida.