Are you ready to embark on a thrilling journey into the world of blockchain technology? Get ready to level up your skills and unlock exciting opportunities with our dynamic and transformative Blockchain Bootcamp Training!
In this immersive online course, we dive headfirst into the captivating realm of blockchain, where innovation and endless possibilities collide. Whether you're a seasoned sales professional, a technical expert, or a customer-facing superstar, this training is your passport to success in the fast-paced digital landscape.
Discover the fundamentals that make blockchain technology the game-changer of our time. Unleash your potential as you explore a wide array of compelling use cases that showcase the true power of blockchain. From supply chain management to decentralized finance, you'll witness firsthand how blockchain is reshaping industries across the globe.
But we won't stop there. We'll take you on an exhilarating tour of enterprise blockchains, exposing you to the cutting-edge platforms that are driving the revolution. Immerse yourself in the world of R3 Corda, Hyperledger, Ethereum, Quorum, and Ripple as we unveil their unique features, advantages, and real-world applications. Gain a competitive edge by understanding the strengths and weaknesses of each platform, empowering you to make informed decisions and recommend the perfect blockchain solution for any business challenge.
And that's not all! Our Blockchain Bootcamp Training is designed to equip you with job-ready skills that will set you apart in the market. With our comprehensive curriculum, you'll be fully prepared to tackle industry certifications that will enhance your professional profile and open doors to exciting career opportunities. From becoming a Certified Blockchain Professional to earning badges in specific platforms, we're here to guide you every step of the way.
Imagine the impact you'll make as a sales executive armed with the knowledge to showcase the immense value of blockchain solutions to your clients. Picture yourself as a technical account manager, confidently guiding your customers toward blockchain integration and witnessing their businesses thrive. Envision yourself as an IT manager leading the charge, leveraging the latest advancements in blockchain technology to drive revenue growth and shape the future of your organization.
Join us on this exhilarating adventure and become a blockchain trailblazer. The future is here, and it's time to embrace it. Enroll in our Blockchain Bootcamp Training today and unlock a world of endless possibilities!
How does blockchain work?
Blockchain is a distributed ledger that is irreversible and makes it easier to track assets in a company's network and record transactions. A blockchain system can be used to track both tangible (such as homes, automobiles, money, or land) and intangible (such as intellectual property patents, copyrights, or branding) objects to reduce the risk for all parties and associated expenses. Because of this, all types of value may be tracked and exchanged using this cutting-edge technology.
Why is it important?
The foundation of company operations is information. To be successful, one must accurately and quickly receive and process that data. This is exactly what blockchain technology provides; it combines a real-time shared information source with a secure record that only authorized network members can access. Imagine having even more information on orders, payments, accounting production, etc. Because everyone connected in a blockchain network sees the world from the same perspective, you'll have comprehensive insight into every transaction from beginning to end, increasing your level of trustworthiness and opening up new opportunities for efficiency and optimization.
Course Outline:
Module 1: Course Overview
1.1 Course Introduction
1.2 Course Target Audience
1.3 Course Pre-Requirements
Module 2: Pre-Sales Activities
2.1 Module 2 Introduction
2.2 Request for Proposals
2.3 Request for Proposals Fintech
2.4 Proof of Concepts
2.5 Return on Investment
2.6 Value Creation
2.7 Cost Modeling
2.8 Cost Considerations
2.9 Enterprise Integration
2.10 TPS
2.11 Whiteboard Discussion
Module 3: Blockchain Fundamentals
3.1 Module 3 Introduction
3.2 What is a Blockchain
3.3 Blockchain Components
3.4 Blockchain Terminology
3.5 Enterprise Blockchains
3.6 Consensus and Mining
3.7 Ledgers
3.8 Permissioned vs Permissionless Blockchains
3.9 Trust and Blockchain
3.10 Advantages of Transparency
3.11 Development Expertise
3.12 Dapps
3.13 BaaS
3.14 AWS BaaS Whiteboard Discussion
3.15 Understanding Blockchain Architecture
Module 4: Enterprise Blockchains
4.1 Module 4 Introduction
4.2 Hyperledger
4.3 Ethereum
4.4 Quorum
4.5 R3 Corda
4.6 Corda Demobench Demo
4.7 Ripple
4.8 IBM BaaS
4.9 AWS BaaS Demo
Module 5: Use Cases
5.1 Module 5 Introduction
5.2 Ripple Use Cases
5.3 Dubai Use Cases
Module 6: Course Closeout
6.1 Module 6 Introduction
6.2 Course Review
6.3 Blockchain Roles
Frequently Asked Questions About Enterprise Blockchain Bootcamp for Solutions Engineers
What is the primary objective of the Enterprise Blockchain Bootcamp for Solutions Engineers online course?
The primary objective of the Enterprise Blockchain Bootcamp for Solutions Engineers online course is to provide participants with a comprehensive understanding of blockchain technology fundamentals. The course aims to explore various use cases for blockchain and delve into specific enterprise blockchains such as R3 Corda, Hyperledger, Ethereum, Quorum, and Ripple. By the end of the course, participants will have gained critical skills in blockchain technologies, making them job-ready and equipped to navigate the increasing importance of blockchain in various industries.
Who is the ideal audience for this training course?
The course is designed for individuals in sales, technical roles, and customer-facing positions. It caters to Sales Executives, Technical Account Managers, IT Managers, and similar professionals. The course is particularly beneficial for those who wish to enhance their industry success, attain industry certifications, or drive revenue growth by understanding blockchain technology.
What does the course offer?
The online course offers a range of resources to facilitate learning. It includes 4 hours of training, 44 on-demand videos, 6 comprehensive topics, and 20 prep questions. The course also provides closed captions for accessibility purposes. Upon successful completion, participants receive a certificate of completion, validating their knowledge and skills in blockchain technology.
How is the course delivered?
The course is delivered as an online boot camp, allowing participants to access the training material at their convenience from anywhere with an internet connection. The course primarily consists of on-demand videos that can be viewed at one's own pace, providing flexibility in the learning process.
Is the course useful for people working in high-volume VAR, Integrator, or Vendor roles?
Absolutely. For individuals working in high-volume VAR (Value-Added Reseller), Integrator, or Vendor roles, understanding blockchain technology is crucial as it increasingly becomes an integral part of the enterprise landscape. This course equips participants with the necessary knowledge to sell blockchain solutions effectively and positions them as industry experts.
What is blockchain technology?
Blockchain technology is a decentralized and transparent system that simplifies the process of documenting transactions and monitoring assets within a network. It operates as an indelible, distributed ledger, allowing multiple parties to maintain a shared database without relying on a central authority. Blockchain can be utilized for both tangible assets such as houses, cars, money, or land, as well as intangible items like intellectual property, patents, and copyrights.
Your Training Instructor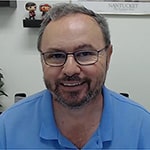 Joe Holbrook
Independent Trainer | Consultant | Author
Joe Holbrook has been in the IT field since 1993 when he was exposed to several HPUX systems on board a U.S. Navy flagship. He has migrated from the UNIX world to Storage Area Networking(SAN), Enterprise Virtualization, and Cloud Architecture, and now specializing in Blockchain and Cryptocurrency. He previously worked for numerous companies like HDS, 3PAR, Brocade, HP, EMC, Northrup Grumman, ViON, Ibasis.net, Chematch.com, SAIC, and Siemens Nixdorf.
Currently, he works as a Subject Matter Expert specializing in Enterprise Cloud and Blockchain Technologies. He is the CLO of Techcommanders.com Elearning and consulting, He holds numerous IT certifications from AWS, GCP, HDS, and other organizations.
He is an avid speaker and well-known course author residing in Jacksonville, Florida.