Show Evidence of Your Qualification for the CompTIA Network+ N10-008 Exam
Unlock the gateway to a thriving IT career with CompTIA Network+! Are you ready to dive into the dynamic world of network infrastructure, troubleshooting, and configuration? Look no further! Our comprehensive online course has got you covered, taking you on an exhilarating journey of technical mastery.
Immerse yourself in an all-encompassing learning experience that surpasses the ordinary. Our course not only aligns with the latest exam objectives (N10-008), but it goes above and beyond by delivering additional topics that provide invaluable context for real-world network operations. Say goodbye to dull lectures and hello to interactive activities, engaging practice exams, and hands-on lab exercises!
But that's not all! Our passionate and experienced instructors will be your guiding light, providing you with meticulously crafted outlines, workbooks, study guides, and everything else you need to conquer the exam with confidence. We're committed to your success, ensuring you're equipped with the knowledge and skills that employers worldwide recognize and respect.
With a CompTIA certification in your arsenal, you'll unlock a world of endless opportunities. Employers are actively seeking Network+ certified professionals, knowing that they possess the skills to tackle the most complex networking challenges. Become a sought-after expert in troubleshooting network issues, configuring cutting-edge systems, and monitoring network performance like a pro!
Don't miss out on the chance to become part of the prestigious CompTIA community—a global network of professionals recognized for their expertise and dedication. This is your moment to shine, and our course is here to empower you every step of the way.
So, what are you waiting for? Enroll in our exhilarating CompTIA Network+ course today and embark on a thrilling journey toward a rewarding IT career! Success is just a click away!
The CompTIA Network+ (Plus) N10-008 exam training equips students with the fundamental abilities required to succeed in a profession managing networks and IT infrastructure.
A well-known certification for IT professionals is the Network Plus certification test offered by CompTIA. It establishes the framework required to focus on a vendor solution. N10-008 is the official exam ID.
As a Certified Network Plus professional, you will possess the extensive knowledge and practical abilities necessary to implement enterprise-level wired and wireless network solutions, recognize and resolve network performance problems, and harden networks against threats to reduce security vulnerabilities using a variety of network technologies and hardening techniques. Designing and installing networks and fixing issues are often part of your career. Critical networking and security principles, topologies, router configuration and troubleshooting, bandwidth control, cloud redundancy, ensuring networking availability, disaster recovery, and much more are among the skills you will learn.
Exam objectives for Network+ N10-008
The Network+ certification tests' N10-008 exam objectives have been set by CompTIA and are as follows:
The N10-008 exam and the CompTIA Network+ certification exam will serve as evidence that the successful candidate possesses the knowledge and abilities necessary to evaluate the security posture of an enterprise environment, recommend and implement appropriate security solutions, monitor and secure hybrid environments, including cloud, mobile, and IoT technologies, operate with an awareness of applicable laws and policies, including principles of governance, risk, and compliance, and identify, analyze, and quantify threats.
The test evaluates a candidate's understanding of network management, configuration, and troubleshooting, as well as other network operations and infrastructure technologies.
Course Outline:
Module 0 – Course Introduction
0.1 Instructor Intro
0.2 Course Overview
Module 1 – Networking Fundamentals
1.1 Intro to Networking
1.1.1 Activity: Creating a Network
1.2 Common Terminology
1.2.1 Activity: Examining Ports and Sockets
1.3 OSI Model
1.4 DoD Model
1.4.1 Activity: Examining Network Layers
1.5 TCP, UDP, IP
1.5.1 Activity: Examining TCP
1.5.2 Activity: Examining UDP
1.5.3 Activity: Examining IP
1.6 ICMP, IGMP, ARP
1.6.1 Activity: Examining ICMP
1.6.2 Activity: Examining ARP
1.6.3 Activity: Examining IGMP
1.7 Network Topologies
1.8 Network Types
1.9 Part 1: Network Characteristics
1.9 Part 2: Network Characteristics
1.10 Module 1 Outro
Module 2 – Cables and Connectors
2.1 Ethernet Standards
2.2 Copper Cable Types
2.3 Fiber Optic Cable Types
2.4 Connector Types
2.4.1 Activity: Selecting the Right Cable
2.5 Media Converters and Transceivers
2.6 Cable Management
2.7 Module 2 Outro
Module 3 – Internet Protocol (IP)
3.1 IPv4 Basics
3.2 IP Packet and Interface Types
3.2.1 Activity: Configuring Client IP Settings
3.3 Binary Numbering System
3.4 Classful and Classless Addressing
3.5 Understanding CIDR Notation
3.6 IPv4 Subnetting Method
3.7 Verifying with Binary
3.8 Finding Subnet IDs
3.8.1 Activity: Subnetting a Class C Network
3.9 The Delta in Action
3.9.1 Activity: Subnetting With the Delta
3.10 Subnetting Based on Hosts
3.11 Subnetting in Other Octets
3.12 Supernetting
3.12.1 Activity: Supernetting
3.13 IPv6
3.14 IPv4 – IPv6 Transition Mechanisms
3.15 Module 3 Outro
Module 4 – Layer 7 Protocols
4.1 Remote Control Protocols
4.2 File Sharing Protocols
4.3 Web Protocols
4.4 Email Protocols
4.5 Database Protocols
4.6 Voice Protocols
4.7 Security Protocols
4.8 Management Protocols
4.9 Module 4 Outro
Module 5 – Network Services
5.1 DHCP
5.1.1 Activity: Configuring DHCP
5.1.2 Activity: Configuring a DHCP Relay Agent
5.2 DNS
5.2.1 Activity: Configuring DNS – Part 1
5.2.2 Activity: Configuring DNS – Part 2
5.3 NTP
5.4 Corporate and Datacenter Network Architecture
5.5 Cloud Concepts and Connectivity Options
5.6 Module 5 Outro
Module 6 – Networking Devices
6.1 Introductory Concepts
6.2 Repeaters and Hubs
6.2.1 Activity: Connecting Devices with a Hub
6.3 Bridges and Switches
6.3.1 Activity: Connecting Devices with a Switch
6.4 Routers and Multilayer Switches
6.5 Security Devices
6.6 Modems
6.7 Module 6 Outro
Module 7 – Networked Devices
7.1 IP Devices
7.2 IoT
7.2.1 Activity – Programming IoT Devices
7.3 ICS/SCADA
7.4 Module 7 Outro
Module 8 – Routing and Bandwidth Management
8.1 Routing Basics
8.1.1 Activity: Configuring Static Routes
8.2 Packet Delivery on the Same Network
8.3 IP Routing Across a Single Router
8.4 IP Routing Across Multiple Hops
8.4.1 Activity: Static Routes – CHALLENGE
8.5 Route Selection
8.6 RIP
8.6.1 Activity: Configuring RIP – CHALLENGE
8.7 OSPF
8.8 EIGRP
8.9 BGP
8.10 NAT/PAT
8.11 Bandwidth Management (with Module 8 Outro)
Module 9 – Ethernet Switching
9.1 Ethernet Basics
9.2 Switching Overview
9.2.1 Activity: Examining a MAC Table
9.3 VLANs
9.3.1 Activity: Creating VLANs
9.4 VLAN Trunking
9.4.1 Activity: Configuring VLAN Trunking
9.5 VLAN Routing
9.5.1 Activity: Configuring VLAN Routing
9.6 Contention Management
9.7 Switchport Configuration (with Module 9 Outro)
Module 10 – Wireless Technologies
10.1 Wireless Overview
10.2 Radio Basics
10.3 Modulation
10.4 Wi-Fi Standards
10.5 Antennas
10.6 Wi-Fi Service Sets
10.7 Wi-Fi Security
10.8 Cellular
Module 11 – Network Performance
11.1 Monitoring Performance
11.2 Common Metrics
11.2.1 Activity: Examining Interface Statistics
11.3 SNMP
11.4 Netflow
11.5 Network Security Monitoring (with Module 11 Outro)
Module 12 – High Availability and Disaster Recovery
12.1 HA and DR Concepts
12.2 High Availability Mechanisms
12.3 Disaster Recovery Mechanisms
12.4 Facility and Infrastructure Support (with Module 12 Outro)
Module 13 – Organizational Documents
13.1 Plans and Procedures
13.2 Security Policies
13.3 Loss Prevention
13.4 Common Agreements
13.5 Common Documentation
13.6 Structured Cabling – MDF and IDF
13.7 Horizontal and Vertical Cabling
13.7.1 Activity – Implementing Cable Management
13.8 Labeling
13.9 Surveys and Assessments (with Module 13 Outro)
Module 14 – Network Security
14.1 Common Security Concepts
14.2 Common Attack Types
14.3 Spoofing-based Attacks
14.4 Hijacking and MITM
14.5 Social Engineering
14.6 Network Segmentation
14.7 Private VLANs
14.8 Single Organization Authentication
14.9 Extending Authentication
14.10 Authorization
14.11 Network Device Hardening
14.12 Wireless Security
14.13 Remote Access Security
14.14 IoT Security
14.15 Physical Security (with Module 14 Outro)
Module 15 – Network Troubleshooting
15.1 Troubleshooting Methodology
15.2 Physical Connectivity Issues
15.3 Hardware Testing Tools
15.3.1 Activity – Testing an Ethernet Cable
15.3.2 Activity – Crimping on an RJ-45 Connector
15.3.3 Activity – Punching Down Twisted Pair
15.3.4 Activity – Using a Telephone Toner
15.4 Understanding Electricity
15.4.1 Activity – Checking Cable Continuity
15.4.2 Activity – Testing DC Voltage
15.4.3 Activity – Testing AC Voltage
15.5 Twisted Pair Pinout Problems
15.6 Twisted Pair Termination Problems
15.7 Repairing Damaged Twisted Pair Cable
15.8 Fiber Optic Connectivity Issues
15.8.1 Activity – Testing a Fiber Optic Cable
15.9 Common Port Problems
15.9.1 Working with Ports and Their Devices
15.10 Common Software Testing Tools
15.10.1 Activity – Scanning for Open Ports
15.11 Common Command Line Utilities
15.12 Troubleshooting Basic IP Networking Issues
15.13 Common Switching Issues
15.14 Switching Test Tools and Techniques
15.15 Common IP Routing Issues
15.16 Wi-Fi Access Point Issues
15.17 Wireless Interference
15.17.1 Activity – Using a Spectrum Analyzer
15.18 Wireless Antenna Issues
15.18.1 Activity – Configuring a Wi-Fi Router
15.19 WAP Placement Strategies
15.20 Infrastructure Service Issues (DHCP)
15.21 Infrastructure Service Issues (DNS)
15.22 Infrastructure Service Issues (NTP)
15.23 Firewall / ACL Issues
15.24 VPN Issues
15.25 Additional Network Security Troubleshooting and Tips
15.26 Advanced Networking Issues
15.27 Troubleshooting Server Services (with Module 15 Outro)
CompTIA Network+ N10-008 Course Outro
FAQs About CompTIA Network N10 008 Network Operations, Network Security, Network Troubleshooting Exam
Is N10-007 or N10-008 harder?
The difficulty level of the N10-007 and N10-008 exams can be subjective and may vary depending on an individual's experience and knowledge. However, N10-008 is considered more comprehensive as it covers new content and focuses on developing network infrastructure to mitigate security vulnerabilities.
What is CompTIA N10-008?
CompTIA N10-008 is the updated version of the CompTIA Network+ certification. It validates the knowledge required to design and develop network infrastructure while also addressing security vulnerabilities.
What is the difference between Network+ N10-007 and N10-008?
The main difference between Network+ N10-007 and N10-008 lies in their content. While N10-007 aims to provide a broad knowledge of networking and virtualization systems, N10-008 delves deeper and covers the topics more extensively. For instance, N10-008 assesses a candidate's ability to diagnose virtual machines that are not connected to the Internet.
Is the CompTIA Network+ exam hard?
The difficulty of the CompTIA Network+ exam can vary from person to person. However, in general, it is considered a challenging exam. It focuses on networking concepts, infrastructure protocols, service security, and troubleshooting.
Is CompTIA network certification worth it in the IT industry?
CompTIA Network+ certification can be valuable in the IT industry. It enhances your resume and can help you stand out to hiring managers, particularly for networking-related roles. Successfully passing the CompTIA Network+ exams can also serve as a career-building tool, potentially leading to better job opportunities and competitive salaries for IT professionals.
Your Training Instructor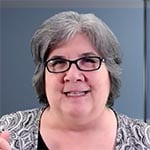 Chrys Thorsen
Education and Technology Expert
Chrys is an education and technology expert who specializes in enterprise-level IT infrastructure consulting and certified training of trainers. In her career, she has garnered 35 IT Certifications including Cisco CCSI/CCNP, CISSP, CISA, MCSE/MCITP, and many more. She has also authored 40 published certification textbooks and is currently working on the new CompTIA PenTest+ courseware.