Introducing CompTIA Mobility+: Empower Your Mobile Technology Journey!
Are you ready to take your mobile technology skills to the next level? Look no further than the exhilarating world of CompTIA Mobility+! This dynamic certification is designed to equip you with the knowledge and expertise needed to excel in the rapidly evolving landscape of wireless technologies, infrastructure management, and secure mobile device operations.
With CompTIA Mobility+, you'll unlock a treasure trove of invaluable benefits and open doors to exciting career opportunities. Here's what you can expect from this thrilling course:
Master Wireless Technologies: Become a wireless wizard! Gain a deep understanding of the intricate workings of different mobile technologies and how they shape our interconnected world. From 4G to 5G and beyond, you'll be at the forefront of cutting-edge wireless advancements.
Infrastructure Management: Learn the secrets to seamlessly managing and optimizing mobile infrastructures. Dive into the world of network design, deployment, and configuration, and discover how to create robust and reliable mobile ecosystems that keep businesses and individuals connected and thriving.
Secure Mobile Device Operations: In today's digital landscape, security is paramount. CompTIA Mobility+ arms you with the skills to protect mobile devices and data from ever-present threats. Explore encryption techniques, secure device provisioning, and implement foolproof disaster recovery systems to safeguard against potential risks.
Troubleshooting Expertise: Become the go-to troubleshooter for mobile technology challenges. Unleash your problem-solving prowess as you tackle complex issues, diagnose device malfunctions, and execute industry-standard best practices for remediation tactics. Your ability to identify and resolve problems swiftly will make you an invaluable asset to any organization.
But wait, there's more! CompTIA Mobility+ culminates in an exciting certification exam that will put your skills to the ultimate test. The exam is carefully crafted to evaluate your ability to differentiate between mobile technologies, configure and update devices, implement secure solutions, and assess and prevent risks. With this esteemed certification in your arsenal, you'll demonstrate your mastery of mobility technologies and stand out from the competition.
So, are you ready to embark on a thrilling journey into the realm of mobile technology? Equip yourself with CompTIA Mobility+ and watch your career soar to new heights. Don't miss out on this incredible opportunity to become a mobile technology maestro!
Note: To ensure the utmost accuracy, it is always recommended to visit the official CompTIA website for the most up-to-date information on the Mobility+ certification, exam objectives, and requirements.
The following knowledge categories are covered in an IT training course:
Mobile device management
Mobile Computing Deployment
Mobile security technologies
Identify and troubleshoot network issues
IT professionals who can deploy, integrate, support, and manage a mobile environment while making sure that appropriate security measures are maintained for devices and platforms to prevent risks and attacks are the target audience for online IT courses.
Course Outline:
Module 1: Over-The-Air Technologies
Introduction
Over-The-Air-Technologies
Wireless Technologies-Part 1
Wireless Technologies-Part 2
Radio Frequency
RF Power Fun
Antennas
Issues With RF
NON-Wireless
Governing Bodies And Regulations
Module 2: Network Infrastructure
Network Foundations-Part 1
Network Foundations-Part 2
Network Foundations-Part 3
Network Foundations-Part 4
OSI Model Review
Wireless Terms And Terminology-Part 1
Wireless Terms And Terminology-Part 2
Wireless Media And Communication
Unified Wireless Architecture
SSIDs And VLANs
Module 3: Mobile Device Manager
Mobile Device Management-Part 1
Profiles And Polices-Part 1
Profiles And Polices-Part 2
Enterprise Mail And Messaging
Wireless Site Survey-Part 1
Wireless Site Survey-Part 2
Wireless Site Survey-Part 3
Wireless Site Survey-Part 4
Wireless Device Management-Part 1
Wireless Device Management-Part 2
Module 4: Security
Mobile Device Security
Network Security 101
Security Protocols-Part 1
Security Protocols-Part 2
Security Protocols-Part 3
EAP Overview
Encryption Overview-Part 1
Encryption Overview-Part 2
Common Security Troubleshooting
Wireless Risks-Part 1
Wireless Risks-Part 2
Other Risks
Module 5: Troubleshooting
Wireless Troubleshooting-Part 1
Wireless Troubleshooting-Part 2
Wireless Troubleshooting-Part 3
Conclusion
Frequently Asked Questions About CompTIA MB0-001 Mobility+
What will I learn in the CompTIA MB0-001 Mobility+ course?
In the CompTIA MB0-001 Mobility+ course, you will gain comprehensive knowledge and skills related to mobile technology. The course covers topics such as mobile device management, troubleshooting, security, and network infrastructure. It is designed to equip IT professionals with the ability to deploy, integrate, support, and manage mobile environments while ensuring proper security measures are in place to mitigate risks and threats.
Who is the instructor for this course?
The instructor for the CompTIA MB0-001 Mobility+ course is Chris Avants. He is a highly experienced Senior Cisco Instructor with a deep understanding of IT. Chris specializes in wireless, security, and collaboration technologies. He possesses over 20 industry-leading certifications, including multiple Expert level certifications from Cisco Systems (CCIE) and CWNP (CWNE). He is also a Certified Cisco Systems Instructor​.
Even though the associated exam for this course has been retired, how can this course benefit me?
While the CompTIA Mobility+ certification exam has been retired, the course itself remains a valuable resource for learning. It focuses on essential aspects of mobile technology, including wireless technologies, infrastructure management, secure mobile device operations, and troubleshooting. The knowledge and skills acquired from this course can be applied to various roles in the IT industry, enabling you to excel in mobile technology-related projects and responsibilities.
What prior knowledge or experience is recommended before taking this course?
Before enrolling in the CompTIA MB0-001 Mobility+ course, it is recommended to have a CompTIA Network+ certification or equivalent working knowledge. Additionally, having at least 18 months of work experience in the administration of mobile devices in an enterprise environment will provide a solid foundation for understanding the course material and concepts.
What areas of knowledge does this course cover?
The CompTIA MB0-001 Mobility+ course covers several crucial areas related to mobile technology. These include Mobile Device Management, Mobile Computing Deployment, Mobile Security Technologies, and Troubleshooting Network Issues. The course delves into the specifics of each domain, providing you with comprehensive knowledge and practical skills required to manage and secure mobile environments effectively.
How does this course contribute to my career in IT?
Completing the CompTIA MB0-001 Mobility+ course can greatly benefit your career in IT. The course equips you with the valuable skills and knowledge needed to excel in mobile technology-focused roles. The course covers key areas such as mobile device management, security, and troubleshooting, which are highly relevant in today's IT environments. By mastering these concepts, you will be prepared to tackle the challenges of deploying, integrating, supporting, and managing mobile environments while ensuring proper security measures are maintained for devices and platforms. This expertise will make you a valuable asset in the IT industry, opening up opportunities for career growth and advancement.
Your Training Instructor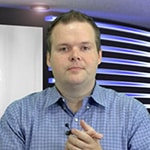 Chris Avants
Senior Cisco Instructor
Chris is a Sr. Cisco Instructor and leading consultant for clients throughout the U.S. Chris has over 15 years of experience as a network engineer and 5 additional years as an instructor. Chris has worked at the service provider/partner level throughout his career, working with national and global clients to solve complex business problems through the use of technology and IT training solutions. Working with Chris, you will see a true industry expert with experience, drive, and patience unparalleled in the industry.