CompTIA Cloud+ Certification Training – Cloud Architecture, Cloud Security, Cloud Environments, and Cloud Resources
Introducing the cutting-edge CompTIA Cloud+ CVO-003 course, taught by a seasoned expert who brings unparalleled expertise as a former CompTIA SME and CompTIA Cloud Plus Train the Trainer. Get ready to soar to new heights in the cloud technology landscape with this exhilarating video Instructor-Led Training course!
Are you an IT professional yearning to unlock the full potential of cloud-based technologies? Look no further! This course is meticulously crafted to equip you with the essential knowledge and skills needed to conquer the CV0-003 exam and achieve cloud certification. With a strong focus on practical application, this transformative learning journey is your golden ticket to success.
Harness the power of cloud computing as you delve into the fundamentals of this revolutionary technology. From cloud security measures to seamless cloud management, from exploring cloud-based databases to unlocking the immense potential of cloud-based services, this course has it all. Embark on a thrilling adventure through the intricate realms of cloud architecture, administration, and operations, while honing your ability to troubleshoot complex cloud issues with ease.
But wait, there's more! Prepare to be dazzled by a plethora of awe-inspiring cloud-based business solutions and platform demonstrations, with a special emphasis on the leading giants in the cloud realm: AWS and GCP. Gain firsthand experience and witness the true power of these platforms as you navigate through immersive real-world scenarios and master the art of leveraging their full potential.
The CompTIA Cloud+ exam will be your crowning achievement, certifying your exceptional proficiency in implementing, maintaining, and delivering cloud technologies. By successfully completing this exam, you'll demonstrate your profound understanding of network services, storage systems, and virtualization technologies within the cloud landscape. Moreover, you'll grasp the intricate nuances of cloud models and IT security, allowing you to implement industry best practices in your cloud implementations.
Embrace this opportunity to propel your career to new heights. With six months of cloud experience as a prerequisite, you're already equipped with the necessary foundation. Now, it's time to elevate your expertise and unlock boundless possibilities in the world of cloud technology. Enroll today, and let the CompTIA Cloud+ CVO-003 course empower you to conquer the skies of success!
Information about CompTIA Cloud+ CVO-003
CompTIA has updated its CV0-002 test to include new technologies and cloud components in order to help professionals remain ahead of the constantly changing cloud market. CompTIA Cloud+ assures that applicants are able to utilize the important advantages of cloud infrastructure services as more businesses rely on cloud resources and a blend of hybrid and multi-cloud deployments for mission-critical systems:
enhancing the depth of expertise expected of system administrators, Cloud+ allows them to prove their capabilities in data center jobs and operate more efficaciously.
As the IT industry continues to advance, CompTIA Cloud+ recognizes cloud-based infrastructure services as an essential element of any organization's technology solutions.
At its core, this is the only vendor-neutral, performance-based certification that guards any applicant against a single vendor or just one specific domain — like security and networking — in order to help them gain maximum value out of cloud infrastructure services.
The CompTIA CV0-003 exam covers the fundamentals of cloud computing environments, resource management, systems administration, and data-driven recommendations for using various cloud systems and services. It is an international, vendor-neutral certification. CompTIA distinguishes itself from other certifications in this field by ensuring that all pertinent parties are included in the process. You must pass the CV0-003 test and show that you are capable of integrating and managing cloud technologies as a component of a larger system if you want to get the CompTIA Cloud+ certification. You will need to create solutions that are flexible enough to be used in a variety of situations while being suited to specific business demands.
Online study tools and content outline Includes
Fully Updated Content
Cloud Demonstrations
Cloud Whiteboard Architecture
Topic Discussion
Practice Questions
Flashcards
The course of study for certification is intended for:
IT Administrators
Cloud Administrators
Network Administrators
Database Administrators
IT Analysts
What You'll Discover Through This Training Program
Cloud Computing Fundamentals
Cloud Migration Considerations
Cloud Operations
Cloud Security Fundamentals
Troubleshooting Cloud platform issues
How to pass the CompTIA Cloud Plus Certification Exam
Course Requirements for Exam CV0-003
Have a good baseline in virtualization such as VMware, Zen, or HyperV
Have at least 6 months of experience in cloud computing
Have at least 1 year of computer networking experience
Hands-on experience with at least one public cloud IaaS platform
Knowledge of common cloud deployment models (Private, Public, Hybrid) definitions
Knowledge of cloud service models (IaaS, PaaS, SaaS) definitions
(CV0-003) Exam Objectives
Domain 1 – accounts for 24% and covers deployment and configuration
Domain 2 – accounts for 16% and covers security
Domain 3 – accounts for 18% and covers maintenance
Domain 4 – accounts for 20% and covers management
Domain 5 – accounts for 22% and covers Troubleshooting
Course Outline:
Module 1 – CompTIA Cloud+ CV0-003 Course Overview
1.0 Course Trailer
1.1 Course Overview
1.2 What is the Cloud + Exam
1.3 Cloud + Domain Objectives Overview
1.4 CompTIA Certification Pathways
1.5 DoD and ISO Requirements
Module 2 – General Cloud Knowledge
2.1 Domain Overview
2.2 Compare and Contrast Cloud Models
2.3 Cloud Computing Defined
2.4 Deployment Models
2.5 Service Models
2.6 Cloud Characteristics
2.7 Cloud Roles
2.8 Evaluate Cloud Providers and Services
2.9 Regions and Zones
2.10 Shared Responsibility Model
2.11 Demonstration – AWS Shared Security Model
2.12 Comparing Cloud to Virtualization
2.13 Comparing Cloud to On-Premises
2.14 What is a Virtual Machine
2.15 Demonstration – Deploy a Cloud VM (AWS EC2)
2.16 What is an API
2.17 Capacity Planning Factors
2.18 Licensing, Factors, Requirements, and Planning
2.19 Capacity Planning
2.20 Demonstration – AWS Trusted Advisor
2.21 HA and Scaling
2.22 High Availability and Disaster Recovery
2.23 Virtual, System, and Communication Protection
2.24 Hypervisor Affinity
2.25 Analyze the solution design
2.26 Business Requirements
2.27 Business Enablers
2.28 Demonstration -AWS Well-Architected Tool
2.29 Testing Techniques
2.30 Testing Success Factors
2.31 Module Review Questions
2.32 Module Summary Review
Module 3 – Cloud Security
3.1 Domain Overview
3.2 Configure Identity and Access Management
3.3 Identification and Authorization Management (IAM)
3.4 SDLC
3.5 Directory Services
3.6 Security and Access Controls
3.7 Federation
3.8 SSO and MFA
3.9 Certificates and Key Management
3.10 Secure a Network in a Cloud Environment
3.11 Networking Devices and Segmentation
3.12 Firewalls and Proxies
3.13 NAT and PAT
3.14 Secure Network Configurations (Tunnelling and Encryption)
3.15 Demo Hardening and Configuration Changes
3.16 OS Application Controls and Security Credentials
3.17 Policies and Permissions
3.18 Host and Network Protections (HIDSIPS)
3.19 Virtualization Security
3.20 Monitoring
3.21 Data Security and Compliance Controls in Cloud Environments
3.22 Structured, Unstructured, and Semi-Structured Data
3.23 Data Classification and Labeling
3.24 Data Loss Prevention
3.25 Demonstration – Google Cloud DLP
3.26 Chain of Custody and Non-Repudiation
3.27 Discussion – CASB
3.28 Module Summary Review
3.29 Module Review Questions
Module 4 – Cloud Deployment
4.1 Domain Overview
4.2 Integrate Components into Cloud Solutions
4.3 Subscription Services
4.4 Demonstration – Provision VM
4.5 Cloud Infrastructure Components
4.6 Whiteboard – Design a Resilient AWS Cloud Architecture
4.7 Containers
4.8 Microservices
4.9 Demonstration – Deploy Containers
4.10 Scaling
4.11 Provision Storage
4.12 Cloud Storage Protocols
4.13 Storage Features
4.14 Storage Cost Considerations
4.15 Storage Performance
4.16 RAID and Tiering
4.17 Demonstration – AWS S3
4.18 Deploy Cloud Networking Solutions
4.19 Connecting to The Cloud
4.20 Network Protocols
4.21 VPNS, VPC, and Connectivity
4.22 Whiteboard – AWS VPC Connectivity
4.23 Demonstration – AWS VPC
4.24 Software-Defined Networking (SDN)
4.25 Compute Sizing
4.26 Virtualization Considerations
4.27 Resource Rightsizing (CPU, Memory, etc)
4.28 Module Summary Review
4.29 Module Review Questions
Module 5 – Operations and Support
5.1 Domain Overview
5.2 Logging Monitoring and Alerting
5.3 Logging, Storage, and Analysis of Data Events
5.4 Monitoring Cloud Resources
5.5 Service Level Agreements
5.6 Demonstration – SLAs in AWS
5.7 Maintain Efficient Operations of a Cloud Environment
5.8 Lifecycle Management
5.9 Change and Asset Management
5.10 SOP, Patching, and Upgrades
5.11 Orchestration and Automation
5.12 Orchestration or Automation
5.13 DevOps, IaC and CICD Pipelines
5.14 Playbooks and Templates
5.15 Backup and Restore Operations
5.16 Backup Types, Objects, Targets
5.17 Restore and Recovery
5.18 Module Summary Review
5.19 Module Review Questions
Module 6 – Troubleshooting
6.1 Domain Overview
6.2 Troubleshooting Methodology Intro
6.3 Troubleshooting Methodology
6.4 Troubleshoot Security Issues
6.5 Cloud Attacks
6.6 Security Groups and NACLS
6.7 Troubleshoot Deployment Issues
6.8 Discussion Site Connectivity Issues
6.9 Discussion – Capacity Issues
6.10 Connectivity Issues
6.11 Connectivity Troubleshooting Tools
6.12 Demonstration – GCP AWS Azure Latency Test
6.13 Module Summary Review
6.14 Module Review Questions
Module 7 – Course Closeout
7.1 Exam Preparation
7.2 Course Closeout
FAQs About CompTIA Cloud+ Certification – CVO-003.
How valuable is the CompTIA Cloud+ certification?
Absolutely! Cloud+ is worth it for cloud specialists. It is the best solution if the questions that arise in the Cloud are nontechnical and the Cloud+ certification – for cloud specialists – is your best chance of succeeding.
What does cloud+ certification mean?
The cloud plus certification from CompTIA validates the expertise and knowledge required to secure cloud settings.
What does a professional with a CompTIA Cloud+ certification make?
According to their experience, CompTIA Cloud+ certified professionals in the United States are typically paid between $83k and $125k annually.
How challenging is the CompTIA Cloud+ test?
Use our Online CompTIA Cloud+ Certification Training for training. It can be tough to pass Cloud+ certification tests, so a solid course from a professional instructor is recommended. The software tests practically every aspect of cloud operations. CV0-003 is an examination for performance tests aimed at the deployment, security, and automation of cloud services regardless of vendor.
How are CompTIA Cloud+ and Cloud Essentials+ different from one another?
The technical cloud management abilities required for managing daily service operations are provided by CompTIA Cloud +, while business acumen is provided to today's executives by CompTIA Cloud Essentials Plus. More companies than ever before are switching service providers to the cloud.
Your Training Instructor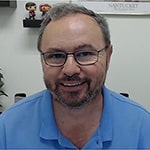 Joe Holbrook
Independent Trainer | Consultant | Author
Joe Holbrook has been in the IT field since 1993 when he was exposed to several HPUX systems on board a U.S. Navy flagship. He has migrated from the UNIX world to Storage Area Networking(SAN), Enterprise Virtualization, and Cloud Architecture, and now specializing in Blockchain and Cryptocurrency. He previously worked for numerous companies like HDS, 3PAR, Brocade, HP, EMC, Northrup Grumman, ViON, Ibasis.net, Chematch.com, SAIC, and Siemens Nixdorf.
Currently, he works as a Subject Matter Expert specializing in Enterprise Cloud and Blockchain Technologies. He is the CLO of Techcommanders.com Elearning and consulting, He holds numerous IT certifications from AWS, GCP, HDS, and other organizations.
He is an avid speaker and well-known course author residing in Jacksonville, Florida.