Cisco CCNA Training Programs Designed To Support You Pass The 210-260 Exam
Introducing the Cisco CCNA Security Course: Unlock the Power of Secure Networking!
Are you ready to take your networking skills to the next level and become a trusted guardian of data and devices? Look no further than the exhilarating Cisco CCNA Security course! Join us on an exciting journey where you'll gain the knowledge and skills needed to fortify Cisco networks and protect against ever-evolving cyber threats.
Our comprehensive and free Cisco CCNA Security course spans 11 captivating chapters, each packed with invaluable insights and practical hands-on training. From core security technologies to cutting-edge concepts, we'll equip you with the tools necessary to build and maintain a robust security infrastructure.
Imagine being able to confidently install, troubleshoot, and monitor network devices to safeguard the integrity, confidentiality, and availability of critical data. With the Cisco CCNA Security certification, you'll showcase your proficiency in the very technologies that Cisco relies on to protect networks worldwide.
But that's not all! By embarking on this thrilling learning journey, you'll unlock a treasure trove of benefits:
Stand out from the crowd: The Cisco CCNA Security certification sets you apart as a skilled network professional with expertise in securing Cisco networks. Employers will recognize your dedication to maintaining a secure environment and trust you with their most critical assets.
Gain real-world knowledge: Our course is designed with a practical approach in mind. You'll dive deep into the intricacies of web-based and endpoint threats, learning how to identify vulnerabilities and mitigate security risks effectively. Put your skills to the test as you develop a robust security infrastructure capable of combating today's sophisticated cyber threats.
Career advancement opportunities: As cyber threats continue to evolve, the demand for skilled security professionals is skyrocketing. By earning your Cisco CCNA Security certification, you position yourself for exciting career opportunities in various industries, including cybersecurity consulting, network administration, and information technology.
Boost your earning potential: It's no secret that expertise in network security commands a premium. With the Cisco CCNA Security certification under your belt, you'll enjoy increased earning potential and open doors to higher-level positions within the industry.
Exam Information:
To cement your mastery and validate your skills, the Cisco CCNA Security course culminates in a comprehensive certification exam. This exam will test your knowledge across the entire spectrum of network security, ensuring you're ready to tackle real-world challenges head-on.
But fear not! With our meticulously crafted course content, hands-on labs, and expert guidance, you'll be fully prepared to ace the exam and emerge victorious.
Don't miss this incredible opportunity to become a champion of secure networking. Enroll in the Cisco CCNA Security course today and embark on a thrilling adventure that will redefine your career!
Information about the Cisco CCNA Security Exam
Introducing the Cisco CCNA Security Certification Course – Elevate Your Network Security Expertise!
Are you ready to embark on a thrilling journey into the dynamic realm of network security? Look no further! The Cisco CCNA Security certification course is here to empower you with the skills and knowledge to fortify network infrastructures, protect sensitive data, and ward off digital threats with confidence.
In this cutting-edge course, you'll dive headfirst into the exciting world of secure network architecture. Learn to build robust security frameworks that safeguard vital information, maintain data integrity, and ensure uninterrupted business operations. Master core security principles that form the bedrock of airtight network defenses, enabling you to stay one step ahead of malicious actors at all times.
Our comprehensive curriculum leaves no stone unturned as it equips you with the essential tools to control safe access to network resources. From implementing foolproof authentication mechanisms to establishing secure VPN encryption, you'll become an expert in crafting impenetrable entry points and thwarting unauthorized access attempts.
But we don't stop there – we go beyond traditional security measures! Gain an in-depth understanding of cutting-edge technologies such as firewalls and intrusion prevention systems. Unleash your prowess in fortifying networks against external threats, identifying vulnerabilities, and effectively neutralizing potential attacks before they even strike.
The course also delves into the crucial realm of web and email content security. Learn how to implement robust protocols that shield your organization from harmful malware, phishing attempts, and data breaches. Develop the skills to safeguard critical information while ensuring seamless communication and collaboration across digital platforms.
Endpoint security is a top priority in today's interconnected world, and we've got you covered! Discover the latest strategies to shield devices, including laptops, smartphones, and IoT devices, from unauthorized access and malware infiltration. Safeguard your network from both internal and external threats, creating a formidable defense system that keeps your organization's assets secure.
Now, let's talk about the grand finale – the CCNA Security exam (210-260 IINS). This 90-minute exam is your gateway to a world of exciting career opportunities. With 60-70 thoughtfully crafted questions, it thoroughly evaluates your expertise in secure network infrastructure, advanced security concepts, access control, VPN encryption, firewalls, intrusion prevention, web and email content security, and endpoint protection.
Passing the CCNA Security exam not only validates your proficiency in securing networks but also showcases your dedication to excellence and willingness to go the extra mile. Stand out from the crowd and unlock doors to coveted positions such as network security engineer, security analyst, or cybersecurity consultant.
Don't miss this golden opportunity to expand your horizons and become a trusted guardian of network security. Enroll in the Cisco CCNA Security certification course today and embark on an exhilarating journey toward a future brimming with endless possibilities. Your network security prowess awaits – let's embark on this thrilling adventure together!
Common Career opportunities
Individuals earning the Cisco CCNA Security Certification often see career growth in the following type of positions.
Security Engineer –$108K
Security Administrator –$72K
Network Security Support Engineer-$109K
Senior Network Engineer –$107K
Information Security Analyst –$81K
Course Outline:
Module 1: Network Review
Course Introduction
Network Review Part 1
Network Review Part 2
Network Review Part 3
Network Review Part 4
Module 2: Terminology And Fundamentals
Terminology And Fundamentals Part 1
Terminology And Fundamentals Part 2
Terminology And Fundamentals Part 3
Terminology And Fundamentals Part 4
Terminology And Fundamentals Part 5
Terminology And Fundamentals Part 6
Terminology And Fundamentals Part 7
Module 3: PKI And Cryptography
Pki And Cryptography Part 1
Pki And Cryptography Part 2
Module 4: AAA
AAA Part 1
AAA Part 2
AAA Part 3
Module 5: Bring Your Own Device
Bring Your Own Device Part 1
Bring Your Own Device Part 2
Bring Your Own Device Part 3
Module 6: Secure Access
Secure Access Part 1
Secure Access Part 2
Secure Access Part 3
Secure Access Demo
Module 7: VPNs
VPN Concepts Part 1
VPN Concepts Part 2
Remote Access VPNs Part 1
Remote Access VPNs Part 2
Site To Site VPNs
Module 8: Secure Routing And Switching
Secure Routing And Switching Part 1
Secure Routing And Switching Part 2
Secure Routing And Switching Demo 1
Secure Routing And Switching Demo 2
Layer2 Attacks Part 1
Layer2 Attacks Part 2
Layer2 Attacks Part 3
Mitigation Part 1
Mitigation Part 2
Module 9: Firewalls
Firewall Technologies Part 1
Firewall Technologies Part 2
Implementing Nat Part 1
Implementing Nat Part 2
Zone Based Firewall
Firewall Features On The ASA Part 1
Firewall Features On The ASA Part 2
Firewall Features On The ASA Part 3
Module 10: Intrusion Protection System (IPS)
Intrusion Protection System Part 1
Intrusion Protection System Part 2
Module 11: Content And Endpoint Security
Content And Endpoint Security Part 1
Content And Endpoint Security Part 2
Course Conclusion
Frequently Asked Questions About Cisco IINS 210-260 CCNA Security
What is the content of the Cisco IINS 210-260 CCNA Security course?
The Cisco IINS 210-260 CCNA Security course provides in-depth knowledge of Cisco's security technologies, focusing on the installation and troubleshooting of network devices. The course aims to equip students with the skills to maintain data integrity and availability, understand Cisco's security structure, and prepare them for the Cisco Certified Network Associate Security (CCNA Security) exam.
How is the course delivered?
The course is delivered through a comprehensive curriculum consisting of 13 training hours and 51 instructional videos. It is divided into 11 topics, covering various aspects of Cisco's security technologies. Additionally, students have access to 251 practice questions to reinforce their understanding of the course material.
What does the Cisco CCNA Security certification exam cover?
The Cisco CCNA Security certification exam, known as 210-260 IINS, assesses candidates' knowledge of secure network infrastructure, core security concepts, secure access management, VPN encryption, firewalls, intrusion prevention, web and email content security, and endpoint security. It is designed to validate proficiency in implementing Cisco's network security solutions.
What is the format of the Cisco CCNA Security certification exam?
The Cisco CCNA Security certification exam also referred to as the Implementing Cisco Network Security (IINS) exam, is a 90-minute test. It consists of multiple-choice and simulation-based questions that assess candidates' practical skills and theoretical knowledge in network security implementation.
How is the Cisco CCNA certification beneficial for my career?
The Cisco CCNA certification holds significant value in the IT industry. It opens up opportunities for job roles such as Junior Network Engineer and Senior IT Helpdesk with a focus on network support. Moreover, the CCNA certification serves as a solid foundation for advancing to more specialized and advanced certifications like CCNP and CCIE. Cisco certifications are highly regarded because Cisco's networking equipment is widely used across the world, making the certification relevant and valuable.
Is the Cisco IINS 210-260 CCNA Security course up-to-date?
It's worth noting that the information I have is based on my knowledge cutoff in September 2021. However, as of that time, while the Cisco IINS 210-260 CCNA Security course offers comprehensive training on Cisco security technologies, it's important to be aware that the associated examination for this course has been retired. Therefore, although the course remains a valuable resource for learning, it does not directly align with the current Cisco certification exams.
Your Training Instructor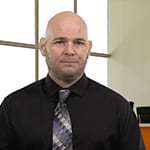 David Biggers
IT Instructor
David has been a professional IT instructor for the past four years in the US Army. He teaches a broad range of certification courses ranging from CompTIA, Microsoft to Cisco and EC-Council. Prior to working with the US Army, David worked as a Jr. Network Admin and Web Services Manager with KCTCS in Kentucky. He performed multiple jobs on the IT team. Additionally, David taught part-time during the evening at the college, where he instructed on Active Directory, Introduction to Computers, and Networking. David has 18 years of IT experience, 17 professional IT certifications, and 8 years of teaching experience.