Get ready to skyrocket your career with the ultimate AZ-900 Azure Fundamentals Certification course! In today's digital era, cloud computing is the name of the game, and Azure, Microsoft's cloud solution, is leading the charge. With businesses rapidly transitioning to the Cloud, having a strong foundation in Azure is more critical than ever.
This self-paced training course is your ticket to unlocking a world of endless possibilities. Gain in-depth knowledge of cloud concepts and learn how Azure operates, equipping you with the skills that will make you a highly sought-after professional in the job market. Whether you're a seasoned IT expert or a newcomer to the industry, this course will transform you into an Azure virtuoso.
What sets this course apart is its comprehensive curriculum, carefully designed to ensure your success in the AZ-900 Microsoft Azure Fundamentals exam. Master the essentials of the Cloud, explore different ways to harness its power, and dive deep into the Azure console, discovering an array of invaluable resources at your fingertips.
But that's not all – when you enroll in this course, you unlock a treasure trove of benefits. Gain a competitive edge as you showcase your Azure expertise to employers, opening doors to exciting career opportunities. With Azure becoming the backbone of countless organizations worldwide, your knowledge of this cutting-edge technology will make you an invaluable asset to any company.
Don't miss this chance to supercharge your professional journey. Join our vibrant community of learners and tap into the wealth of resources available in this course. Stay motivated with our engaging content, interactive exercises, and real-world examples that bring Azure to life. Plus, benefit from expert guidance and support throughout your learning journey, ensuring that you're on track to ace the AZ-900 exam.
The AZ-900 Azure Fundamentals Certification course is your gateway to success in the world of cloud computing. Embrace the future of technology, boost your marketability, and embark on a rewarding career path. Enroll today and witness your potential soar to new heights!
What the AZ-900 Azure Fundamentals Certification course covers
Topics included in this course cover:
Cloud computing fundamentals
Computer Services
Networking Services
Databases
Azure solutions
Administration
Pricing
Service level agreements
You will be equipped with practice questions and flashcards to take the AZ-900 Azure Fundamentals exam after completing our AZ-900 Azure Fundamentals Certification course. You will deepen your awareness of Azure and gain confidence in your ability to use the different resources available there, including role-based access control, virtual machine scale sets, and even auto-scale apps.
This training program is for you if you need to increase your technical skill level in Azure or cloud technologies if you're just getting started, or if you fall somewhere in the middle. Everyone can benefit from this class, which gives a high-level overview of what Azure has to offer and how it can best make you and your business more productive and cost-effective.
As you study for the AZ-900 test, you will gain an overview and a high-level understanding of the Azure platform.
Everyone interested in learning about and using Microsoft Azure, regardless of expertise level, is welcome to enroll in our AZ-900 Azure Fundamentals Certification course.
Course Outline:
Module 1: Introduction
Instructor Introduction
Course Overview
Expectations
Module 2: Cloud Fundamentals
What is the Cloud
Basic Terms
Types of cloud computing
Cloud Service Models
Module 3: Azure's Architecture
Regions and Availability
Resource Groups and Management
Azure Marketplace
Demo- Azure Console Exploration
Module 4: Compute
Virtual Machines
Containers
Demo – Containers
Functions
Demo – Functions
Windows Virtual Desktop and App Services
Module 5: Networking and CDN
Virtual Networks
Load Balancers
Gateways
Content Delivery Network
Network Security
Demo – Connecting two VMs
Module 6: Storage
Storage
Big Data and Analytics
Databases
Demo – SQL Database
Database Migration
Module 7: Azure Solutions
IoT
Demo – IoT Hub
AI
Serverless Computing
Module 8: Administration
Security
Identity and Access Management
Demo – Adding Users and Groups
Governance
Demo – Resource Locks
Privacy and Compliance
Module 9: Pricing and Service Level Agreements
Managing Costs
Demo – Pricing Calculator
Service Level Agreements and Service Lifecycles
Module 10: Exam Preparation
Exam Layout
Best Practices and Study Tips
Overview and Conclusion
Module 11: Review Questions
Module 11 pt 1
Module 11 pt 2
Module 11 pt 3
Module 11 pt 4
Frequently Asked Questions About AZ-900 Azure Fundamentals Certification Course
What will I learn in the AZ-900 Azure Fundamentals Certification Course?
In the AZ-900 Azure Fundamentals Certification Course, you will gain comprehensive knowledge about Microsoft Azure, which is a cloud solution. The course covers a wide range of topics, including fundamental concepts of cloud computing, various computing and networking services provided by Azure, databases, Azure solutions, administration, pricing, and service level agreements. By completing the course, you will develop a strong understanding of how Azure works and how to effectively utilize its features.
How long is the course, and what materials are provided?
The AZ-900 Azure Fundamentals Certification Course is an online training program that consists of approximately 8 hours of training. It is divided into 48 video lessons, covering 11 key topics. Additionally, the course provides supplementary materials, including 100 practice questions specifically designed to help you prepare for the AZ-900 Azure Fundamentals Certification exam.
Who is this course designed for?
The course is specifically designed for individuals working in IT roles who are new to Azure. You do not need any prior scripting skills as the course primarily utilizes the Azure portal and command-line interface to create resources. It is suitable for anyone who wants to learn about Azure offerings and gain hands-on experience with the platform.
What does the AZ-900 Azure Fundamentals exam measure?
The AZ-900 Azure Fundamentals exam evaluates your understanding of various aspects related to Azure. It measures your ability to describe fundamental cloud concepts, comprehend Azure's architecture and services, and demonstrate knowledge of Azure management and governance. By completing the course, you will acquire the necessary skills and knowledge to confidently address these topics in the exam.
Can this course help me prepare for other Azure certifications as well?
Absolutely! Although the Azure Fundamentals certification is not a prerequisite for other Azure role-based or specialty certifications, the foundational knowledge gained from this course can greatly assist you in preparing for other Azure certifications. The comprehensive understanding of Azure's core concepts and services obtained through this course will provide a solid base for pursuing more advanced Azure certifications in the future.
Your Training Instructor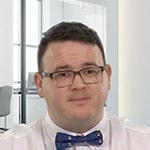 Robert Hale
IT Instructor
Robert is an Army Veteran who has been instructing in the IT training field for over a year. His experience with Microsoft spans over the past three years, but his decade of service in the military is where he gained his passion for and experience in the IT field. While he is knowledgeable in a variety of areas, Azure is Robert's specialty.